"Mommy, can you hear me? Are you there?" 
I called mom from New York as soon as I heard she was taken to the hospital.
"Yes, I can. You don't have to shout." She spoke softly in a faint fading voice. 
"Great! Are you alright, mom? Did you get my Mother's Day card?" 
"Yes I got it. Don't worry, I'm okay...don't know why my knees hurt so bad in the past couple of days..." 
"What did the doctor say?" I pressed while she was clearing her throat.
"The doctors are checking. Don't worry - I'll be fine. I should be out of the hospital in a few days." 
Mom did leave the hospital a few days after we talked. But that was the last time we spoke. A week later, not long after Mother's Day 18 years ago - she died of a heart attack.
No one in our family knew mom had heart problems. We only knew that she'd been battling psoriasis for years with powerful steroids mixed with herbal drugs. We had no clues whether it was her medication, her diet or anything else in her lifestyle that might have put her at a higher risk of cardiac arrest.
We were all in a state of shock.
In an instant, my father lost his wife of 40 years. And we - my brother, my sister and I - lost the brightest beacon in our lives.  Everything we thought we had time to tell each other was suddenly taken from us. Many things were left unsaid.
Today - I just want to call from here to heaven to say...
*I Love You, Mom *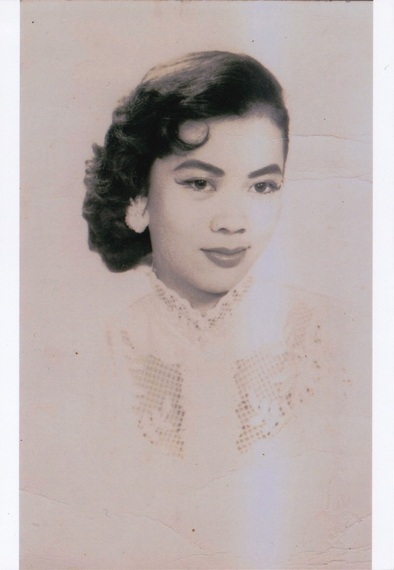 For the first time, I'm writing what I never, we never, said to each other.
We never felt comfortable saying - "I love you" to each other.
We always felt bound by our traditional Chinese upbringing to shun words of love.
But your selfless love was clear from the choices and sacrifices you'd made.
You let me leave home so young, to go find my own path and discover my own destiny. 
You let me go as far as my dreams would take me - no matter how far they'd take me away from you. 
All these years...
You also let go of a daughter who often wondered why you didn't come to visit, to watch me graduate from college, or to see me live a different life in a different world.
May be you thought you'd lost me?
May be you thought you couldn't reach me?
May be you'd given up on waiting for me to come home?
I'm sorry I've been gone for so long, mama.
I had been selfish.
I wanted to discover the world and experience its manifold wonder.
I hadn't come back to visit as often as I should have.
I thought I had more time to see you to show you I care.
Your unspoken love speaks volume of your magnanimity.
Your willingness to let go of me is what brings me closer to you.
Now, I see you often in my dreams, the way you once were - young, beautiful, beaming like a beacon - smiling, guiding."
Mommy, can you hear me? Are you there?