Historic, prediction-defying, shocking. These are some of the words used in the past week and a half to describe the outcomes of the November 6th election. Inspiring. That's the word I keep coming back to.
It doesn't even have to do with the presidential piece of the election. I think many of us tend to forget -- we get caught up in the presidential campaign and the media and the spin, and we forget that there's so much more to each election. And on November 6th, as I stayed up past my bedtime to watch states on a map get colored in and confetti fall and speeches be given... I saw much more than the election of a president.
I saw the impact of women, people of color, and youth. I watched months of hard work by nonprofits, community organizers, friends, family, and colleagues, to get voters registered and to the polls, culminate in one awe-inspiring night. I think I saw our country reach a new frontier.
That's all very pie-in-the-sky, I know. There are, of course, real, tangible results and implications of the election. We have a few settled debates:
• The Affordable Care Act (ACA) is here to stay, and is likely to be fully implemented (for a timeline, click here), though there is sure to be debate about funding some of the programs in the law.
• In the reelection of President Obama, we have opted to increase taxes for the very wealthy and not just cut spending.
• We decided women can and should be in control of their own health by defeating candidates wanting to limit women's healthcare.
We do still have a polarized Congress, representing what may still be a polarized U.S. population. We have the same president, the same party (Democrats) controlling the Senate, the same party (Republicans) controlling the House. We have a looming fiscal cliff (possible tax increases and spending cuts no one wants), which lawmakers are now tasked with finding a way not to fall of off. In the coming weeks, Congress will be debating, and hopefully resolving, the issues needed to be settled in order to back off the cliff. We'll be hearing arguments over how to reduce the deficit, what to do about the expiring Bush tax cuts, whether to raise the payroll tax, and raising the nation's debt limit.
That's the immediate work. That's not inspiring, but what is, is this: those two houses of Congress, come January 3rd, are going to look a little different than we're used to. They're going to look just a little bit more like us.
For the first time ever, we have 20 women in the U.S. Senate and 28 women of color in the U.S. House. For the first time ever, thanks to Hawaii, we have an Asian-American woman in the Senate -- Mazie Hirono (born in Japan), and a Hindu-American, Tulsi Gabbard, in the House of Representatives. Wisconsin elected the country's first open lesbian, Tammy Baldwin, to the Senate. New Hampshire is the first state ever to have women in all of its top elected positions, having elected Carol Shea-Porter and Ann McLane Kuster to the House of Representatives, and Maggie Hassan as Governor. (A full summary of all election results can be found here).
Beyond candidate outcomes, the November 6th election saw unprecedented ballot measures pass. We have a grand total, thanks in part to Maine, Maryland, and Washington, of six states with legalized marriage for same-sex couples. We have our 18th state (Massachusetts) with legalized medical marijuana, we have two states, Washington and Colorado, with legalized marijuana. And we still have one country.
No matter which side of what argument you fall on, the outcomes of this election, more than any other I have laid witness to reflect the changing perspectives, beliefs, knowledge, and demographics of the diverse communities that make up this country. According to a nonprofitvote.org report, nonprofit voters increased from 2008 -- meaning the hundreds of nonprofit groups, many of whom work on issues mentioned above, and that participated in National Voter Registration day, got their constituencies to the polls -- and the results were noticeable. Women make up over 50 percent of the country, but, prior to the election we only made up 16.8 percent of seats women held in congress. With the 96 women in 113th Congress, we are a small step closer to representation more reflective of who we are as a country. And, the 113th Congress will be the most diverse in history.
It's taken a long time to get to this point. For almost a century, the only U.S. citizens guaranteed the right to vote were white men. Black men didn't gain the right to vote until after the Civil War, and women not until 1920; the voting age wasn't dropped to 18 until the 70s. With everyone now having this basic right, and exercising it, the country looks very different than it would have had we not changed our voting rules from over two hundred years ago. Literally. The first map shows how white men voted in this election. The second map shows how everyone voted.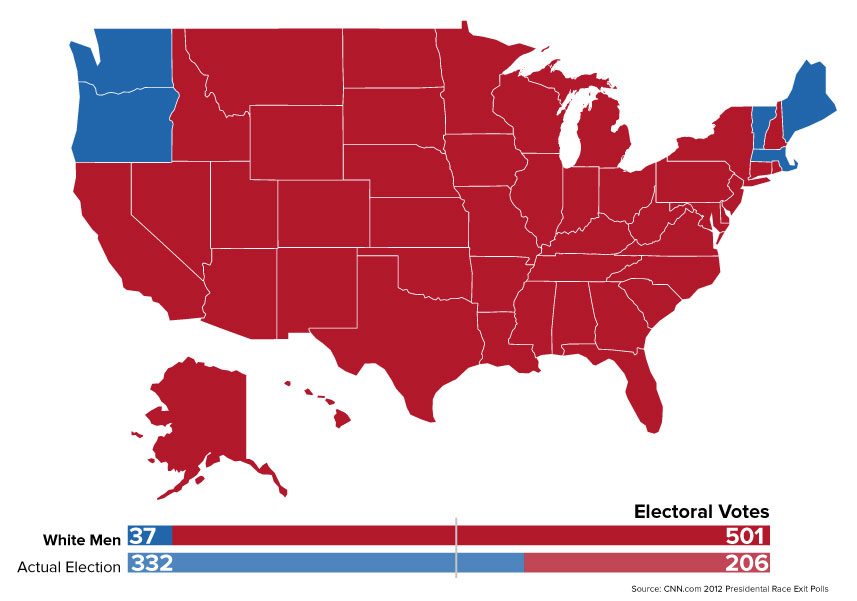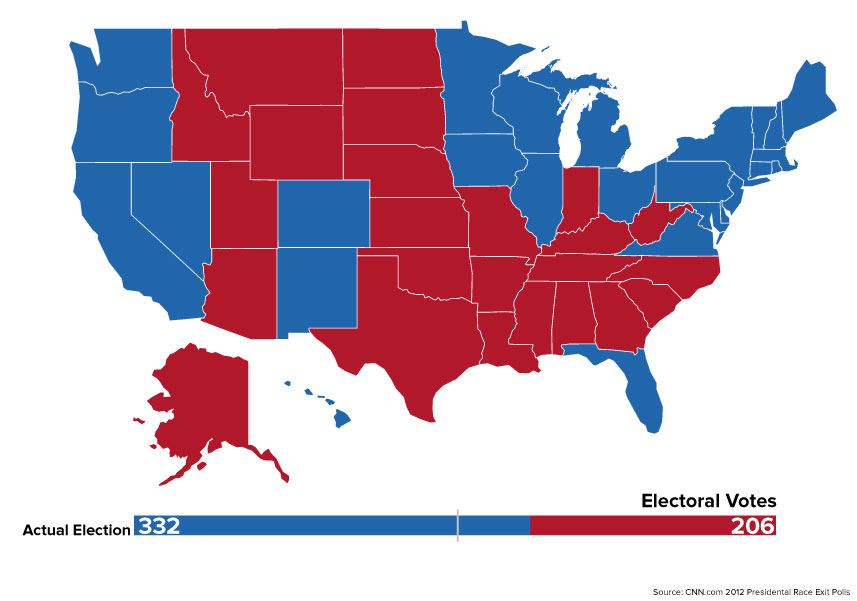 That's the impact women, people of color and youth have on shaping what the nation looks like.
The immediate truth is, we don't know exactly how the next four years, or the fiscal discussions, or the implementation of the ACA are going to play out, or what we will need to do to make those things happen. We do know that we will need to do something, and that it will take a lot of work to tackle all of those and the many other issues we face. We also now know that as a country, we have the drive and the ability to thoughtfully examine our immediate truths, and to change them. We know that now, when we talk to our Senators and Representatives about what those truths are, we'll be talking to people who look more like us, who, in a new way, share those truths with us. We know that's because of us making our voices heard. I know: that's inspiring.