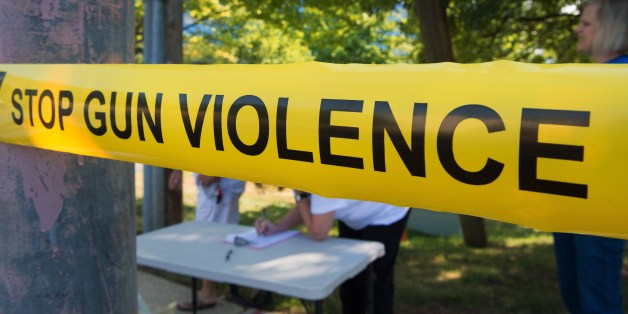 I once quit a summer job so I could make it to a PETA rally. At the time I was less concerned about the treatment of animals than I was about how my high school girlfriend, a vegetarian, would treat me. I found her far more alluring than social activism.
Back then, I was also a member of a group called SANE -- I believe it stood for Students Against Nuclear Energy. I attended a couple of meetings in dimly lit auditoriums and basements before bailing. I'd joined not because I cared much about nuclear energy -- hell, I barely knew anything about it -- but because all the cool punk and New Wave kids were in SANE, so I had to be, too.
As I grew up, I began to care more about the world around me. During many moments in my life I've had strong feelings, but an even stronger aversion to going public with them. Why take such a risk, my thinking went, when it likely leads to little or no real change in the world?
That all changed on June 17, 1992. That early morning my brother, Asher, was murdered during a botched robbery attempt on South Detroit Street in Los Angeles. He was killed on the same block where we lived with a cousin in a cramped apartment. He was barely 24 years old. Asher had moved in two weeks earlier, down from Northern California after graduating college. We had big plans, us three. We had movie scripts in the works. Acting classes. Plans to take Hollywood by storm. We never had the chance.
My brother was shot in the lung and aorta, according to the police report. He was shot through the driver's side window as he tried to speed away from the young man with the cheap gun.
Everything changed that day. But, for me, it changed not all at once; it changed slowly, over 21 years.
During that summer of 1992, through the hazy, under-slept thoughts that arranged themselves in my brain like spider webs, a feeling emerged. It was, naturally, inchoate but pointed to something real. The feeling was this: I had to act. Had to take a position, a stand. No longer could I sit silently watching the latest school massacre, which invariably brought up memories of that June day in 1992.
But, yes, the change was slow. For years, decades, I did nothing. The guilt grew. I felt complicit in the shooting deaths of school kids. Still, I did nothing.
Finally, last year, I began to act. I started in the way I felt I could, in a way I understood: I started by writing about my brother's death. Not long after I published an essay about his murder and the rough aftermath, a friend of a friend contacted me. She was working for Moms Demand Action for Gun Sense in America, the organization that came alive on December 15, 2012, the day after the Sandy Hook Elementary School massacre. Their aim, in part, is to do for gun violence what Mothers Against Drunk Driving did for senseless car deaths.
I met with this new friend and we talked about ways I might help the organization -- and how it might help me. I thought about what made sense, how I could contribute. More time passed but now I was less frustrated with my inactivity; I knew I was headed somewhere.
That somewhere is still a point in the distance. It's not a destination -- it's a place to strive toward. I realized I could help the Moms group spread the word about their cause, could help raise awareness for the need for more common sense gun laws. And I know I'm on both the right side of history with this movement, and the side of the vast majority of people in this country.
That's because 90 percent of Americans support expanded background checksfor gun buyers. And, incredibly, 74 percent of NRA members support the idea. And yet, the NRA defies its members' will. And yet, politicians on both sides of the aisle cave to the NRA's financial might. (Initiative 594's big win in Washington state last week suggests that the winds of change are finally starting to blow.)
Why does avarice trump the will of the people? Why are dead children not enough to spur action? Why are democrats and republicans unwilling to do the right thing, even as our kids run scared across bloodstained school playgrounds?
As someone who was once too afraid or too self-consumed or too lazy to join this cause, I understand that change is hard. It can take time. But without such change, where do we stand?
Alone with another horror. Alone with blood on our hands.
The author is helping to organize "Fun Lovers Unite! An Evening of Music, Comedy, and Gun Sense" (Nov. 18, 2014, at the Echoplex in Los Angeles). Performers include Sarah Silverman, Jenny Lewis, Tim Heidecker, Neil Hamburger, Mike Watt & the Secondmen, Kurt Braunohler, and The Everyday Visuals. With Ali MacLean as Emcee. Proceeds to benefit Moms Demand Action for Gun Sense in America and Everytown for Gun Safety. For more information and to buy tickets, go here.