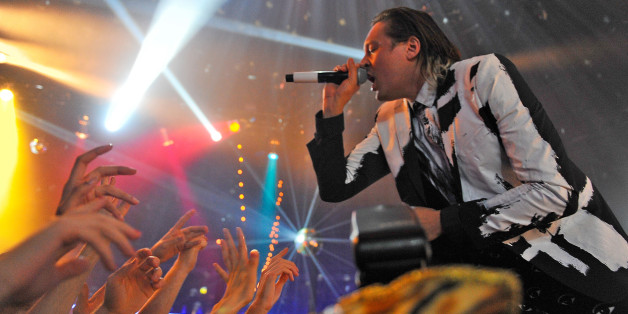 "Here comes the night time," the quaking voice of Win Butler chants in the fourth and eighth tracks of Arcade Fire's new album, Reflektor. While this lyric is a consistent motif found in two songs on their album, the broader concepts of contrast and "light vs. dark" evoked in this recurring line are ever-present musically, lyrically, and even graphically (on the album cover).
Album producer James Murphy, former front-man of alt-dance band, LCD Soundsystem, lends his whirring bass tones and punchy synth lines to counter Arcade Fire's traditionally theatrical and multi-faceted sound, often marked by Butler's distinct quivering voice and the school-girl-like vocals of band members Regine Chassagne and Sarah Neufield.
By incorporating fun '70s disco undertones, brisk tribal percussion, and suggestions of laid back reggae, the group expands the array of sounds and influences that they have drawn on in the past. Now that Arcade Fire has released four albums, it appears the band members' vocals are the only linchpin that holds Arcade Fire's entire body of work together, due to the fact that they are seamlessly able to incorporate an impressive variety of influences with each new album.
Arcade Fire may not have consistent musical ideas running throughout all of their work, but, their albums do still have a commonality: Each one consistently appears well-thought out and assembled. Reflektor is no exception; in fact, it is a prime example. From the lyrics, to the backing instruments, to the album cover, each element is coherent and related. The opening lyrics of Reflektor, "Trapped in a prism, a prism of light. Alone in darkness, darkness of white," are supported with contrasting bright electronic tracks and ominous bass lines, which continue throughout the entire album. This combination reflects the contrast of light vs. dark which permeates the album's music and is naturally extended to the album cover; a white Grecian-looking statue standing out against a black and silvery background.
In general, lyrically, the album appears as a musical discussion, with all of the songs seeming to be directed at some indefinite person, like a lost friend of lover, often inadvertently questioning and pushing the listener to be introspective. With lyrics like "Is anything as strange as a normal person? Is anyone as cruel as a normal person? Waiting after school, you want to know if you're normal too, well, are you?" in "Normal Person" and "When love is gone, where does it go? And where do we go?" in "Afterlife," Arcade Fire interestingly draws the listener in with what sounds like an attempt to create conversation between the audience and the music.
Despite its many merits, Reflektor still has its flaws. Specifically, many of its songs are noticeably longer than most tracks these days; several of the songs, including "Reflektor," "Supersymmetry," and "Here Comes the Night Time," are around or above the six minute mark. Don't you realize we have short attention spans? Where are you Ramones? With the group's music already known for being intricate and often dense, longer-than-average tracks can diminish their impact rather than enhance it.
Arcade Fire successfully incorporates eclectic influences to create a comprehensive and engaging fourth studio album. While remaining consistent with the band's meticulous nature, the album places a new level of responsibility on the audience, with lyrics often questioning them and urging them to reflect, staying true to the album title: Reflektor.