Klopp "grabs his bum cheeks when he gets annoyed..." Joan Pugh, LFC supporter.
When Jürgen Klopp joined Liverpool Football Club, one supporter got a lot more camera time as the animated manager paced around his box in front of her. "My Lady," I called her. She always wore a red coat, and she was as focused on the match as Klopp was. She didn't seem to relate to anyone around her, she was by herself. I wondered why she chose this seat, right on the field, and if she'd always come to matches alone. Perhaps she was a player's mother or grandmother, or keeping up an honored, family tradition.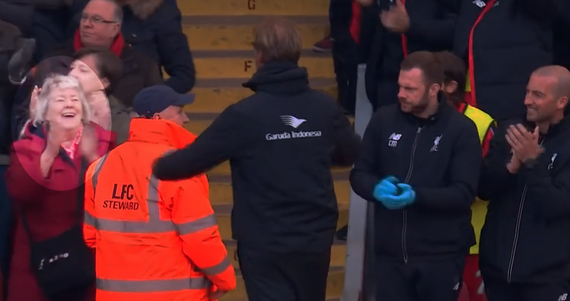 I thought about her during every home match until my husband pointed out that we were going to the last match of the season, and I could potentially meet My Lady. What a surreal thought it was on a sunny, New York morning, seeing My Lady at Anfield on a rainy, Liverpool afternoon.
Eventually we were at the May 8th, Watford match. Anfield's friendly stewards knew exactly who she was. I asked them to see if My Lady would be open to an interview. They found her (and me, at our seats, quite a trek up the Kop). My Lady had agreed to a meeting.
At half-time, they brought me down to the pitch and presented me to life-long Liverpool supporter Joan Pugh. She was gracious and friendly, and I was her giddy fan.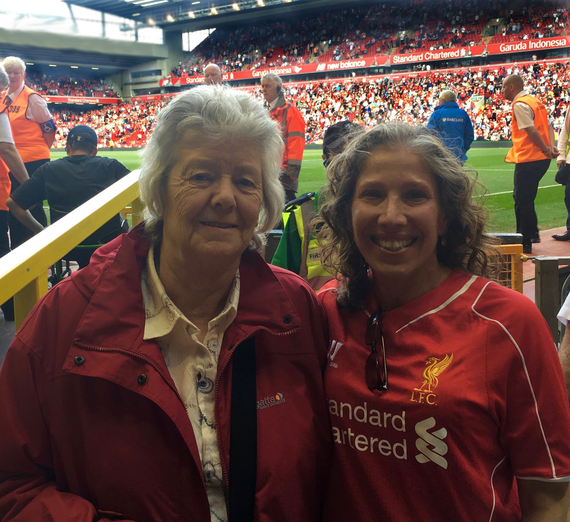 Photo: Liverpool supporter Joan Pugh with Maddy Lederman at Liverpool's Anfield Stadium, May 8, 2016. Photo by Ray Carter.
I had the privilege of meeting Joan again at The Shakespeare Pub near the Liverpool Football Club's store (naturally) at Williamson Square, and I found out why this woman-of-a-certain-age is at every match. Quite simply: Because she wants to be, and moreover, she has been attending matches at Anfield for sixty-five years.
I'm lucky to have caught up with her at the end of last season. After spending eleven of them behind her team's manager, this devoted fan will have a new view from a new seat, and she will spend a lot less time on camera. Here's some of what we talked about:
JP: I was fourteen years old when I first started going to football. I used to stand in the paddock. It was all standing then. I would go to Everton one week, and to Liverpool the next. After going for a few months, I stood in Goodison Park and I thought, "What am I doing in here?" I decided Liverpool's my team, and that was it. I've been with Anfield ever since. You know, I did try both.
ML: Why by yourself?
JP: My family was not into football whatsoever. It was only me. One day my mother said to me, "Where do you go every Saturday?" I said, "I go out to my mates." I couldn't tell her where I'd been, because she wouldn't allow me out after that, if I hadda done. And I had to get the bus, you know.
ML: How did you end up at your first football match?
JP: I used to go and watch the local boys' team play, and then I thought, "I'm gonna go to one of the big games."
ML: How did you get the money for the ticket and the bus?
JP: Every week's pocket money went on football. Later on, my mother said, "Why do you come home at the same time every Saturday?" And I had to think quick. So I said, "I come home because they're all having their meal, the evening meal." She said, "Oh, that's all right." And she never knew I was going to football.
ML: Did you ever play football?
JP: It was only men in them days, girls didn't play it. I wish they hadda done because I would have been a player. I was athletic anyway, you know, net ball, rounders, running, long jump, high jump, all of that I used to do. I used to love my sports.
ML: What about your husband?
JP: He loved playing darts. He could have played for England. I've lost my husband, it will be 17 years in November. He didn't like football. The only thing he used to say to me on match days is, "I can't wait to hear the key going in the door, and I know you're home."
ML: Have people told you they've seen you on television?
JP: They come to me, even where I live, just general shoppers that don't even go to football, and they say, "Excuse me, don't you go to football?" So when they say, "Excuse me" now, I go ahead and say, "Yes, I do go to football." You know, at first, it's a novelty.
ML: How long have you been in that seat?
JP: Eleven seasons. It's got its ups and its downs. I mean, normally, where I am, people come to me, and ask, "Can I have a photograph with you? Will you sign an autograph?" I make sure to tell them, "See all these people on this ground? They're all here for the match. They're supporters. And I'm a supporter like they are. Just a supporter." And they say, "Oh no, no. In our country, everyone looks for you on the telly."
ML: How did you get this great season ticket anyway?
JP: I was very lucky, I just applied for one, and I got it.
ML: Is it hard to see from that seat, so low on the field?
JP: No, you see a lot of it. I mean you see, and all the players are by there.
ML: Do you hear the players talking?
JP: Yes. Two or three of them look across and say hello. Lucas is one. And the reserve goal keeper with the ginger hair.
ML: Did you have a favorite player this season?
JP: I do like Lucas, though he hasn't got a Liverpool sense of humor. He sits in the same seat, and it's been broken twice. I don't know how it gets broken, but the last time it was, I said to him, "You'll have to come and sit on me knee." Well, like I said, he's got no Liverpool sense of humor. I mean, me? And him? At his age? [She doesn't mention her own seventy-nine years]. No. It's a joke. And he turned round, and he's never spoken to me after that.
ML: That's too bad. For him. Who else did you like last season?
JP: Milner is playing his heart out for Liverpool. He really is. I like the ones that really put it on for the team. And Henderson tries very hard too. He does play for the team.
ML: Do you have a favorite match?
JP: There's a lot them. Chelsea, we like to beat if we can. I know when we beat United 4-0, that was brilliant [1990]. There's been a lot over the years, I mean, really a lot.
ML: Do you know other, older supporters at Anfield?
JP: Near the new seat I'm going to, one of the ladies, she's been there through the years, might be longer than me. She wears a cap with all the badges on it, her coat's full of badges. There was another lady who used to come, she was ninety. She came all the way from Wales for the match.
ML: How has Anfield changed over the years?
JP: The Kop has changed. They're not as vocal as they were. And they used to have loads of songs, they don't have as many now. The Kop used to be full of fun. Songs and banter with the players, and they'd give it back. It was really good. You don't get that now.
ML: Why do you think things have changed?
JP: I think the children have been priced out. A family can't come now, because they need a pocket full of money to take the kids and themselves to a game. So they don't bring the kids. They're not coming to the matches, and they're not picking it up.
ML: What do you think of Jürgen Klopp?
JP: Oh, I love him. He makes me like going to football again. I was getting fed up with these referees, he goes right up to the fourth official. Klopp moves up and down, he's active. Oh, and he grabs his bum cheeks when he gets annoyed. We all laugh, we think he's hilarious. You hear a couple of swear words. We understand some of his German, or at least the swear words. He's a nice man, really. But you can't get his autograph. No, I've seen a lot try, and he waves at them, "not now." I don't blame him.
ML: Is there anything else you'd like to share about your sixty-five years as a Liverpool supporter?
JP: I always say to people, "Can you guess what my maiden name was?"
ML: What was it?
JP: Manchester.