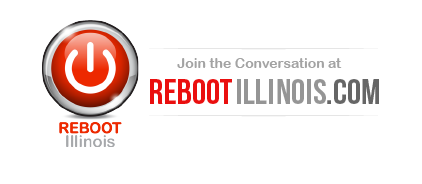 So, there is some good news about our worst-in-the-nation pension debt.
And we will take any and all good news we can get.
Gov. Pat Quinn announced Saturday (odd day for announcing good news, eh?) that we're not bleeding pension liability nearly as fast as we were last fall.
When Reboot Illinois launched its website last November, Quinn wrote a guest view for us announcing that the pension crisis was costing taxpayers $17 million a day. Saturday, his office revised that number downward and said the crisis will cost all of us $5 million each and every day for the next year.
That does help, and truly, we want and need all the good news we can get.
But, we absolutely must not allow that news to persuade any of us into thinking that the system no longer needs fixing.
We still have more than $96 billion in pension debt. We still face the risk of the Teachers Retirement System running short of enough money to pay retirees in 16 or 17 years. We still have a system that is unsustainable.
So, this is good news and, according to the governor's office, it's the result of our politicians making the required payments into the system lately. Those would be the not-quite-actuarially-sound payments, but the lesser amount deemed good enough by legislators.
A Reboot Illinois-Illinois State Chamber of Commerce event at the Union League Club of Chicago last week featured financial experts who underscored several of Illinois' challenges. The experts included Laura Porter, who is a managing director in public finance for Fitch Ratings, one of the companies that has repeatedly downgraded our credit rating; Cadmus Hicks, a managing director for Nuveen Asset Management; and Richard Ciccarone, a managing director for McDonnell Invesment Management.
Hicks said the first step toward solvency Illinois should take is for the state to be required to contribute the amount annually that actuaries say is needed, not some lesser statutory amount. He suggested that even when the state has contributed, it hasn't contributed enough and that is a majority cause of our shortfall.
Porter noted that Illinois also is hurt by its unusual "buildup of accounts payable."
In other words, we take that to mean we have to reform pensions and pay our other bills so that we can fund other government services like education, transportation and law enforcement.
Ciccarone said an actuary he spoke with suggested the 3 percent cost-of-living-adjustment public employees get each year accounted for 20 percent of the pension debt. More dramatic savings than that would be needed to ensure budget and retirement systems solvency, he added.
Hicks said fixing the debt by raising taxes was possible, but a concern. "You worry about major companies leaving the state" or continuing to threaten to as part of our "favoritism culture," he noted.
Hicks also said the early retirement option many public employees get drive up costs by adding another 10 years of payouts compared to private sector retirees. Another factor, of course, is that those investing the systems' funds long have been overestimating the returns.
Illinois sold bonds last week and we all will pay a heavy price for our worst-in-the-nation credit rating, $135 million in interest.
Without reform, the state still will have $103 billion in pension debt next year.
So, perhaps it is and will be a good thing that rank-and-file legislators from both the Senate and House now are meeting to try to find a middle path toward compromise. Compromise that addresses the challenges pointed to by the experts is a must.
Despite the news that we're not bleeding quite as quickly as we were, our politicians still must forge their way to a compromise. It cannot happen soon enough.

- See more here.