Sometimes you need a flowchart to understand all the connections between public figures in Illinois. That certainly could be useful in the case of the suit filed by Senate President John Cullerton and House Speaker Michael Madigan against Gov. Pat Quinn that seeks to restore sooner rather than later, lawmakers' pay.
All of the above are Democrats, of course. And Quinn vetoed the line item that funds lawmakers' pay, essentially saying he wasn't paying them until they did their jobs and produced pension reform.
An unusual case to start, but the connections among the various parties make it all the more intriguing.
Quinn dismissed the option of having Madigan's daughter, Attorney General Lisa Madigan, represent him and instead took the alternative of hiring outside lawyers. (Wonder how much that will cost us?) But Madigan (or more pointedly, her staff) is representing Republican Comptroller Judy Baar Topinka, who also was named in the Cullerton-Madigan suit because her office physically processes all the checks the state writes.
When the suit first was filed, some in the media took note of the fact that Madigan and Cullerton chose to file it not in more Republican-oriented Sangamon County, the count seat of Springfield, but in Cook County Circuit Court, where there are many more Democratic judges, many of whom owe the Speaker and Senate President their gratitude for a great deal of help in getting their bench appointments.
The case was assigned to Associate Judge Neil Cohen, who last week did not grant Madigan and Cullerton's side the temporary injunction and immediate relief they sought, but in fact pushed the case to Sept. 18 as the next hearing, thereby ensuring lawmakers would miss another check at the start of September.
Still, there are some connections between Cohen and the parties in this lawsuit, as there likely could be with any Cook County judge. Cohen is married to Susan Sher. Sher is a close friend of First Lady Michelle Obama. She formerly served as the first lady's chief of staff and as associate counsel to President Obama.
In a 2009 profile, the Chicago Tribune called Sher Michelle Obama's "confidant-in-chief." Her speaking agent's website says about Sher: "A former labor lawyer, Sher previously served the city of Chicago as corporation counsel, the city's top legal officer, making her a senior adviser to Mayor Daley. She was then vice president for legal and government affairs at University of Chicago's Medical Center before moving to Washington to act as an advisor for both of the Obamas."
Here is a picture of Neil Cohen and Susan Sher sharing a Passover Seder at the White House from Lynn Sweet's blog at the Chicago Sun-Times.
Sher has donated a little more than $18,000 to Illinois candidates since 1999. And Sher has consistently donated some money to both Mike Madigan and Lisa Madigan over the years.
She donated a total of $3,500 to Citizens for Lisa Madigan on nine different June and December dates from 2002 to 2007. She gave Mike Madigan a total of $400 with two $200 contributions in 1999 and 2001, according to the Illinois State Board of Elections' disclosure reports.
Sher also gave Citizens for John Cullerton $250 in March 2012. She has contributed to a few Republicans but Topinka isn't one of them. There are no donations to Quinn on Sher's donor list.
Cohen also has contributed a total of nearly $30,000 to candidates for judge and other offices since 1996. He has not contributed to either of the Madigans.
Associate judges like Cohen are appointed and do not run for election. He makes just under $172,000 as an associate judge in Cook County. According to the Illinois Courts website, "Circuit Judges are elected for a term of six years; Associate Judges are appointed by the Circuit Judges in accordance with Supreme Court rules for a four-year term."
Clearly, if you're appointed and approved by full circuit judges, connections do matter.
And it's long been known that two of the most powerful people in Illinois when it comes to judicial positions are Democratic state party chair Michael Madigan and Chicago Alderman Ed Burke, whose wife, Anne, sits on the Illinois Supreme Court.
None of this is meant to imply Cohen is doing anything other than deciding the case on the merits.
A veteran former campaign operative who works with judges said recently Cohen's connections to the Obamas might make him "bulletproof," meaning he can and will handle the politically white-hot case as he believes it should be without being affected by outside pressure.
The fact that Cohen didn't immediately grant the injunction Madigan and Cullerton sought would seem to illustrate that. On the other hand, lots of intelligent people seem to think the two Democratic legislative leaders have the stronger case anyway.
Which, of course, would mean Lisa Madigan and her office would come out on the losing end against her father in public, just as she seems to have when he told reporters last week she knew for a long time he wasn't going anywhere while she toyed with a governor's candidacy and collected donations.
Do any of the parties involved in this case have conflicts of interest? Do any of their connections to one another cause concern?
We can't make up our own minds about all of that unless we know the connections and possible conflicts in the first place. If nothing else, this case certainly demonstrates yet again that, when it comes to the intersection of legislative, executive, judicial and political activities in Illinois, it's a small world after all.
My hand-drawn look at the connections in the lawmaker pay lawsuit being considered by Associate Judge Neil Cohen: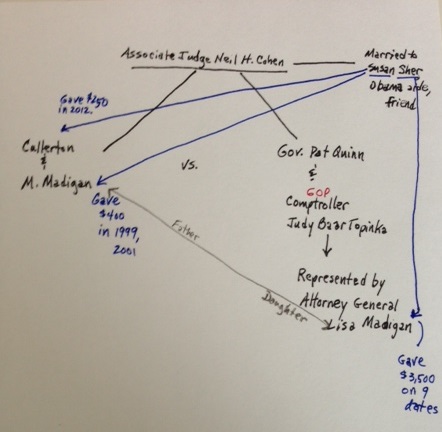 - See more at Reboot Illinois