(Preface: I was adopted after a brief time in care. Thousands of children do not find that same soft landing with a forever family. I was no more deserving of a family than any of them. EVERY child deserves a family. This month is National Foster Care Month -- but this is not a subject we can just talk about one month out of the year.)
When I think of the faces of the sweet children who are amongst the over 100,000 in this country who are available for adoption right now but who are still waiting, I am overwhelmed. How did we get here? How are we in a place in this country when 23,439 children aged out of foster care in 2012?That is just one year. "Aged out." It sounds benign enough, right? Almost as if it is a term for a right of passage or growing up. It is not benign. Not only does the term "aged out" mark the time when a child leaves the system and heads out into the world without a family, but that their life at that moment takes on a greater susception to homelessness, to unplanned pregnancy, to incarceration. These children are walking out into the world without a home they can always return to -- a place where they could walk through the door, know they were wanted and welcomed and loved. Please take a minute to let what I said sink in. I think too many of us skim over the words, maybe say, "aw, I hate that" to ourselves and move on. Take in every word -- these children are leaving the system without a loving and permanent family to call their own. Imagine graduating high school and then you are out in the world with no one to call home to, no one who wants you home for Thanksgiving, no one to call your family.
How can this be happening in our country -- a country where thousands say they would like to adopt? How can there be over 23,000 children leaving this system without the love and homes they deserve. 23, 439! Can you imagine that number? It seems so abstract when you say it. I could not imagine what that looked like, so I tried to find something that represented it. Take a look at this arena in Michigan where the Detroit Pistons play. It seats a little over 24,000 people -- take it in. Each of those seats represents a person. A life. Someone who needs love and guidance and a place to call home -- right now. This is about how many children we fail each year as they age out of foster care without a permanent and loving family.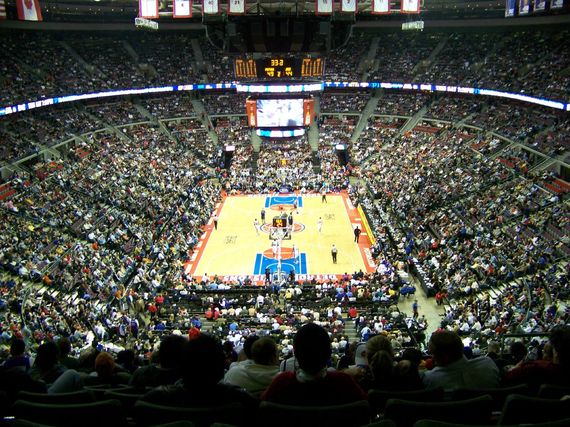 Pic Credit Kevin Ward, via Wikimedia Common
The time is now. Not before another 23,000 or more age out. Could you look at each of those faces and tell them they are not worth your time? Your voice? A family? Because they are -- it could just as easily be you or I or our best friend. These children are no less worthy of love, of a bed and a home they know they will not have to leave and of people who want to be theirs. We would not let the walls of an arena come crumbling down around 23,000 children -- yet we are allowing this? Speak up, speak out, speak for these children -- together our voices can be heard.
As I was thinking of these children last week , as I so often do throughout the day, I began to cry. I told my husband how badly I wanted my blogs about foster care adoption to be "liked" and shared in large numbers in hopes they could reach the most people who would act. How I wish my voice were LOUDER and could reach more people. My husband, the more logical of the two of us, reminded me what a difference it can make to even one child if one right person is reached. The little starfish. If we all made a difference for one, whether it is by welcoming a child into our family, adopting a person who has already aged out, being a public voice, donating to charities that work to get the word out and help others see the need, being a CASA volunteer, we could make a real difference.
If more is not done, at the 2012 rate of over 23,000 children aging out of foster care without a home, by the end of this year the number of children who will have aged out of foster care without a permanent and loving family will be over 92-thousand. Enough people to completely fill Sanford Stadium (below). We cannot let that happen.

Sanford Stadium - credit WiIkepedia Commons
These are not nameless, faceless folks -- these are CHILDREN; children with hopes and dreams, who deserve a permanent family and we can all be a voice for them and not just this month for National Foster Care Month -- that is not enough. This problem will not go away when May is over, neither should our voices. Be a voice for the thousands more that we cannot allow to age out without a family this year or any year, again. Stand in the Gap between these children and a life without a family. Use your voice today- every one of these children deserve your help.
A few resources where you can make a difference TODAY:
The Dave Thomas Foundation for Adoption- started by Wendy's founder Dave Thomas, giving to this foundation goes beyond the DTFA. The Foundation not only funds Wendy's Wonderful Kids Grants, but also gives a number of sizable grants to other organizations who work to improve outcomes for children in care. Whether you donate directly or start up a "Kickball for a Home" event, you can make a difference. You can also find additional information on how to adopt a child who is available for adoption or even a child who has already aged out- because you are NEVER too old for a family.
DTFA President, Rita Sorenen created a great list of 10 Ways to prevent youth from aging out of care
Project Meet Me Halfway- started by Country singer Jimmy Wayne to bring awareness about youth aging out of foster care without the tools and support they need You can give to his chosen group which helps foster children and homeless youth in middle Tennessee or find a group near you, as I am sure Jimmy who walked across the country (literally) to raise awareness- would just be happy you helped out somewhere.
CASA - Court Appointed Special Advocates for Children where you can donate or volunteer. Getting involved in being a voice for these children can aid in them not languishing in care for the better part of their childhood or returning to a place where they will be abused. "Volunteer advocates--empowered directly by the courts--offer judges the critical information they need to ensure that each child's rights and needs are being attended to while in foster care."
First Place for Youth - While our ultimate goal is for every child to have a permanent and loving home, the truth is that right now there are children aging out of the system by the thousands. This nationally recognized group supports young people in finding a safe place to live, get their first job, and keep going in school. The four programs at First Place provide California's most vulnerable young people with the tools they need to reach their full potential in school, work, and life. Volunteer or donate to this organization or others like it to assist those who have already left the system
Want to adopt but worried you are too old, do not have the money, unsure of adopting an older child-don't be- you already have exactly what you need to change a life, today!