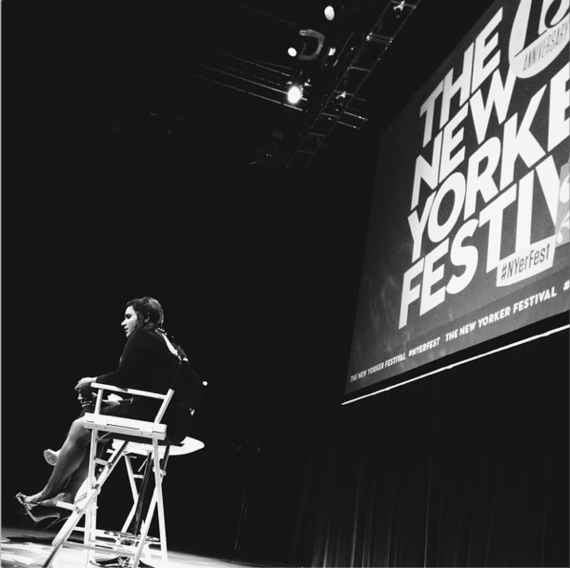 At her Q&A interview, aptly titled "Meet Cute," at the New Yorker Festival in October, actress, comedian and writer Mindy Kaling spoke about the role of women in the entertainment industry. A woman of many talents, one (fabulous) hat worn by Kaling is showrunner on her FOX series The Mindy Project.
In her New Yorker Fest interview, Kaling noted how people often ask her about being a female showrunner, as if to say that her gender complicates her leadership role. She countered these remarks by describing an in-the-works sketch she wrote about interviewing fellow showrunner, The Newsroom's Aaron Sorkin. In the sketch, Kaling interviews Sorkin, although she only asks him questions that she has been asked by interviewers. From her description, it is clear that this sketch would portray the inequality of male and female leaders. Interviewers often ask Kaling if it is difficult to write, act, and direct a show as a woman. She sharply points out that no one would ask a man a version of this question. They are expected to juggle these tasks. Kaling's comments on this issue bring up valid questions about why so many female leaders in the entertainment industry are treated with such skepticism, even when their work, like The Mindy Project, is so successful.
Similarly, comedian Amy Schumer made a powerful statement with her sketch "You Can't Go in There" from her show Inside Amy Schumer, released online on Dec. 2. Dressed as a Mad Men-esque secretary complete with oversized glasses and a floppy silk bow blouse, Schumer flippantly taps away at a typewriter, struggling to keep visitors out of her boss' office. "You can't go in there!" she shouts feverishly, but the men don't listen and barge in anyway.
A statement about Schumer's tone and demeanor portrays her message. "But the way she said it, it felt like I could go in there," said the intruder. As a woman, Secretary Schumer had no authority and these men dismissed her directions. While the humor is clear, Schumer's statement about the authority, or lack thereof, of the female voice is powerful.
Possibly the most powerful element of these statements is that Kaling and Schumer are using comedy to get such a serious point across. While gender inequality is still an issue in the entertainment industry and beyond, perhaps humorous yet thought-provoking commentaries are the start of some improvement.