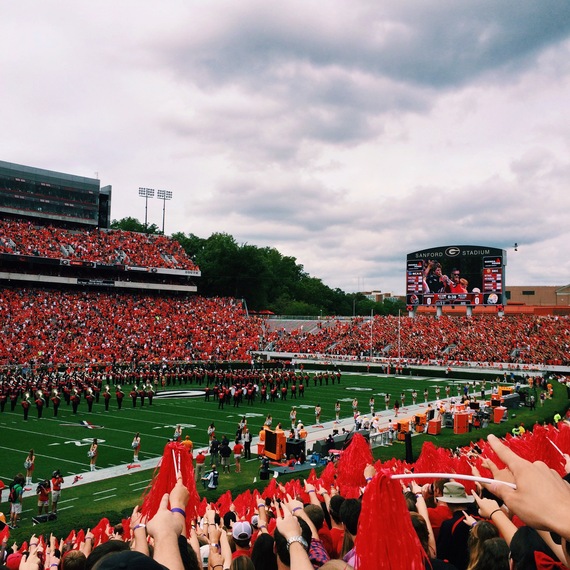 Image courtesy of Madeline Hill
On Sept. 30, myself, along with four other students at the University of Georgia -- Tyler Andrews, Nicole Gillman, Rachel Goldberg, Jamie Gottlieb -- came together to write a letter on behalf of the UGA Jewish community in response to the University scheduling Homecoming on Yom Kipper. Because Yom Kippur is our highest of Holy Days, we decided to voice our concerns about Homecoming.
Included in the letter was a space for individuals to sign their name to show support for our initiative. In 24 hours, we received more than 1,800 signatures. We were amazed with the press our letter received, including coverage from The AJC and WSB-TV, a local news channel.
The biggest impact our letter made came from the president of The University of Georgia, Jere Morehead, which can be found here. We applaud the University for their swift response to student concerns and hope that the open communication continues when issues arise in the future.
The letter we presented can be found below and a link to the signature form can be found here.
Dear President Morehead,
We have loved our time here at this great university and will forever be loyal to this wonderful place we call home. Recently, we, the Jewish student population on campus, are facing a dilemma. This Saturday is Yom Kippur. As every other student celebrates the week of homecoming, we will prepare to fast on this highest of Holy Days. We are excited for another home game and opportunity to see the Dawgs win between the hedges. However, we will not be able to stand alongside our fellow Dawgs in the stadium this Saturday.

Because we consider Yom Kippur the holiest day of the year, Jewish people across the globe will spend their day in synagogue praying and fasting for a 25-hour period. We take this day annually to enter the New Year without sin.

Although we make up only five percent of the school's population, we celebrate the fact that we are a vibrant community of students. Our involvement and contributions to this university include two Jewish IFC fraternities on campus (Alpha Epsilon Pi and Tau Epsilon Phi), a Nationally Jewish Panhellenic sorority (Sigma Delta Tau), another nationally Jewish IFC fraternity (Zeta Beta Tau) and two on campus centers of worship (Chabad and Hillel at UGA). Our voices carry throughout many facets of campus life and we need to be heard.

The University of Georgia could have easily avoided scheduling Homecoming on Yom Kippur, yet you overlooked Judaism's holiest day. Celebrating Yom Kippur allows us to focus on fasting, prayer and humbling ourselves in the eyes of G-d. We are not here to place blame on the school, but rather to speak up for ourselves. We represent a small population in the world and have become accustomed to sticking together for survival. We are a group united by our religion and culture. We are simply here to ask how a major public university with a strong Jewish community could make this mistake. We commit ourselves to this University and we would have hoped that you would commit yourselves to us. We pay tuition and pay for football tickets. Yet, by scheduling homecoming on Yom Kippur, you disregard and disrespect the Jewish population on campus.
If you are a university based around promoting diversity, then let diversity ring as loudly as the Chapel Bell. If you are a university that promotes acceptance, then welcome all groups with open arms. If you are a university that respects the Georgia community, then stand for all voices on campus.

Thank you,
The Jewish Community of The University of Georgia
Republished with permission from The Red & Black.