Toss some hot political issues, mix in religious extremism, factor some ethical considerations and blend in innovation to produce the most sought-after ticket in Arab media events.
"We're facing an organic crisis; there's an institutional failure (in the Arab world)," said Fawaz Gerges, Emirates Chair in Contemporary Middle Eastern Studies at the London School of Economics' Department of International Relations.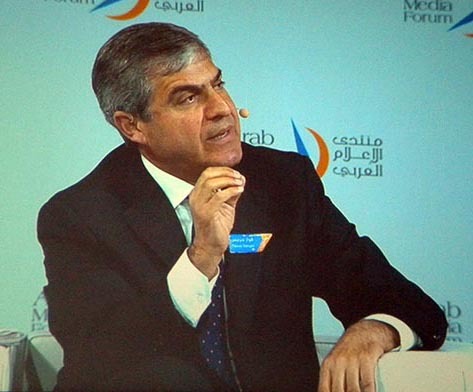 "Arab Spring" is a misnomer says Fawaz Gerges (Abu-Fadil)
Gerges, a panelist at this week's Arab Media Forum in Dubai, said the term "Arab Spring" was a misnomer.
He pointed to an ethical crisis in Arab media, adding that diversity didn't mean professionalism and that the war of narratives only added fuel to the region's multiple fires.

Identifying the Islamic State in Iraq and Syria (ISIS) has caused countless headaches, lamented media decision makers. The forum's audience was told that naming the organization by what it calls itself, the Islamic State (IS), is a major hassle for news agencies.
"We call it 'Islamic State Group' or 'Islamic State Organization' because it's not a state and it doesn't represent Islam," noted Michèle Léridon, global news director at Agence France-Presse (AFP).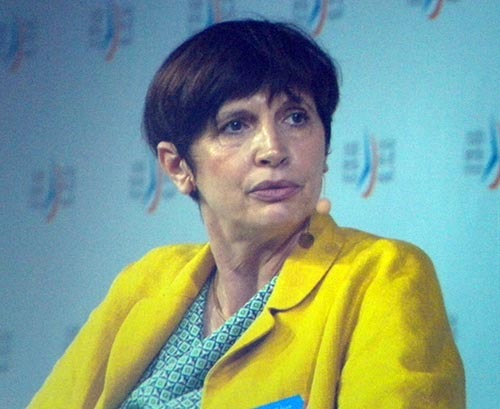 AFP's Michèle Léridon tackles ISIS coverage (Abu-Fadil)
In a blogpost on AFP's reaffirmation of ethical and editorial ground rules in covering ISIS, Léridon wrote that the challenge was to strike a balance between the agency's duty to inform the public, the need to keep reporters safe, concern for the dignity of victims being paraded by extremists, and the need to avoid being used as a vehicle for hateful, ultraviolent propaganda.

Samia Nakhoul, Reuters' Middle East editor who also hammered away at the topic in a separate panel entitled "The Chaos of Ethics," urged journalists "to exercise some modicum of self-censorship and responsibility to avoid harming others."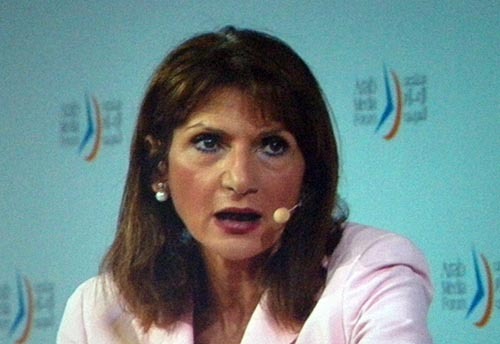 Reuters' Samia Nakhoul on media ethics (Abu-Fadil)
Nakhoul was seriously injured by an American tank shell lobbed at a Baghdad hotel where journalists were lodged while covering the U.S. invasion of Iraq in 2003.
She begged a TV reporter not to film her bandaged up in a hospital bed before being evacuated out of the country because her parents were unaware of her condition and were themselves medically unfit, but he did, causing much distress to her family, friends and colleagues.
A key question raised at the conference attended by over 2,000 participants was whether social media were a credible source of information and how much traditional media should rely on them, notably in conflict zones.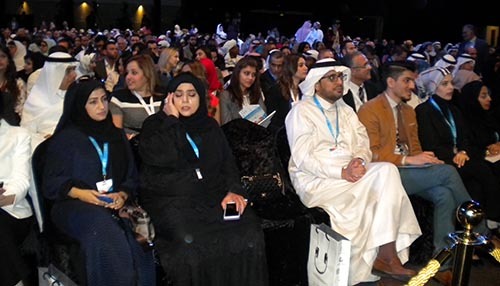 Arab Media Forum 2015 draws over 2,000 participants (Abu-Fadil)
Egyptian TV presenter and talk show host Moataz Al Demerdash said he only used social media for feedback from his audience but didn't rely on them as sources of news.
Co-panelist and Saudi presenter on the MBC satellite channel Badria Al Beshr denounced tweeps who used Twitter as a platform for insults, sedition and sectarianism while claiming to speak in the name of religion.
A session entitled "Has the Media Forgotten the Palestinian Cause?" focused on the Arab world's deepest festering wound.
"The Palestinian cause and the Boycott, Divestment and Sanctions (BDS) movement are again at the forefront of international discourse," said Mustafa Barghouti, general secretary of the Palestinian National Initiative.
He added that while the world was witnessing the worst apartheid system in Palestine, the BDS and charges against the Israeli occupation and practices filed with the International Criminal Court were finally starting to make a dent in a bid to protect Palestinians' rights.
The media forum, which partnered with Abu Dhabi Media, AFP, AP, Al Bayan, Dar Al Khaleej, Dubai Channels Network, Al Arabiya, Al Hadath, Sky News Arabia, Emarat Al Youm, Google, Al Ittihad newspaper, Reuters, Asharq Al-Awsat, CNN, and Facebook, also hosted a number of 20-minute workshops.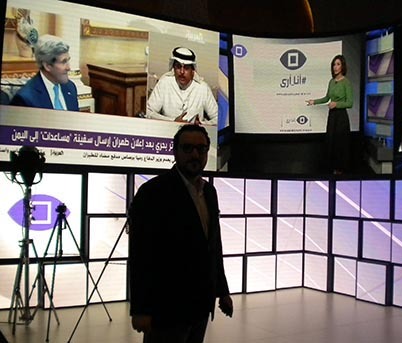 Al Arabiya mini TV studio at media forum (Abu-Fadil)
CNN.com's editor-in-chief Meredith Artley, who conducted a brief talk on "Innovation and the Future of Digital Publishing," said media should be responsive to their audiences' and users' needs by fashioning news for all platforms and devices.
Matt Waite, founder of the Drone Journalism Lab at the University of Nebraska-Lincoln's College of Journalism and Mass Communication, conducted another workshop on how these unmanned airborne vehicles have become a production tool for reporters and are used in gathering information.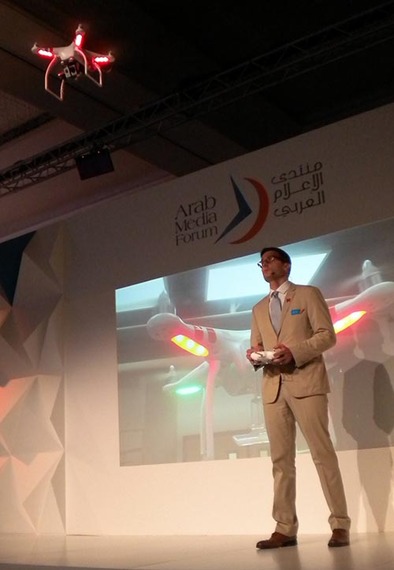 Matt Waite demonstrates drone use (Abu-Fadil)
Capping the two-day event organized by the Dubai Press Club was the 14th Arab Journalism Award ceremony during which reporters, columnists, photojournalists and caricaturists from across the region were honored.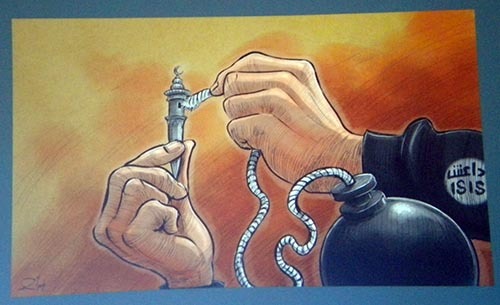 Award-winning caricature (Abu-Fadil)
Among the 17 winners was Lebanon's Nathalie Eklimos from Al Joumhouriya daily for her report on mafias that steal rented cars from unsuspecting drivers.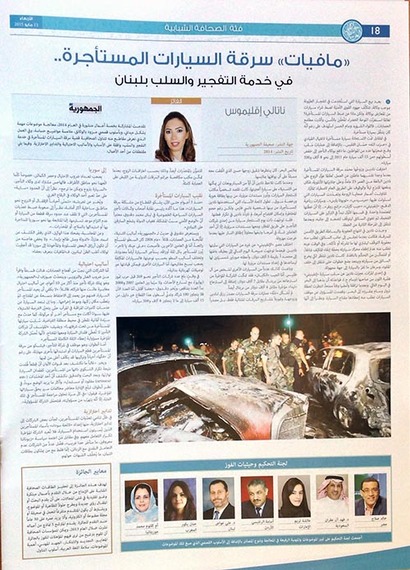 Nathalie Eklimos' report on car-stealing mafias (Abu-Fadil)
More than 5,000 entries competed for the coveted trophies and money in the categories of political, investigative, sports, intelligent, youth, interview, cultural, specialized, humanitarian, economic, and columnists journalism alongside photojournalism and caricatures.
The person of the year in media award went to the MBC Group of channels founder Walid Al Ibrahim.