World Magazine Trends 11-12 saw weak prospects for recovery of the magazine industry in the Middle East and Africa in the coming years, and the United States is projected to lose ground in adspend, as it was the hardest hit by the recent worldwide economic downturn.
The Asia Pacific region was still hobbling, Europe jumping on the digital and social media bandwagon but taking longer to recover, while Canada seemed in slightly better shape.
Surprisingly, Central and South America were least affected by the financial crisis that adversely affected print media, the report noted.
Although the Arab World, with its wealth of magazines, is part of a mere three-page regional summary and only the United Arab Emirates merits a country report, WMT 11-12 remains a useful guide to how periodicals are faring globally.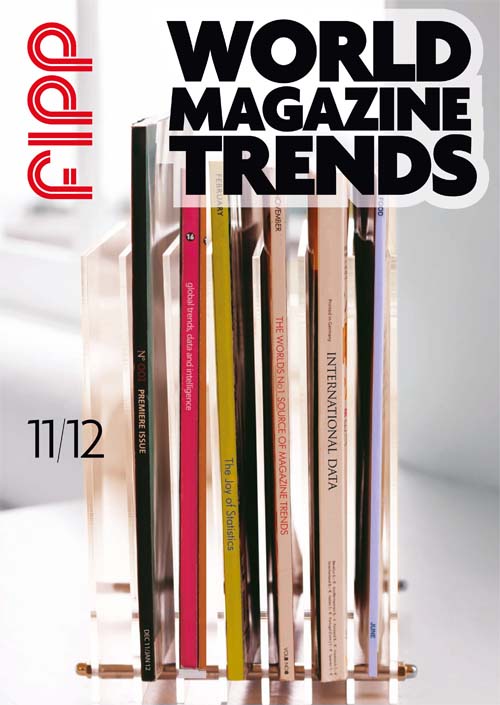 World Magazine Trends 11-12 cover (courtesy of FIPP)
While the advertising market picked up after the 2008-09 worldwide recession, magazine advertising revenues and sales were clobbered and will take longer to recover, according to an executive summary of the book.
Adspend in 2013 is expected to be lower than pre-recession levels in North America, Europe, Asia, the Middle East and Africa," it said. "Only the Latin American magazine markets of South and Central America and Mexico will see higher adspend in 2013 than in pre-downturn years.
Specifically in the Middle East and North Africa, advertising expenditures dropped 14.2 percent in 2011 to $4.242 billion, down from $4.945 billion in 2010, WMT 11-12 said, adding that they were projected to recover in 2012 and 2013, rising two percent and 2.3 percent, respectively, to reach $4.428 billion in 2013.
By percentage, the Middle East is home to eight of the 10 lowest growth countries in 2013 compared to 2010. ZenithOptimedia projects advertisers' total major media expenditures in these countries as follows: Qatar (-32 percent), Bahrain (-31.5 percent), Egypt (-28.7 percent), United Arab Emirates (-26.8 percent), Lebanon (-24.2 percent), Kuwait (-14.8 percent), Oman (-13.1 percent) and Saudi Arabia (-10.5 percent),
it said.
The 350-page publication by London-based FIPP, the worldwide magazine association, reviewed magazine circulation revenues, the number of titles and copies sold, sales distribution, share of adspend and cross-border launches before delving into trends it tracked in 53 countries for its latest edition.
FIPP also relied on advertising data by ROI agency ZenithOptimedia and circulation figures from multinational corporation Price Waterhouse Coopers.
No country from the Middle East or Africa made it onto the firm's list of the 10 highest growth countries, it added.
Of the Arab countries WMT 11-12 surveyed, the UAE took center stage, noting a slide as of 2009, when the global economic downturn hit hard, causing a 60 percent decline in adspend, from $148 million to $59 million in just one year.
It continued to drop, down another 15 percent in 2010 (to $50 million) and another 30% (to $35 million) in 2011," it said. "The losses are expected to continue, although to a less severe degree, at -10 percent (to $32 million) in 2012 and -5 percent (to $30 million) in 2013.
Another Gulf country, Qatar, meanwhile, was expected to see stable advertising expenditure staying at the $500,000 level, according to the report. "Adspend dropped by half, from $1 million in 2008 to $500,000 in 2009, and is expected to stay the same through 2013."
In a more positive direction, Africa and the Middle East are seeing increasing efforts on the digital front, WMT 11-12 quoted the Middle East Publishers' Association as saying, given UAE publishers' intensifying focus on online and mobile platforms, with expected growth in digital, website, e-mail marketing and social media adspend.
A setback for magazines has been their race against time in attempts to cater to ubiquitous digital and mobile devices that require adapting content to users' needs, as well as methods to monetize revenue streams from them, it added.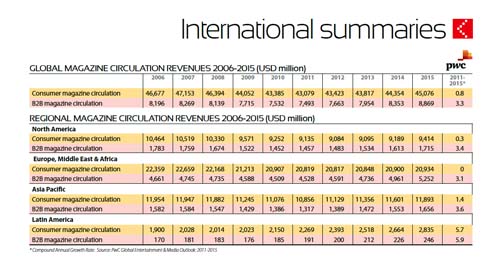 Global & regional magazine circulation revenues 2006-2015 (courtesy of FIPP)
In describing its methodology, FIPP admitted that compiling comprehensive and accurate information about magazines in all those countries was challenging.
The task required surveys of national magazine association members, certain publishing firm members and research organizations.
In addition to the recession of recent years, recovery was slow in 2011 following the earthquake in Japan and unfolding revolutions in the Arab world causing advertisers to "trim back budget increases planned for the second half," according to a comment by ZenithOptimedia.
But it was optimistic the summer Olympics in the UK, the European Football Championship in Poland and Ukraine, and the presidential elections in the United States would provide a shot in the arm to the advertising industry, and, by extension, the magazine business.
Experts Rebecca McPheters and Paul Burkey pointed to the redefinition of magazines with the introduction of tablets and e-readers that have pushed publishers to develop new business models and often a complete re-think of how to deliver content.
"In the U.S., half of all mainstream magazine titles are already using the iPad to distribute content - and many are distributing through a variety of other formats as well," they wrote. "For a few publishers at the forefront with the right type of audiences, sales of digital issues already exceed 10 percent of sales."