Is my one-time favorite magazine going the way of the dodo bird? What's to become of TIME after it was cut loose from a corporate tether tied to a sought-after prize?
"For size, for sports, and for ego - why Murdoch wants Time Warner," headlined Brian Stelter in a piece for CNN, noting it could also be a capstone on a 50-year career of deal making.
Mega media mogul suitor Rupert Murdoch persistently attempted to acquire Time Warner, CNN's parent, only to be shunned by the company and its shareholders.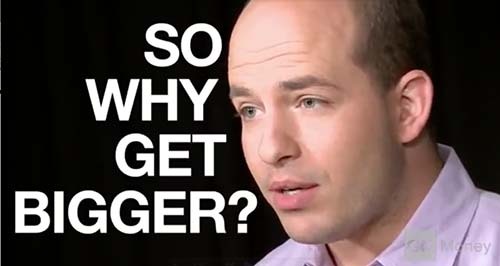 Screen shot of Stelter likening big media to Game of Thrones
An online petition urged shareholders not to sell Time Warner to Murdoch.
One wonders if he can name all the corporations he owns. Does he really need another media kingdom to add to his already bloated empire?
Here's why else, according to Stelter:
Time Warner is, like (Murdoch property) 21st Century Fox, one of the biggest media companies in the world. It has gradually streamlined itself in ways that seem primed for a sale.
Most recently it spun off its publishing unit Time Inc., leaving three main businesses: HBO, a crown jewel of television and film; Warner Bros., one of the world's biggest film and television production studios; and Turner, which has a portfolio of cable channels including TBS, TNT and CNN.
The naysayers may have kept Murdoch at bay - for now.
By all accounts Murdoch doesn't give up easily although he apparently said he no longer wanted to buy Time Warner for a reported $80 billion.
"Our proposal had significant strategic merit and compelling financial rationale and our approach had always been friendly," Murdoch said in a statement earlier this month.
So where does that leave TIME magazine?
Will the roller coaster ride that took the publication from stratospheric heights down to several bumpy and uncertain roads finally land it in intensive care on life support waiting for someone to pull the plug?
It would be an unfitting end to a majestic magazine that satisfied almost everyone's reading tastes.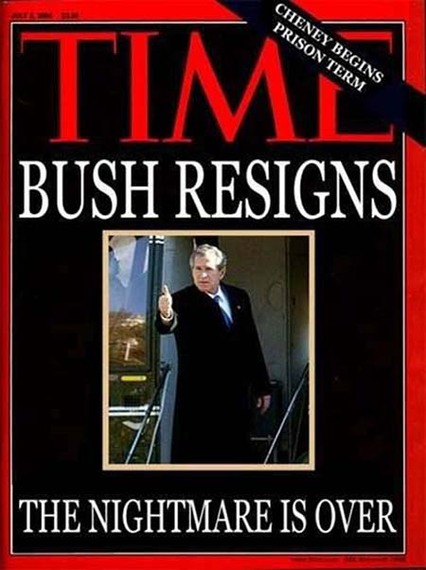 Screen shot of TIME parody cover announcing
G. W. Bush resignation
Never mind that its editors and writers were thought to suffer from a "superiority complex," as per the headline to a feature in Town and Country that described how a lavish editorial lifestyle was snuffed out by budget cuts, technology, and a slew of hang-ups.
Yes, its journalists had juicy expense accounts and entertained generously.
It was definitely an elite environment grouping some of the best writers, correspondents, editors, and photographers in the world with a masthead that read like a who's who of outstanding journalism.
"For most of my life, the richest, most far-reaching, most culture-shaping, most glamorous and emblematic company -- the Google of its era -- was Time Inc.," wrote Michael Wolff after Time Warner, the firm that had been created to combine print, broadcast and entertainment, split last year and spun off the magazine to an unknown fate, debt and all.
Wolff noted how distinctly Ivy League and WASPy TIME was, representing a culture of East Coast Republicans.
But he said it was mixed with a sense of personal betterment, new economies of newsgathering, and of raising the news business from its barroom character to a proper gentleman's endeavor.
Many women also became remarkable contributors to the magazine's success as writers, correspondents and editors.
For Norman Perlstine, TIME Inc.'s chief content officer:
You can't just reprise the news. You have to have journalism that makes a point and you have to be in sync with your audience. When I think about Sports Illustrated, when I think about People, Entertainment Weekly, Time -- all four of them have editors who are very much in touch with their readers and that's a comfort to me...

We are not shy about acknowledging the headwinds that any company that is as dependent on print revenue as we are has to face. We have to move quickly to become a far more diversified company that finds revenues by developing these brands across multiple platforms and creating new brands that grow out of a better understanding of this huge customer base that we have.
In July, Ad Age reported TIME had created a native advertising group to forge programs for its 25-title portfolio.
"Native ads are relatively labor-intensive, however, because they are particular to the one site where they are designed to appear. The new group seems designed to alleviate that problem," it said.
It also shocked many to learn Time Inc. rates writers on how "beneficial" they are to advertisers.
"Time Inc. has fallen on hard times. Would you believe that this once-proud magazine publishing empire is now explicitly rating its editorial employees based on how friendly their writing is to advertisers?" asked Gawker.
So was it all those mergers and acquisitions that led to its undoing?
"For chief executives, the slog of day-to-day operations is miserable compared with the glamour and gratification of the world of M&A," wrote the The Economist. "But they can be assured that if they fail both at deal-making and the mundane task of boosting earnings, their shareholders, like Queen Victoria, will not be amused."