Strutting onto the stage at this week's Arab Media Forum (AMF) to a burst of applause and cheers, Egyptian satirist Bassem Youssef had a captive audience eating out of his hand.
"We elected him as an employee," Youssef said directing his deadpan barb at Egyptian President Mohamad Morsi, a regular target of the surgeon-cum-satirist's ridicule.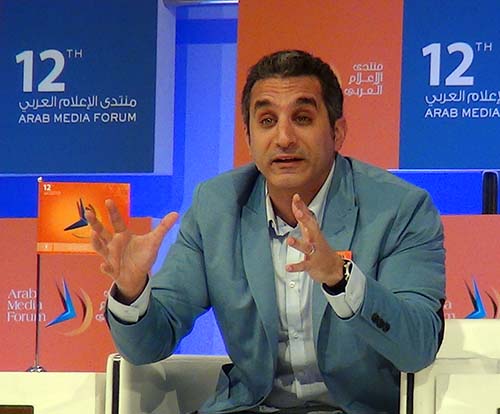 Egyptian satirist Bassem Youssef regales AMF audience (Abu-Fadil)
He justified his attacks on Morsi and the president's ruling Muslim Brotherhood movement by saying satire and criticism had existed through the ages.
Youssef, who's appeared before an Egyptian magistrate to explain his jokes, continues to break taboos.
"I was called in by security officials and expect to return. I'll fill in a time sheet," he said as the hall exploded with laughter.
Youssef shared the podium of a session on satirical media with Saudi, Jordanian and Egyptian comics and writers but he clearly stole the show and brought down the house with his comments.
Another panel raising eyebrows and questions at the two-day annual event
featured Arab singing and acting stars who added buzz and followers by hosting talk shows and judging talent competitions, to the dismay of traditional journalists in a lean job market.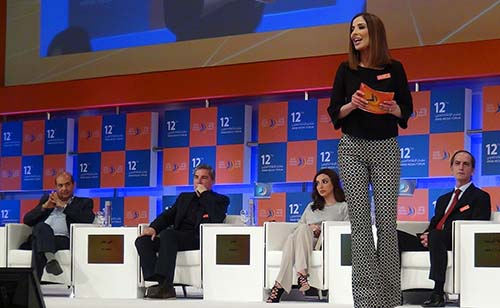 Presenter Wafaa Al Kilani chairs panel on stars-to-TV hosts (Abu-Fadil)
The forum, organized by the Dubai Press Club drew a record 3,000-plus participants from across the Arab world and beyond to exchange views, network and question which way the wind was blowing on the media horizon.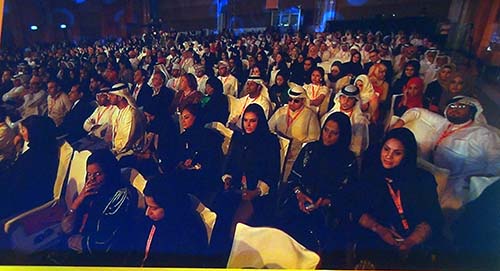 Record 3,000-plus attended Arab Media Forum (Abu-Fadil)
One of the AMF's opening sessions zeroed in on the recurrent issue of social media and citizen journalists competing with, and often feeding, traditional media.
"We have strict guidelines on sourcing and unsubstantiated videos," said Reuters' Middle East and Turkey editor Samia Nakhoul about content from conflict zones.
Nadia Abou El-Magd from Egypt's new Masr Al Arabiya news channel emphasized the need for accuracy across all platforms but said those working in television felt more pressure to turn out good content.
Various Arab media have often been faulted for stoking sectarian and national differences, notably in countries experiencing unrest and transitioning from regimes led for decades by strongmen.
Media have in turn been calling for greater accountability by governments and pan-Arab bodies ruling on major policy issues.
Dubai TV talk show host Zeina Yazigi needled keynote speaker Arab League Secretary General Nabil Al Arabi about his organization's inability to end the violence in Syria.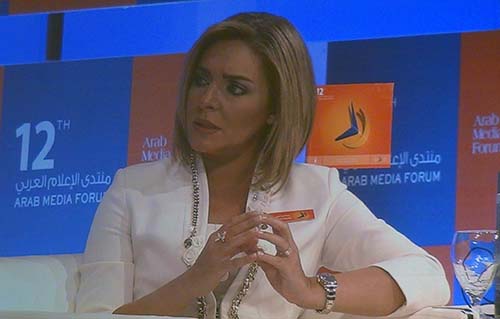 Dubai TV's Zeina Yazigi corners Arab League chief on Syria (Abu-Fadil)
"What's needed in Syria is a political solution to end the bloodbath," he said. "The Arab League was first in taking the initiative to end Syria's violence but its powers are limited."
Asked whether it was time to revamp the League's original charter given changes rocking the Arab region, Al Arabi agreed saying the decision was not his to make but that of the member states.
"The common ground in the Arab League is cultural, not political," he admitted.
Sheikh Ahmed Al Tayeb, the Grand Imam of Egypt's Al-Azhar mosque, said he supported freedom of expression but urged journalists to abide by ethical standards.
In an opening speech, Al Tayeb said the Arab media's role was to correct distorted and stereotyped images of Islam while acknowledging the chaos of religious "fatwas" (edicts) on local and regional channels.
He asked journalists to protect the Arabic language, which critics say has been disfigured by misuse in traditional and social media.

A panelist in a session dedicated to Arabic said the language was being systematically massacred while expert Farouk Shousha retorted that the media had contributed to its renaissance.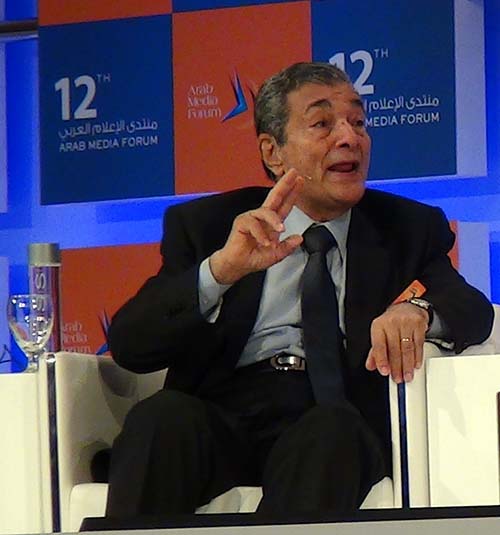 Farouk Shousha: whither Arabic in media? (Abu-Fadil)
Purists insist media adhere to rigorous use of classical Arabic, also known as the language of the Holy Quran, whereas news organizations have settled for a slightly less formal permutation.
Social media users and netizens have, in turn, resorted to using their own form, combining Arabic and English terms, known as "Arabizi" (short of Arabi-Inglizi), making classicists cringe.
The AMF is the region's leading media-related event and has continued to gain importance since it was launched 12 years ago.
It closed with much fanfare and the handing out of Arab Journalism Award prizes in categories including investigative journalism, sports, interviews, political coverage, business news, columns, photos and caricatures, to name a few.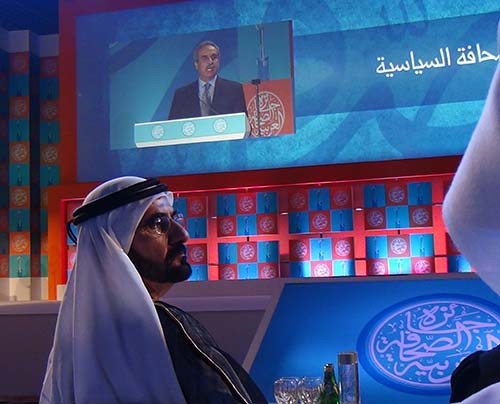 Dubai ruler Sheikh Mohamad bin Rashid Al Maktoum at Arab Journalism
Award ceremony (Abu-Fadil)
Syrian caricaturist Raed Khalil won the coveted prize in his category for an illustration of an Arab's mouth as the nozzle of a gun he'd pulled, and a screaming mouth drawn on the barrel, depicting intolerance of "the other's" views.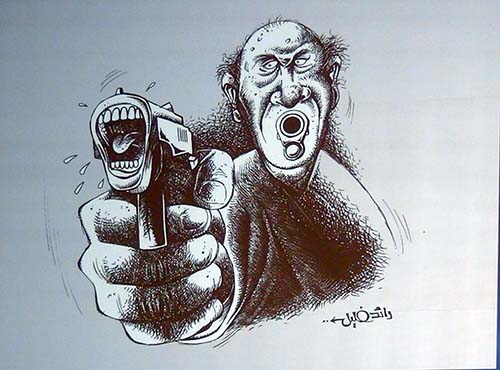 Award-winning caricature by Syrian Raed Khalil (Abu-Fadil)
As with all things Dubai, superlatives fail to describe the police force's squad cars parked in the driveway of the hotel where the AMF was held.
The Lamborghini and Bentley reminded gawkers that Dubai's men and women in uniform could easily floor the gas pedal to nab speeders on the country's streets and highways.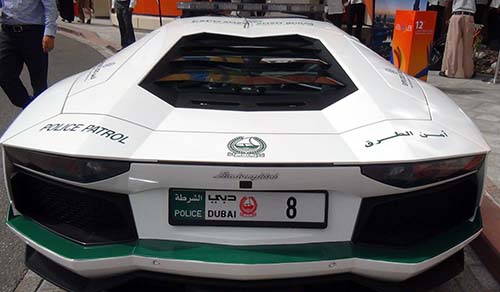 Dubai police patrol Lamborghini to nab speeders (Abu-Fadil)