Are we ready to tolerate people saying awful things about us in the media without reacting and by not inciting violence?
We should be, according to Aidan White, the director of the Ethical Journalism Network (EJN), who expressed concern about the crisis of hate speech in the Arab region, fueled in great part by the media.
"One of the difficulties is defining hate speech," he said at a three-day seminar entitled Building Trust and Tolerance in Beirut this week. "Governments define it to serve their own interests."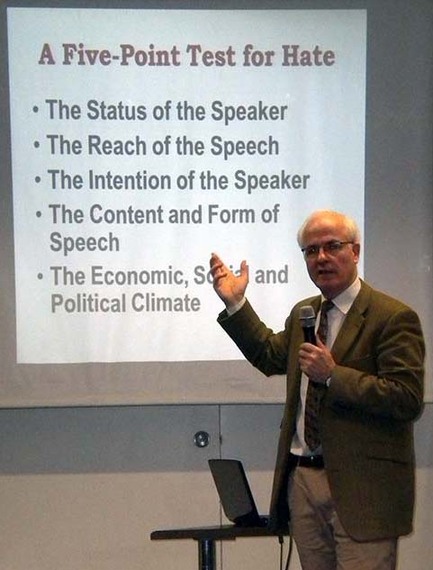 Aidan White and a five-point test for hate (Abu-Fadil)
Given the importance of countering such venom, the pervasiveness of corruption, as well as constant government interference, White asked why there wasn't a regional center to deal with hate speech in the media.
He described EJN's five-point test on hate speech as the status of the speaker, the reach of the speech, the intention of the speaker, the content and form of speech, and, the economic, social and political climate in which it exists.
The event, organized by EJN, the Beirut-based Maharat Foundation and the Norwegian Institute of Journalism grouped experts from across the Middle East and North Africa.
"There's a great need to shed light on hate speech that leads to murder and other crimes," said Abdel Salam Sidahmed, the Middle East regional representative at the Office of the High Commissioner for Human Rights (OHCHR), adding that racism was on the rise on the Internet and in social media.
The BBC's Arabic channel aired a documentary called "An Qorb" (Up Close) about satellite TV stations in the Middle East that spread hate speech.
Sidahmed acknowledged an increase in recent years in stereotyping, sedition and racism and that there were no successful control mechanisms to halt hate speech, notably in the media.
I Hate You: Hate Speech and Sectarianism in Arab Spring Media is a good example of what we face today. It's a 385-page book of well-documented case studies from across the region.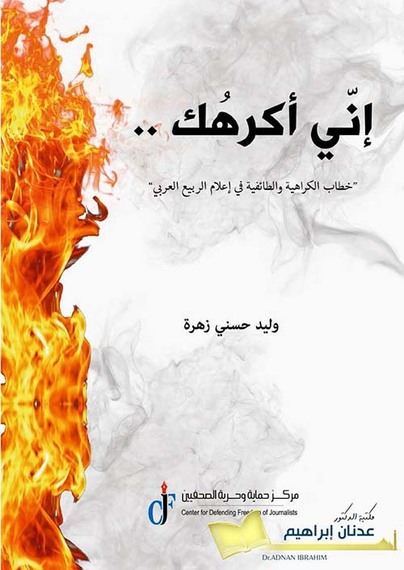 Screen shot of "I Hate You: Hate Speech and Sectarianism in Arab Spring Media" book
Sidahmed pointed to the "Rabat Plan of Action on the Prohibition of Advocacy of National, Racial or Religious Hatred That Constitutes Incitement to Discrimination, Hostility or Violence" launched in the Moroccan capital in October 2012.
I brought up the need for serious review of media ethics and presented guidelines on good journalistic practice at the seminar.
There are regular calls to end sedition and sectarianism in Lebanon, I noted, but said there were no serious efforts to hold the media, bloggers and activists accountable, without resorting to draconian measures like jail sentences and banning of outlets.
Depending on who the paymaster is, Lebanon's media often add fuel to the fire by perpetuating or starting rumors.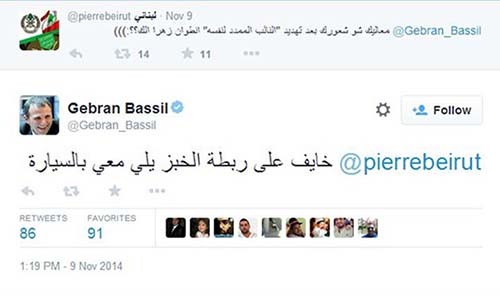 Screen shot of Lebanese Foreign Minister's tweet, a throwback to civil war
Reports of a threat by legislator Antoine Zahra from the Lebanese Forces (LF) party against Foreign Minister Gebran Bassil from the opposing Free Patriotic Movement caused a stir on Twitter last week.
A citizen asked Bassil in a tweet what he thought of the threat. The minister replied he was afraid of losing a pack of bread in his car, in reference to Zahra, who, according to civil war stories, used to man an LF militia checkpoint and pinch bread from passersby at gunpoint.
I pointed to the Arabic Online Media Ethics Guide I launched with colleague Rouba El Helou last May to help online journalists, bloggers and activists publish acceptable content.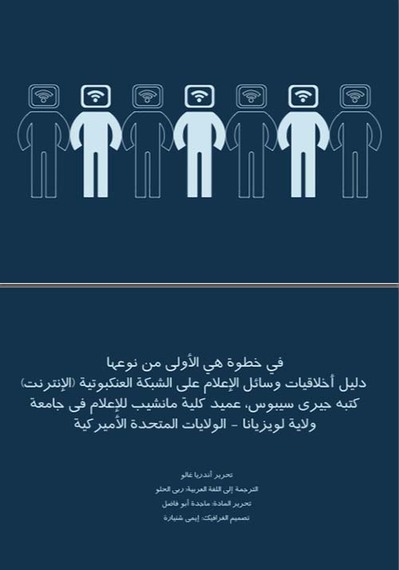 Arabic Online Media Ethics Guide (Abu-Fadil)
I also referred to the Council of Europe's Hate Speech Watch, a collection of definitions linked to different aspects of hate speech.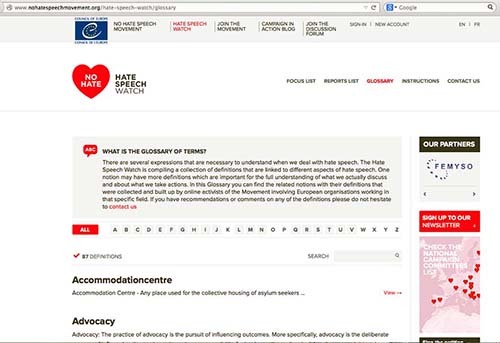 Screen shot of Hate Speech Watch
The seminar's participants agreed censorship was an unacceptable option but that media may revert to self-censorship to avoid getting in harm's way.
Lara Zaloum, operations manager at LBCI TV in Lebanon, said her newsroom team had often cut live broadcasts, stating technical difficulties, so as not to subject reporters to danger or death threats from warring factions.
Bahrain is a prime example of hate speech, notably against Shiites and any anti-government forces, said dissident Ali Dairy of Miraat Al Bahrain (Bahrain Mirror), a newspaper and website produced outside his Arab Gulf country.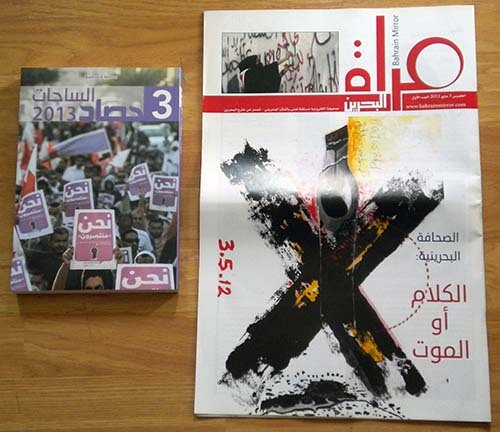 Bahrain Mirror and 2013 Harvest (Abu-Fadil)
Bahrain's population is predominantly Shiite Muslim while the country's ruling family is of the minority Sunni sect.
The cover of the paper's maiden issue in May 2012 screamed out "Bahraini Press: Speaking Out or Death." The organization also produced a compendium of 2013 human rights violations by authorities.
Egypt's Mohamed Abdel Rahman, editor of www.e3lam.org, said ignorance, ethnocentrism and being unable to live with people was feeding hatred in his country, which, in turn, was reflected in the media.
The revolution that toppled president Hosni Mubarak, successive governments, the Muslim Brotherhood, and the current regime that ousted Brotherhood president Mohamad Morsi have sprouted an avalanche of hate speech in Egyptian media.
"We have sectarianism, political, social, and geographic hatreds," he said. "It's normal for people to be aggressive, to want to fight, and (TV) talk shows are platforms for fights."
The seminar that included participants from Syria, Yemen, Qatar, Jordan, Morocco, Tunisia, Iraq, Algeria and Turkey ended with an eight-point statement to combat hate speech and promote actions to further ethics, good governance and self-regulation.