The Gulf emirate of Dubai is on a PR kick aimed at polishing its image and repairing damage from negative reports, notably during the height of the financial meltdown, but the body handling the job will not hamper the media, its new chief said.
"Brand Dubai," the office set up to coordinate all media affairs "will not act as a censor of news organizations in Dubai Media City," said Mona Al Marri, its CEO, and, until recently, president of the Dubai Press Club.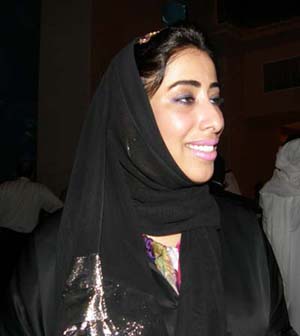 "Brand Dubai's" CEO Mona Al Marri (Abu-Fadil)
The new Dubai Media Affairs Office will be charged with responding to international media and strengthening Dubai's image as an Arab city with "an international spirit and sensibility," according to the state-run WAM news agency.
Its brief is to encourage maximum exposure for Dubai's achievements and the office will be given the task of liaising with regional and international media to spread the emirate's key messages of sustainable economic growth and social progress, WAM added.
Dubai's ruler, Sheikh Mohammad bin Rashed Al Maktoum, decided to set up the office in response to countless reports in international media focusing on his country's slumping real estate market, the mistreatment of foreign laborers and the exodus of white collar workers in an uncertain economic environment.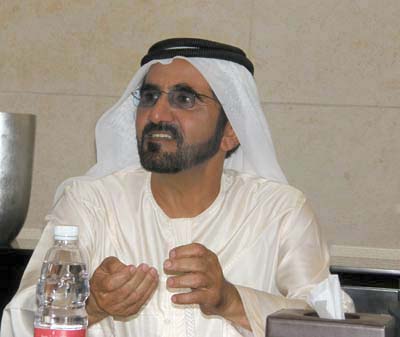 Dubai ruler Sheikh Mohammad bin Rashed Al Maktoum (Abu-Fadil)
The unsavory reports have zeroed in on the financial situation of Dubai, one of the United Arab Emirates (UAE), whose emir has been promoting the city-state as a center of international commerce, finance, media, entertainment, and more recently, education and culture.
Grandiose real estate projects, shopping malls, and over-the-top luxury hotels were adversely affected by the meltdown, leading to a halt to many ambitious projects in recent months.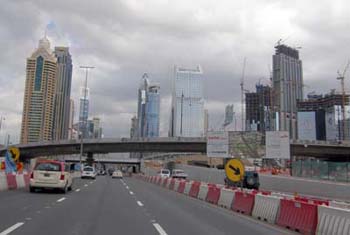 Construction slowdown-Dubai skyline (Abu-Fadil)
In March, Reuters reported that Standard & Poor's had downgraded the credit ratings of seven Dubai companies, including a key real estate firm.
It said it was worried about the health of banks as the former boomtown faced a sharp slowdown resulting from the financial crisis.
Various press reports have said Dubai was financially exposed, following its expansion into extensive mega-projects, leading it to borrow more, and to turn for help to the wealthier emirate in the federation, Abu Dhabi.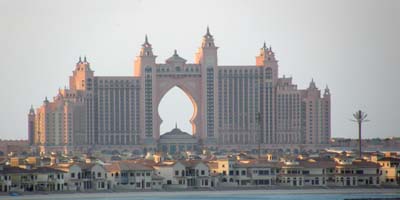 Dubai's over-the-top Atlantis Hotel (Abu-Fadil)
"Yes, I can say the office was set up as Dubai needs an organization that can handle the campaigns launched against the country," Al Marri told the pan-Arab daily Asharq Al-Awsat.
But she insisted the Dubai Media Affairs Office had refrained from legal action against organizations that besmirched the emirate's reputation.
She did, however, say the office would undertake measures, before delving into legalities, whenever inaccurate negative media reports appeared, including following up and responding with facts.
"We don't currently have someone doing that, and we'll be dealing with specialized international firms to know what track to follow," she added.
Insiders in Dubai said various consultants had also been retained to assess the country's media in a bid to set a comprehensive strategy for the sector but feared the different organizations' work would overlap.
Dubai officials were initially outraged at what they considered vicious Western media attacks on the emirate in the wake of the financial crisis.
According to Asharq Al-Awsat, key figures in Dubai had called for a clear media strategy to deal systematically with such negative campaigns.
"I'm not disturbed by criticism or talk of negative things," said Sheikh Mohammad, who is prime minister of the seven-state UAE. "But in the months following the international financial crisis, some of what was written wasn't criticism, it was an outright media attack targeting the UAE as a successful, prosperous Arab model, and Dubai with its development, accomplishments and international standing."
Sheikh Mohammad has been proactive in responding to media queries about Dubai's financial woes, through his official website (http://www.sheikhmohammed.co.ae).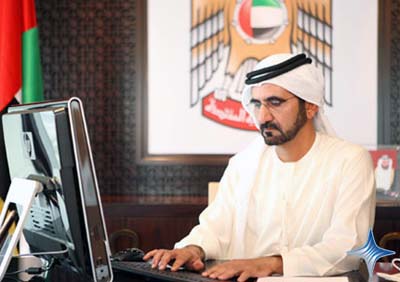 Sheikh Mohammad bin Rashed Al Maktoum responds to journalists'
queries through his website
In April, Dubai's hyper-kinetic emir with an overcharged schedule held a collective cyber news conference with several reporters who had been requesting interviews.
"Our model isn't the world's highest tower, best airport, fanciest hotel, biggest port, and man-made islands...the Dubai model is that it's in an Arab region with scarce natural resources but it has a clear vision for comprehensive development needs," he argued.
He said the emirate had succeeded in investing its human resources, its geographic location and its trade experience to achieve record development goals and to expand communication channels between east and west.