Warming up to Cuba may have become fashionable in certain U.S. circles but Cuban artists and music have long attracted Lebanese aficionados to hot salsa dances and infectious percussion rhythms.
Legendary octogenarian diva Omara Portuondo and the Buena Vista Social Club musicians added that magical note to the Byblos International Festival - so named after the historical Lebanese town credited with launching the alphabet.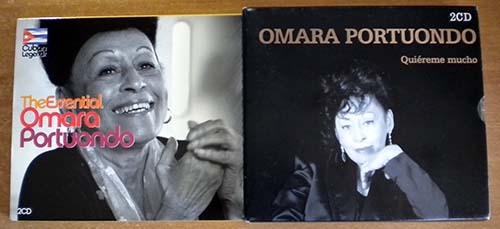 Omara Portuondo lit up the Byblos night in 2005 (Abu-Fadil)
The port of Byblos, also known as Jbeil in Arabic, has been a draw for entertainers, artisans, historians, culture mavens and tourists for longer than anyone can remember.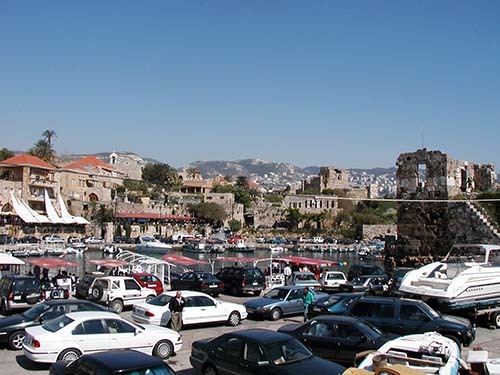 Ancient port city of Byblos (Abu-Fadil)
The passionate Irish found kindred souls in Lebanon when their mesmerizing heel-clicking Riverdance troupe made its Middle East debut in Byblos, also at the festival.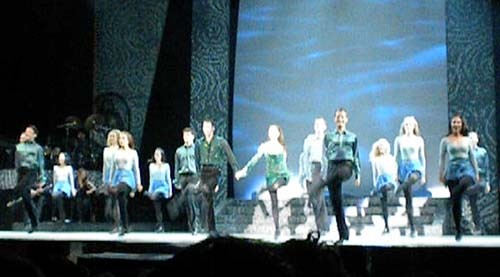 Riverdance's mesmerizing performance at Byblos (courtesy Chiniara)
What is it about this charming seaside town that's become a victim of its own success?
In December The Wall Street Journal featured Byblos in a photo essay entitled "Christmas Trees Around the World." It ranked second out of 15 cities noted for how they decorated their trees.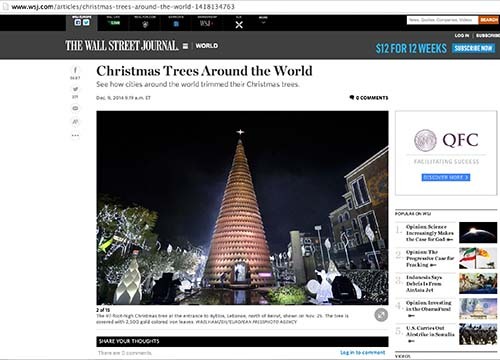 Screen shot of Byblos Christmas tree in The Wall Street Journal
The tree is 97 feet high and covered with 2,500 gold colored iron leaves. The decorations include scenes inside the conical structure and an area lining the main street to and from the highway linking the Lebanese capital Beirut 40 kilometers (25 miles) south of Byblos to the northern port city of Tripoli.
That was enough to draw aggravating bumper-to-bumper traffic on the highway and in the town during this holiday season with wall-to-wall crowds gaping at the Christmas attractions.
The crowds also headed for the pedestrian-only old souks lined with shops displaying Lebanese handicrafts, tacky shoe and clothing shops, mom-and-pop convenience stores, cafés, restaurants and trendy watering holes.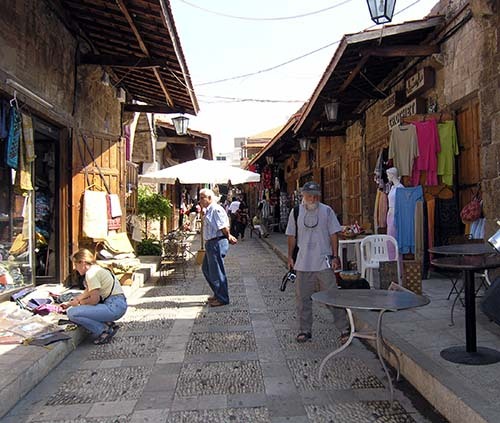 Byblos' old souks attract tourists and locals (Abu-Fadil)
"It was fine until they (officials and others) decided to start buying awards and turning it into a business hub, the cheapest way," complained a friend who lives in the area, referring to Byblos' over-commercialization and city administrators' search for fame and fortune via questionable means.
But there's more to the place than attention-seeking local politicians.
Byblos, one of the oldest continuously inhabited Phoenician cities, was named a UNESCO World Heritage site in 1984, thanks to its rich layers of history dating back 7,000 years, according to scholars.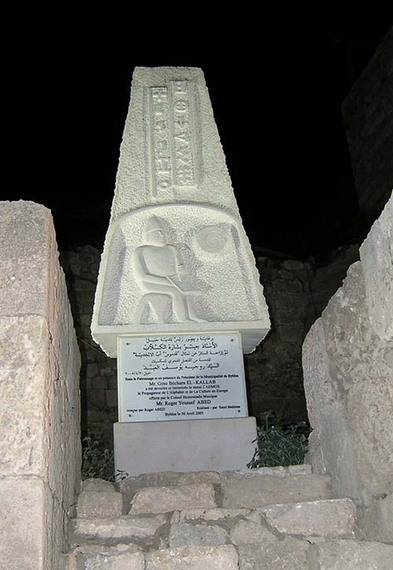 Statue of Cadmos, father of the alphabet (Abu-Fadil)
Phoenician Prince Cadmos is said to have introduced the alphabet we use today to the Greeks, who, in turn, gave us the Greek alphabet. A statue honoring him faces the port.
The current harbor probably saw plenty of traffic from fishing vessels down the ages but was considered too shallow for the majestic triremes (traditional Phoenician ships) plying the Mediterranean's waters in search of markets.
In 2013, Studio Mr. White and minus5architects created a breathtaking 3D mapping event during which they projected the history of Byblos onto the harbor's old tower walls.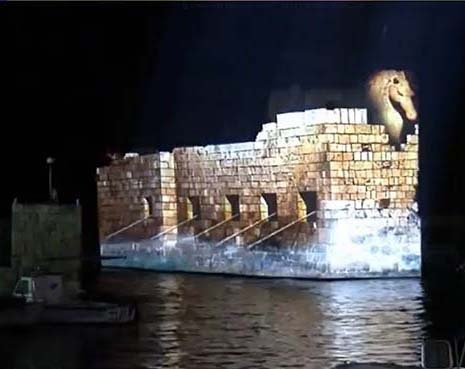 Screen shot of Byblos 3D Mapping turns harbor tower into trireme
Today, fishing boats and fancy yachts drop anchor in the harbor that boasts popular seafood restaurants and clubs.
One such eatery is Pepe's, or the Byblos Fishing Club named after its late founder Youssef Abed.
It's hosted gliterrati like one-time French screen sexpot Brigitte Bardot, her then husband German millionaire Gunther Sachs, Hollywood legends David Niven and Marlon Brando, to name a few.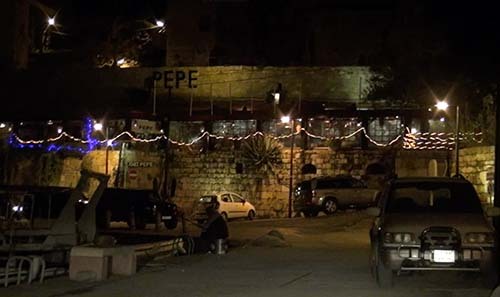 World-renowned Pepe's Fishing Club in Byblos (Abu-Fadil)
Famous international and local politicians, as well as infamous spooks and intellectuals have also graced its rustic tables.
For those with religious interests, there's St. John the Baptist Church built over a period spanning the 12th and 13th centuries in the Roman architectural style, albeit with a Byzantine flare. Its parishoners are of the Maronite (Catholic) sect.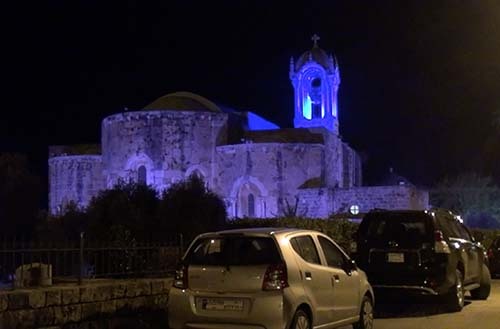 St. John the Baptist church (Abu-Fadil)
Another house of worship from that era is the Greek Orthodox Our Lady of Deliverance Church. Byblos is also home to the Sultan Abdul Majid Mosque dating back to the Ottoman era.
The town has witnessed a human flow going back to the Stone Age passing through the Bronze, Iron, Hellenistic, Roman, Byzantine periods, the Middle Ages, the Ottoman centuries, two world wars, the French Mandate period to post-Independence Lebanon.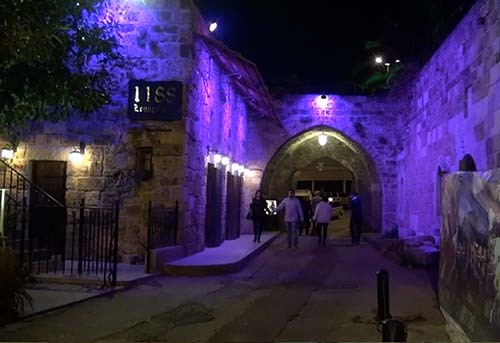 Cut stone houses and historical arches dot old Byblos (Abu-Fadil)
Visitors can stop by its fossil and wax museums, walk to a Roman road and colonnade, see a Persian castle, a Crusader castle, royal tombs, and city fortifications.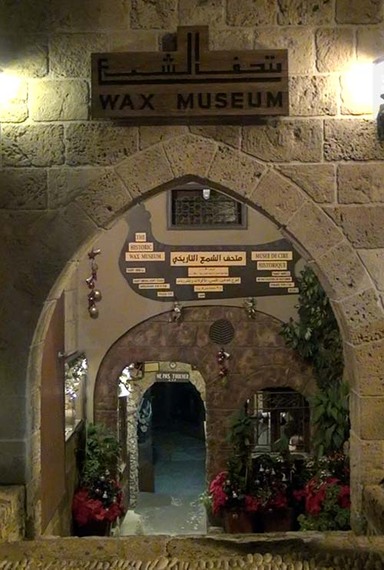 Byblos Wax Museum (Abu-Fadil)
The New World Encyclopedia offers interesting background information on Byblos. Other publications and websites also cover its rich history.
But visiting Byblos is a sure way of appreciating its heritage.