The Tramp, The Immigrant, the comedian, the actor, the writer, the musician, the composer, the director, the husband, the father, the genius.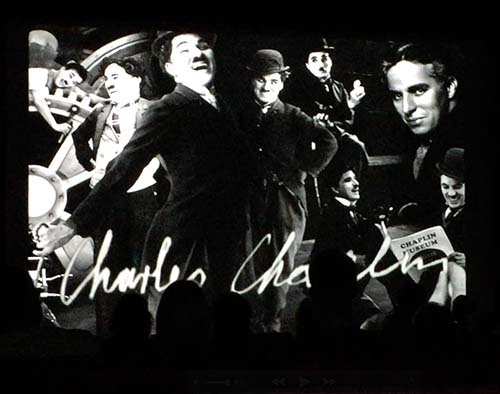 The legendary Charles Chaplin (Abu-Fadil)
Charlie Chaplin was that and more.
It's only fitting that the museum celebrating his life and work that opened in April 2016 provide visitors with a rich experience at his former manor and estate in Corsier-sur-Vevey in Switzerland.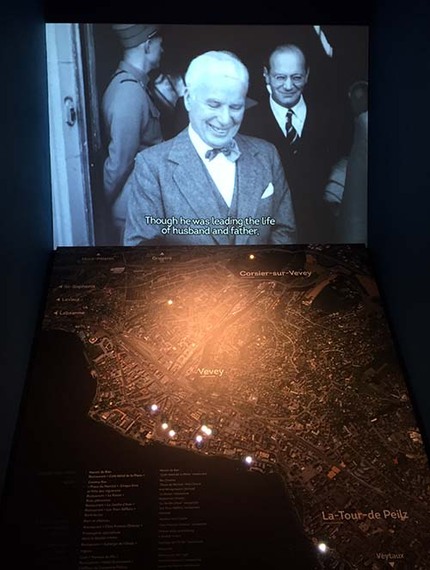 Map of Chaplin's Swiss residence (Abu-Fadil)
"With such happiness, I sometimes sit out on our terrace at sunset and look over a vast green lawn to the lake in the distance, and beyond the lake to the reassuring mountains, and in this mood think of nothing but enjoy their magnificent serenity." Charlie Chaplin, My Autobiography 1954.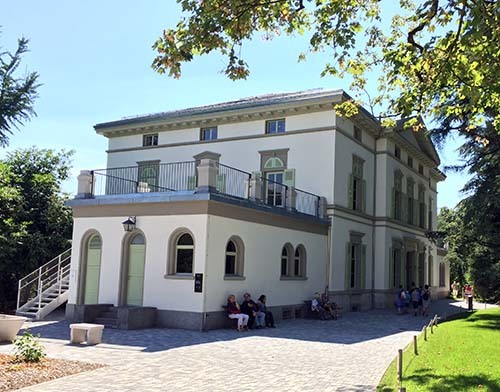 Chaplin mansion-cum-museum (Abu-Fadil)

The mansion (a/k/a Manoir de Ban) to which Chaplin, wife Oona and their eight children moved - after being banned from re-entry to the United States on charges of being a communist and where he'd lived for decades - underwent a facelift to become a museum surrounded by carefully manicured lawns, a farmhouse, and a newer mock-up of a Hollywood studio.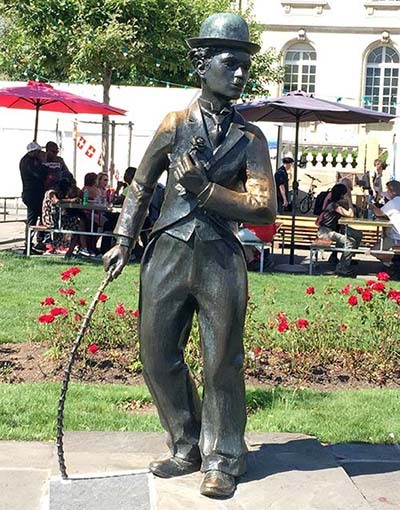 Charlie Chaplin statue on Vevey corniche by
Lac Léman (Abu-Fadil)
It's all perched atop a hill overlooking Lake Geneva (Lac Léman) with a backdrop of the Alps, and well worth the 23 Swiss Francs ($23.51) entry ticket.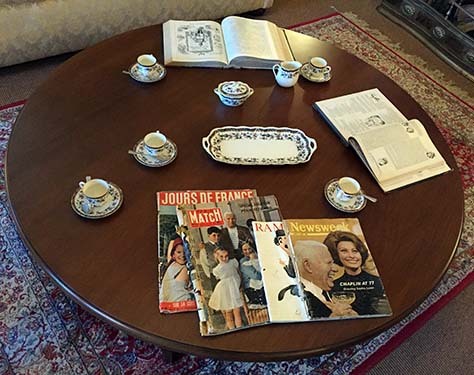 Chaplin library coffee table (Abu-Fadil)
It's not yet on the Swiss Travel Pass combo that includes countrywide trains, buses, boats and museums.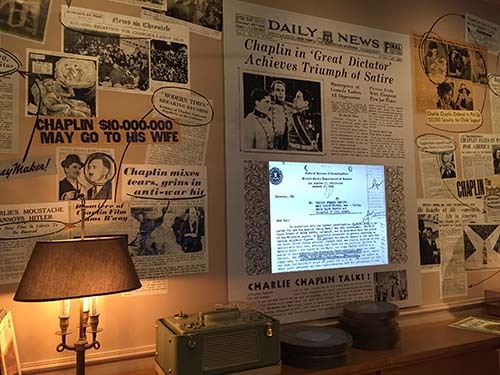 Clippings and videos on screen of Chaplin's life (Abu-Fadil)
But it took five years to put together, preceded by another seven to secure the needed permit. Neighbors had worried the estate would turn into a tacky three-ring circus.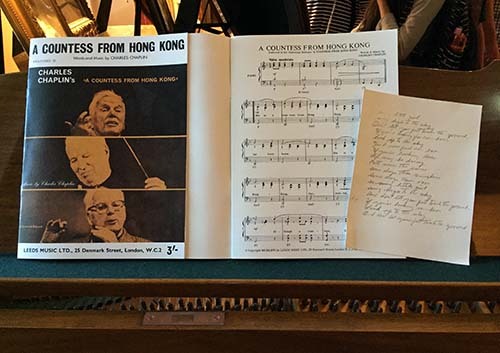 "A Countess From Hong Kong" score on Chaplin's piano (Abu-Fadil)
The tasteful experience transports visitors to a world of art, entertainment, history, politics, filmmaking, and personal touches.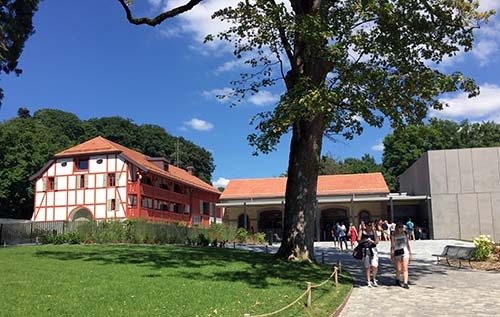 Café-restaurant (left) and studio (right) at "Chaplin's World" (Abu-Fadil)
The house is filled with family pictures, memorabilia, scripts, music scores, magazines featuring the star, furniture, newspaper clippings, wax figures of Chaplin, Oona, and others whose paths he crossed, created by the Paris Grévin wax museum artists, as well as steamer trunks in a room chronicling his worldwide travels.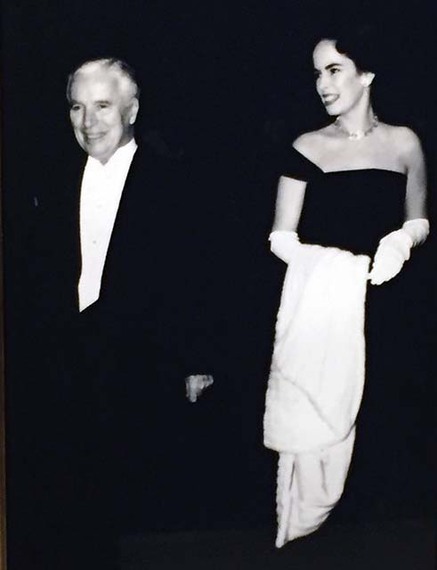 Picture of Charlie and Oona Chaplin (Abu-Fadil)
In one room there's a photo gallery of famous figures he knew. He paid special tribute to world-renowned scientist Albert Einstein.
I will try and give you an impression of this great man. The eyes have a look as though they see clearly the simplicity of all things. The brow wears no furrows. One feels that all the superficial entanglements of thought that obscure our vision have been swept aside by him, and that he sees only the fundamentals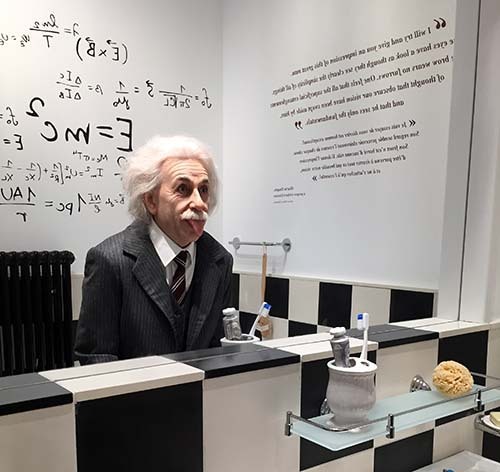 Chaplin on Albert Einstein (Abu-Fadil)
Every room has at least one screen projecting videos of home movies, clips from his professional films, and more.
The studio is chock full of interactive multimedia installations recreating scenes from Chaplin's films, countless reels of movies, film strips, scripts, editing machines, and awards he received for his achievements in the movie industry.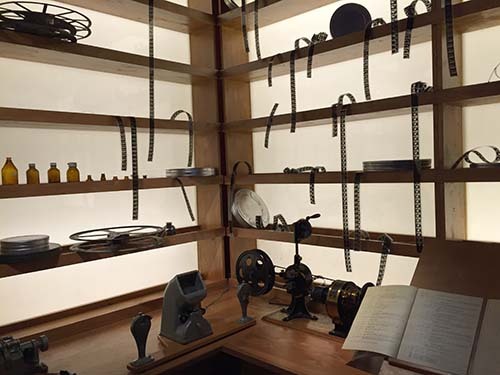 Countless film reels and scripts (Abu-Fadil)
Charles Spencer Chaplin was born in London in 1889 and began his career as a comedian with a troupe that later toured the U.S. from 1910 to 1912. He returned to America, began his quick rise to fame in films and established a loyal fan base.
He traveled extensively in the following two decades and realized his growing popularity, later declaring: "I am a citizen of the world."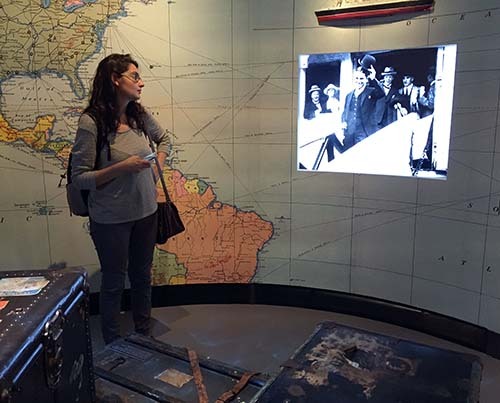 Room chronicling Chaplin's worldwide travels (Abu-Fadil)
But with fame came infamy, triggered by an FBI witch-hunt, several lawsuits, attacks in the media and boycotts of his films which detractors saw as vehicles to promote anti-American and pro-"Red" ideas in a charged xenophobic, conspiracy-minded environment egged on by the likes of communist-baiting Senator Joseph McCarthy.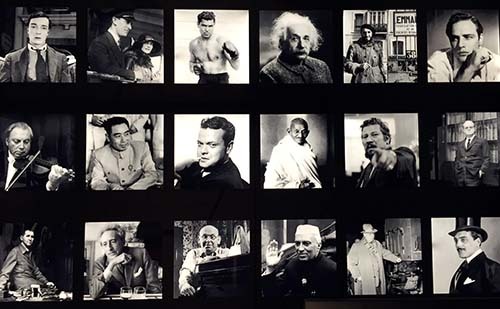 Noted figures in Chaplin's life (Abu-Fadil)
Chaplin fervently denied the charges.
In one movie sequence the actor is seen asking a school lad engrossed in a book what he had been reading. The boy said Karl Marx, to which Chaplin's character asked if the boy was a communist.


When reading Karl Marx is a liability (Abu-Fadil)
The boy's retort: "Must one be a communist to read Karl Marx?"
Chaplin had lived in the U.S. for about 40 years but remained a British citizen. As he sailed with his family from New York to attend the premiere of his film Limelight in London, he got word he'd become persona non grata amid fears of Soviet penetration in America.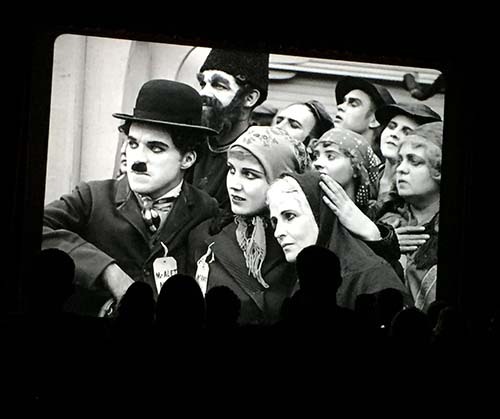 Scene from "The Immigrant" (Abu-Fadil)
A Norwalk, Ohio newspaper headlined on September 20, 1952: "Charlie Chaplin Barred from U.S."
The estate's studio is fascinating for movie buffs.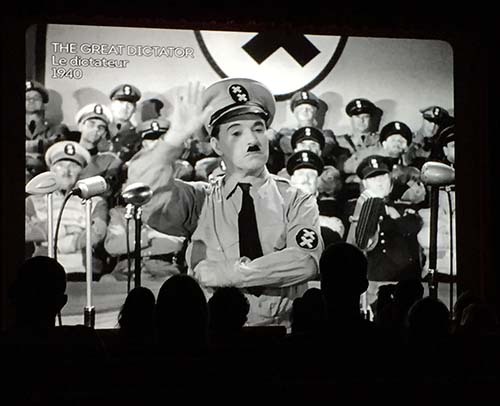 Scene from "The Great Dictator" (Abu-Fadil)
After viewing a brief documentary on Chaplin in a theater, visitors walk behind the lifting movie screen into a replica of a street, through a 360-degree circus-like hall, along a corridor with statues of comedians Laurel and Hardy, pop star Michael Jackson, pictures, posters of his films, and videos, then down a steep staircase to a mock Hollywood studio with scenes from different movies.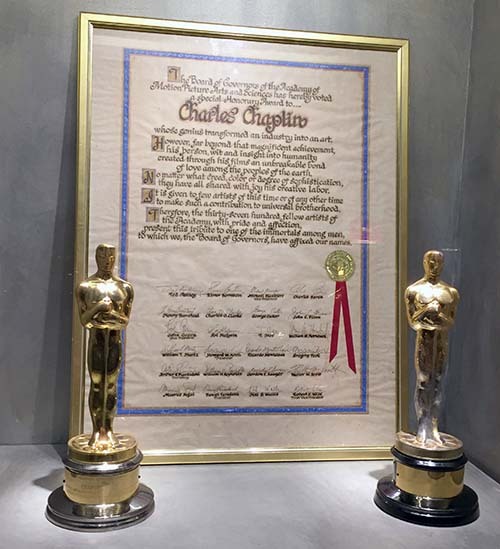 Oscars, a testament to Chaplin's talent and genius (Abu-Fadil)
A plaque says Jackson idolized Chaplin: "[He] was everything that I want to be - songwriter, dancer, director, producer." Jackson dressed as The Tramp for a photo shoot on one of the London streets where Chaplin had lived, visited Oona, and later the families of Michael and Eugene Chaplin, in Corsier. In 1995, he recorded his favorite Chaplin song Smile for the HIStory album. Many say that Chaplin's dance during the "Nonsense" song at the end of Modern Times was one of the inspirations for Jackson's Moonwalk.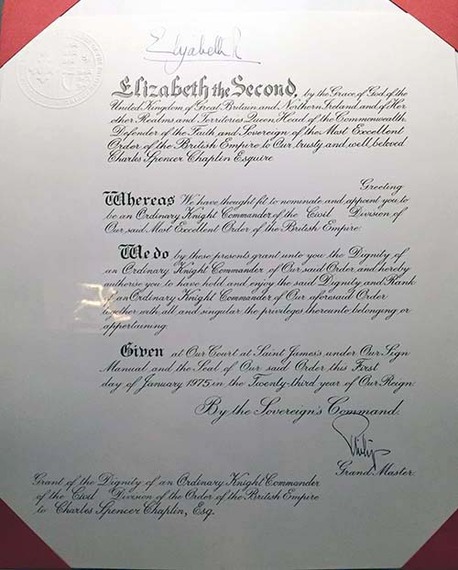 Queen Elizabeth II knights Chaplin in 1975 (Abu-Fadil)
The anti-war Chaplin was given an award by the World Peace Council in 1965, was knighted by Queen Elizabeth II in 1975, and honored with Oscars and the Lion d'Or of the Venice Film Festival.