Print, broadcast and new media reporters from Lebanon, Saudi Arabia and Iraq took to blogging and cyber publishing like fish to water during a workshop on citizen/online journalism in Beirut.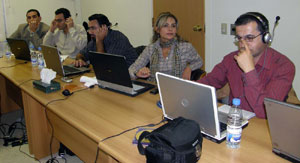 "I'd like to request supplementary workshops to follow up on the subject," said Iraqi journalist/trainer Ubaidallah Hirory who traveled from Kurdistan, adding that participants should create a database for further exchanges of information and experiences in cyberspace.
Web and new media experts Jessica Dheere and Karina Rodriguez guided the participants who flocked to the five-day mini-course conducted by the American University of Beirut's Journalism Training Program (JTP).
The new citizen journalists who represented Lebanese-Saudi TV station "Al Hayat-LBC," Lebanese papers "Al Mustaqbal" and "Sada Al Balad," the website "Menassat," the NGO "Greenpeace" website, "Al Nour" radio, "The Middle East Reporter," daily newsletter, "IREX Iraq," Iraqi newspaper "Al Riyadh Al Jadid" and "Al Mirbad" radio and TV in Iraq, created a class blog as well as individual blogs on which they posted daily content produced during the workshop.
"We need an advanced level (workshop) in online journalism," said Lebanese reporter and fledgling blogger Norma Khansa, who reveled in the ability to create and produce her own online content.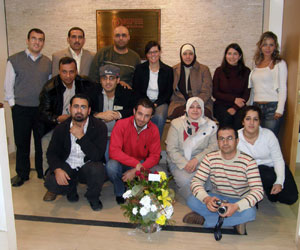 The training involved writing, photo, audio and video editing and production, linking to other sites, online ethics, podcasting, RSS feeds, packaging stories for multimedia and different platforms, and, presentations of the final products.
It was amusing seeing the bloggers create storyboards for online use, struggle with sound tracks, shoot pictures with digital cameras and cell phones and post them with text.
What may seem elementary in the West is still catching on in much of the Arab world. But blogging is definitely becoming the medium of choice.
In countries where press freedom is limited (or non-existent), traditional journalists and all manner of bloggers are risking limb and life to disseminate their respective messages.
In October, the advocacy group Reporters Without Borders issued the sixth annual Worldwide Press Freedom Index in which it criticized certain governments (including several in the Arab world) for cracking down on bloggers.
Web bans have also been increasing in various countries, with governments claiming the restrictions aim to protect their citizens from immoral or deviant content.
Dissidents and opposition figures, however, counter that the bans are another form of censorship by repressive regimes interested in self-preservation.
So it was no surprise the Beirut workshop's participants were eager to pick up every possible tip on how to establish a presence in cyberspace.
The workshop was the sixth in a series sponsored by the Dutch Embassy in Lebanon.
The Dutch government has underwritten various media-related projects in the Middle East, including support for the Arabic-English website "Menassat" (Platforms) through which journalists and bloggers are offered a venue to write and find out about the latest in Arab media.
Participants said each of the workshop's topics merited a separate and specialized course, and urged organizers to provide faster and more accessible Internet service to maximize their efforts.
Fast Internet access has been slow coming to Lebanon. Internet service providers have had to contend with top-heavy government bureaucracy and feuding politicians hampering the process, with each party seeking to wring the highest profits from customers.
Although prices have dropped in recent months, users view this as a promotional gimmick to entice customers to the newly introduced ADSL service. Lebanon, it should be noted, has one of the highest Internet costs in the world.
Depending on the particular region of the country and one's own financial capabilities, Internet use in Lebanon can range from the old-fashioned dial-up service to the faster ADSL, but even the latter is inadequate for the fast growing local and regional market.
Young Arab journalists have been adapting to the new media and leading the charge for change. They fit the characterization by Robert Niles in the "Online Journalism Review" in September that journalists make ideal online community leaders.
Which is why it is imperative to provide them with the right tools and a good dollop of media ethics to match.
Maintaining that delicate balance has been the JTP, which falls under the American University of Beirut's Regional External Programs and caters to Arab print, broadcast and online journalists.
The JTP was launched in May 2007 thanks to sponsorship by Sarah S. Alfadl, a Saudi-American lawyer/activist, who saw the need for upgrading and updating journalists' knowledge and skills in Arabic, English and French in the Middle East/North Africa region.
The program was created to provide journalists with year-round courses in various topics, including citizen/online journalism, both at the university and in-house where requested.