You're damned if you do, and damned if you don't in Egypt.
The BBC's Jeremy Bowen was hit in the head and leg by birdshot while covering a demonstration outside Cairo's Republican Guards Club, Britain's Mirror newspaper reported.
It's unclear whether he was intentionally targeted or if he just happened to be in the line of fire.
Soldiers interrupted CNN's Ben Wedeman mid-report live from Cairo's Tahrir Square and seized his cameraman's equipment.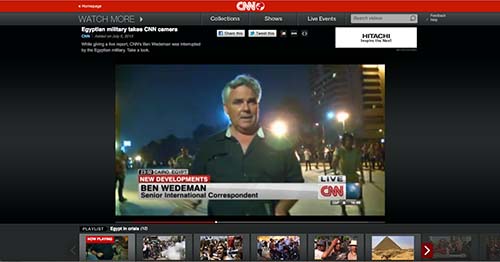 Screen shot of CNN's Ben Wedeman being accosted by Egyptian soldiers
Despite the presence of countless local and foreign reporters covering violence in Egypt, soldiers saw fit to halt Wedeman's transmission.
More specifically, CNN has been slammed for what Egyptians protesting against the Muslim Brotherhood (MB) say is the network's biased coverage and siding with supporters of Brotherhood-backed ousted president Mohamad Morsi.
The anti-MB protesters claim CNN has been focusing on pro-Morsi demonstrations and unfairly describing his removal by the armed forces as a coup, rather than a full-fledged revolution in compliance with the Egyptian people's will.
"When u see more than 33000,000 protesting against the president Don't be stupid & call it a coup. #not_a_coup #cnn #usa," tweeted Al Dostour Party.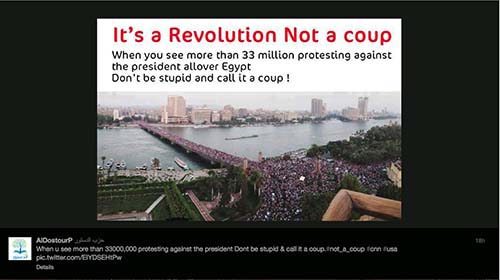 Screen shot of Al Dostour Party tweet "It's a revolution, not a coup"
Tweep Hazem Azim said CNN had double standards for calling the January 25, 2011 revolution that toppled then president Hosni Mubarak by its name, while referring to the June 30, 2013 uprising as a military coup.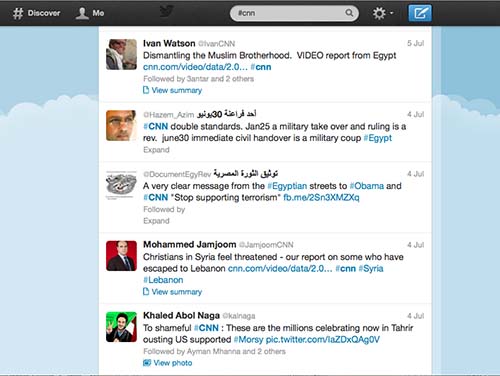 Screen shot of Hazem Azim's tweet on CNN's double standards
Even Washington-based Egyptian members of the "Tamarod" movement that rallied to oust Morsi protested against CNN's coverage of events in their home country, saying the network broadcast lies.
"We want to send a message to America and the world that the Egyptian people are the ones who deposed Morsi, not the army, and everybody has to stop describing what happened as a coup because it was a genuine popular revolution," Al Youm Al Sabei (The 7th Day) daily quoted protester Tawfiq Daoud as saying.
Another anti-CNN piece in the paper said the network had deleted a story by Egyptian iReport contributor Hasan Amin in which he asked why U.S. President Barack Obama supported terrorism.
Amin, who won the CNN iReport award for breaking news in 2012, subsequently published all the deleted material (including video clips) on his Facebook page.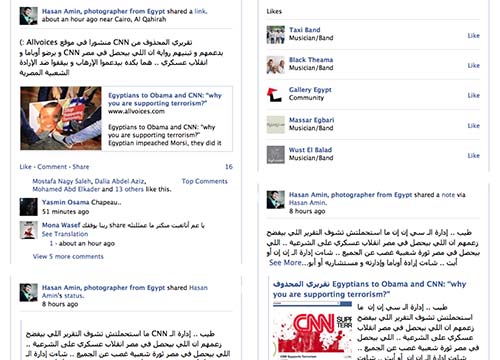 Screen shot of Hasan Amin's Facebook page
Lebanon's daily Assafir said CNN had surpassed Qatar-based Aljazeera - long charged with backing the MB - in its expression of sadness for the Brotherhood's departure.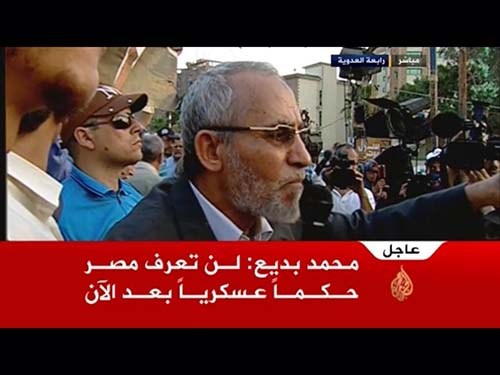 Aljazeera airs MB spiritual guide Mohamad Badei's speech: Egypt won't
see a military regime again (Abu-Fadil)
Following Morsi's overthrow, military authorities raided the offices of Aljazeera Mubasher (Aljazeera Direct), one of the network's channels broadcasting live news from Egypt, shut it down, and arrested its staffers, according to news reports.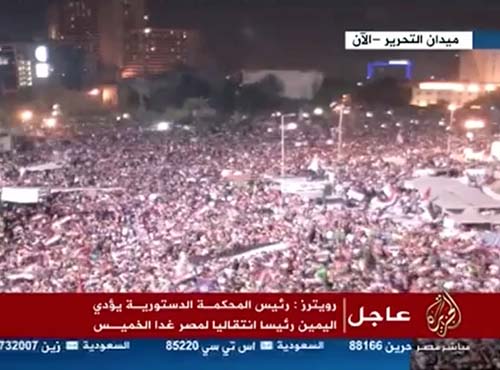 Screen shot of Aljazeera Mubasher being shut down while airing news
from Cairo
Several local pro-Morsi religious stations blamed for inciting violence were also unplugged in what Fajr Yacoub of the pan-Arab daily Al Hayat called a "cleansing."
Anti-Morsi journalists also laid siege to the office of Al Ahram's editor in chief, Abdel Nasser Salama who was appointed by the Muslim Brotherhood regime, to chase him out of the paper, the Rassd News Network said on its Facebook page.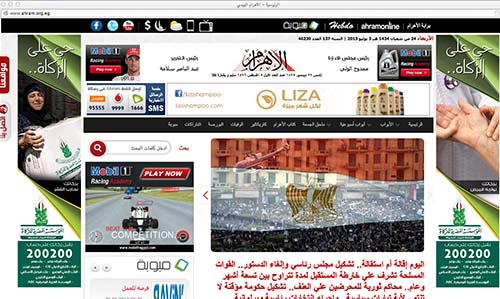 Screen shot of Al Ahram's front page

The leading state-run Egyptian daily has seen a turnover in its top echelons since Hosni Mubarak was booted from office.
The New York-based Committee to Protect Journalists raised a red flag saying it was "alarmed that Egypt's new military-run government is detaining journalists and censoring news outlets, including those affiliated with the Muslim Brotherhood, despite an intention to be inclusive."
Anti-Morsi activists and journalists meanwhile heaped invective on U.S. Ambassador to Egypt Anne Patterson, accusing her of supporting the MB and interfering in the country's internal affairs.
Tweep Sameh Wahba labeled her a "harbaya" (chameleon) who should leave, as she would certainly be after setting up traps and sowing sedition.
Private Egyptian satellite TV channel CBC's talk show host Lamis Hadidi said June 30 must have been the worst night for Patterson who "failed to pass the Pakistani project. Egypt will not become Pakistan."
Jeffrey Goldberg, a Bloomberg View columnist, asked how the U.S. could have lost the Egyptian people.
"How exactly did the U.S. come to be seen by Egyptian secularists and liberals as the handmaiden of a cultish fundamentalist political party whose motto includes this heartening sentiment: 'Jihad is our way, and dying in the way of Allah is our highest hope'?" he wrote.
He further asked how the U.S. failed to formulate a strategy that would advance both American interests and American values in the largest and most crucial Arab state.
So how did some media cover a president's ouster, an ongoing revolution, a new president's appointment, their own journalists being targeted, and still maintain a modicum of balance?
Some fumbled, like Lebanon's LBC TV that rushed to broadcast, tweet and publish online news of Adly Mansour's tapping as Egypt's new interim and first Christian president - a major error - and spelled his name two different ways. The item was later corrected.


Screen shot of erroneous tweets announcing Adly Mansour as Egypt's
first Christian president and misspelling his name
Others rushed to tweet news of Morsi's arrest based on a fuzzy YouTube video clip dating back to the Mubarak days when he was escorted by police out of his house at night wearing his pajamas and arrested.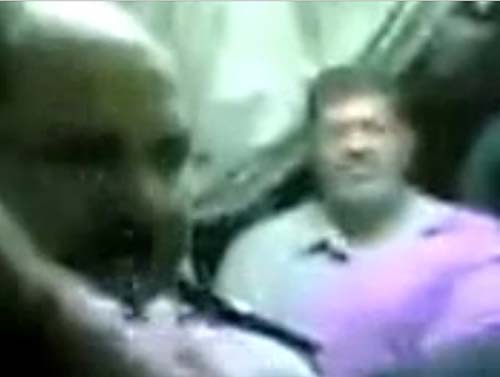 Screen shot of video showing police arresting Mohamad Morsi years ago
The reporters who thought they had scored a scoop later apologized for their impulsiveness and retracted their tweets.
The jury is still out on the revolution, but media coverage has certainly taken a beating.