It's a month of ironies focused on Net freedom and somebody is benefiting from it - with a great sense of humor to boot.
Irony 1: "Dear NSA, you can do whatever you want with my data. But not with my eyes," wrote Emiland De Cubber in a Slideshares presentation on the "PRISM" super snooping eyesore attributed to the U.S. National Security Agency.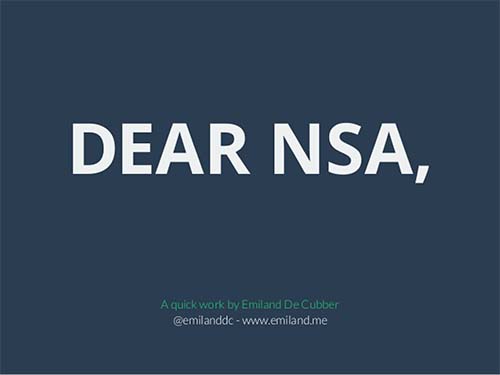 Screen shot of Dear NSA
In a brilliant and hilarious marketing take on the NSA revelations, De Cubber chided the agency for its "hideous" amateurish slides and offered to replace them with his own rendition of the spying scheme targeting all manner of personal domestic and international online content.
"Even if you're not a government agency, I would be happy to help you with your next presentation," he concluded after a must-see sequence of streamlined slides to promote PRISM.
Irony 2: I moderated a panel at a media innovations fair in Beirut on links between traditional and social media, civil society and marketing professionals.
"We've gone from video cassette tapes to mobiles and with the development of social media it's good to be in touch with the people," said Tania Mehanna, senior reporter/correspondent at LBCI TV.

Activists and NGOs have taken it a step further by building an effective online presence to become game changers on the local scene.
"We can use cyberspace to send out political messages," said renowned agitator Imad Bazzi, a/k/a Trella to his online followers. "Democracy is like sex, some know how to do it, some watch it on TV."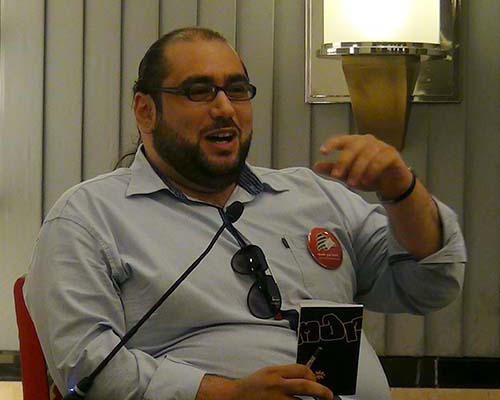 Blogger/activist Imad Bazzi, a/k/a Trella (Abu-Fadil)
Bazzi and cohorts launched a teasing campaign dubbed "Laehat Abeeh Nafsi" (I Sell Myself List) with frivolous content ahead of planned legislative elections in Lebanon.
The satirical sub-text: "We'll let democracy reach up to the knees."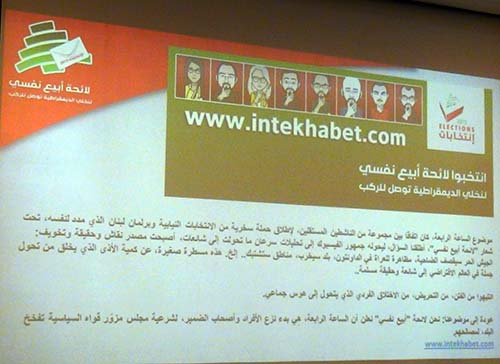 I Sell Myself Electoral List (Abu-Fadil)
The introductory banner on Bazzi's blog reads, "Politically incorrect since 1998. Changing Lebanon 1kb at a time" in a reference to the country's notoriously slow Internet service.
The fair, ironically organized by the Promoting Active Citizen Engagement (PACE) program funded by the U.S. Agency for International Development (USAID) - an arm of the State Department - was off to a shaky start with no Internet connection in the hall.
It was dubbed @SocialMediasPACE and grouped activists, bloggers, journalists, Net newbies and geeks to "explore ways to leverage the power of digital technologies to foster civic engagement and social change."
The program included a panel on content and tools for advocacy campaigns, as well as social media roundtables using free and open source software, online safety and privacy, and consultancy booths featuring crowdsourcing and multimedia platform management.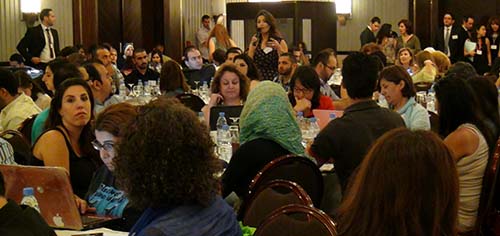 @SocialMediasPACE participants' engagement in Beirut (Abu-Fadil)

Irony 3: I came across a 651-page unclassified document purportedly approved for release by the NSA this year, as per Freedom of Information Act (FOIA) case #70381.
The somewhat dated juicy tome, "Untangling the Web: A Guide to Internet Research," is a useful manual covering search engines, browsers, Web directories, specialized tools, invisible resources, email, blogs, domain name registries, privacy, security and more.

Screen shot of Untangling the Web: A Guide to Internet Research
In the preface, the author likens the Internet to a labyrinth that requires a clew (a Greek mythology thread to find one's way out), adding he hoped the book would present such a clew.
"Remember also that those who use the Internet to do harm, to spread fear, and to carry out crimes are like the mythical Minotaur who, as well as being the monster in the Minoan maze, was also its prisoner.
Irony 4: The PRISM revelation in June 2013 coincided with the anniversary of George Orwell's masterpiece "Nineteen Eighty-Four," first published on June 8, 1949.
The spot-on Orwellian forecast that "Big Brother is Watching You" has been recalled ad nauseum by civil liberty advocates and others concerned about the loss of privacy in cyberspace.
That sales of "Nineteen Eighty-Four" have skyrocketed since the PRISM story broke and that the surveillance exercise has been ongoing for years should come as no surprise.
But now readers are connecting the dots.
In Orwell's days it was telephones, letters, telegraphs and other forms of transmission. Today it's ubiquitous multi-platform multimedia.
The irony will definitely escape those who have not read "Nineteen Eighty-Four."
George Orwell must be laughing in his grave.