It was said in jest but a professor of politics at Egypt's Nile University warned journalists and anyone taking pictures not to do so after an escalating crackdown on the media.
"Dear tourists please come visit #Egypt. Just avoid taking pictures of anything so we don't arrest u. We hope you have a photographic memory," tweeted Timothy E. Kaldas.


Screen shot of Kaldas' tweet warning tourists with cameras
Kaldas and others commented Monday on authorities' arrest and release a few hours later of Ahmed Khair El Din, an Egyptian journalist and presenter with OnTV who was shooting an old mansion in a Cairo neighborhood once populated by Lebanese and Syrians.


Screen shot of Khair El Din tweeting his arrest
Asked if Kaldas was serious, economist/journalist/blogger Mohamed El Dahshan said it was a joke but that police was arresting anyone who remotely resembled a journalist or photographer.


Screen shot of El Dahshan's comment
Basil Al Dabh, a reporter for The Daily News Egypt, in a swipe at authorities asked who had taken more pictures in 2013, tourists or the Ministry of Interior's Facebook page administrator.


Screen shot of Basil Al Dabh's tweet about tourists and Interior Ministry
Critics of the military-backed interim government that replaced Muslim Brotherhood (MB) president Mohamad Morsi a year after coming to power fear the noose is tightening on all media that don't toe the official line, regardless of their political leanings.
On Sunday four journalists working for the Qatar-based Aljazeera network's English channel were arrested on charges of supporting the Brotherhood that was outlawed December 25 following clashes between their supporters and government forces.
Egypt has declared the Brotherhood a terrorist organization.
According to The Guardian, police detained three of Aljazeera's journalists at their office and a fourth at his home for "spreading false news" and holding meetings with MB members.
The network issued a statement urging the immediate and unconditional release of its journalists, which it termed arbitrary.
"Award-winning Nairobi-based correspondent Peter Greste, Aljazeera English bureau chief Mohamed Fahmy, Cairo-based producer Baher Mohamed and cameraman Mohamed Fawzy have been held in custody since their arrest by security forces on Sunday evening," it said.

It added that the arrests followed a period of sustained intimidation towards Aljazeera staff, property and coverage since the "military-orchestrated" removal of Morsi on July 3.
Aljazeera has had countless run-ins with Egyptian authorities since the days of ousted president Hosni Mubarak.
The network is seen as supportive of Mohamad Morsi and its news and programs have been tagged as skewed towards the Muslim Brotherhood.
At various times Aljazeera's offices have been shut down, torched and its journalists and staffers arrested or harassed.
Critics of the current government and military who do not support the Brotherhood have also called for more media freedom.
Paris-based Reporters Without Borders' 2013 World Press Freedom Index ranked Egypt 158 out of 179 countries, up eight points from 2011 when Mubarak was forced from power following a 30-year rule.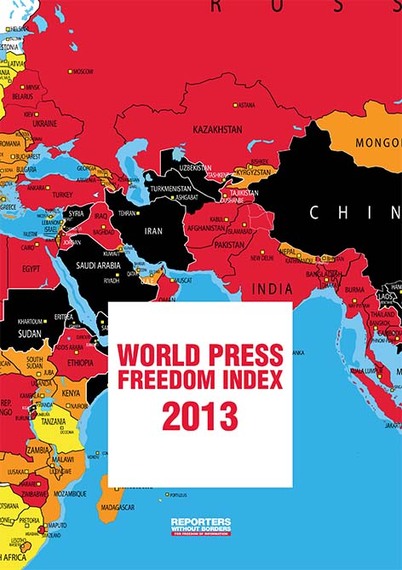 RWB's 2013 World Press Freedom Index (RSF)
The best scoring country was Finland, and the lowest was Eritrea at 179.
According to the Vienna-based International Press Institute's (IPI) World Press Freedom Review 2012-2013, journalists in Egypt faced daunting threats, notably following Morsi's ouster.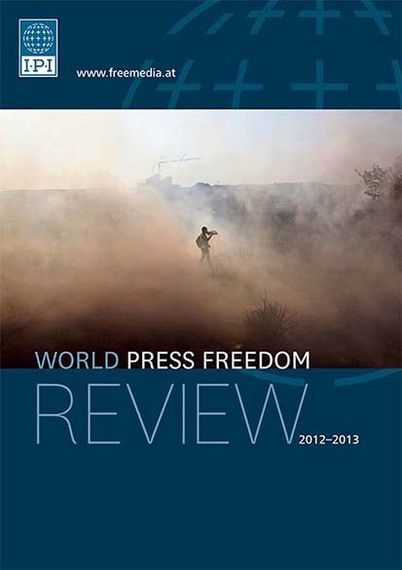 IPI's World Press Freedom Review 2012-2013 (IPI)
"IPI expressed concern that journalists had become scapegoats for both sides in Egypt's unrest. The Egyptian authorities also deliberately targeted foreign journalists and international media, ransacking offices of international news organizations," it said.
U.S. officials have also expressed concern about the crackdown on media, civil liberties and the Muslim Brotherhood, which Egyptian Defense Minister Abdel Fattah El Sisi has rejected as interference in his country's internal affairs.
Meanwhile, Egypt's public prosecutor was set to charge current Information Minister Doreya Sharaf El Din with wasting $2 million to broadcast a soccer match on state-run TV in violation of an exclusivity agreement with Aljazeera's sports channel.
Sharaf El Din is a holdover from the Mubarak era who reportedly justified the crackdown on MB supporters, the Middle East Monitor said.