Egypt may get a freedom of information law, according to Al Masry Al Youm, but it comes in the wake of renewed harassment of the media and revival of the infamous Information Ministry that was eliminated following the January 25 revolution.
"The proposed law would establish a process by which Egyptian citizens can access government information, while requiring the government to make more information public," the paper said.
But that will depend on whether the government will accept the draft legislation submitted by expert Toby Mendel, executive director of the Center for Law and Democracy, and if it can really implement it.
Taking officials to task and digging into wrongdoing had been absent in state-run media for decades.
In recent years, the more (relatively) liberal press called for better access to information but fell short of achieving its goals.
It's a tall order, according to Magdi Al Gallad, editor of Al Masry Al Youm, who lambasted Egypt's media for failing to act as a watchdog during decades of government control when journalists grew accustomed to receiving orders, not questioning authority.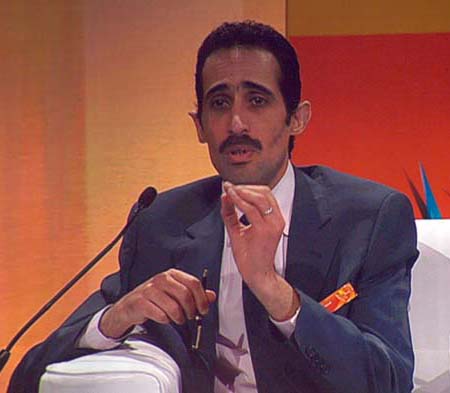 Magdi Al Gallad blasts media for failing to scrutinize government (Abu-Fadil)
He told a conference in Dubai that the future of Egyptian media was tied to their development and political maturity.
To do so, the media need a modicum of freedom that is not available under the post-revolution regime.
The real power behind the throne is the Supreme Council of the Armed Forces (SCAF) who demonstrators taking to Cairo's Tahrir Square yet again have demanded the ouster of its chief, Field Marshal Hussein Tantawi, a holdover from the days of former president Hosni Mubarak.
According to writer Alaa Aswani, "what is holding the military council back and preventing it from fulfilling the demands of the revolution is the fact that it is following the same policies Hosni Mubarak followed in wielding power."
In March the SCAF sent media organizations a directive "not to publish any subjects, news, statements, advertisements, pictures about the armed forces or its leaders before checking with the Morale Division and Military Intelligence and Reconnaissance Administration, given their authority in reviewing such matters in a bid to protect the nation's security."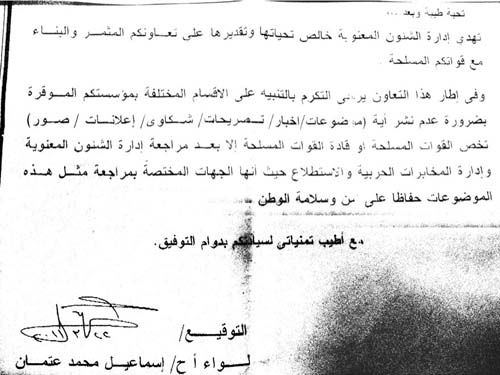 Egyptian military directive to media
In May the Associated Press reported that leading activist Hossam el-Hamalawy was hauled in for questioning by the SCAF over comments criticizing their human rights record.
"He spoke on a popular TV program on the (privately-owned On TV) station," the report said, adding that presenter Reem Maged was also summoned for questioning.
Egypt's Supreme Court also barred judges and district attorneys from appearing on TV satellite channels or speaking on call-in shows for the sake of the public good.
So, reverting to type, in early July, SCAF head Tantawi swore in Osama Haikal, former editor of the nominal opposition Al Wafd newspaper, as the new minister of information, and tasked him with revisiting the functions of the job and the ministry, long considered a "ministry of disinformation" under the ousted Mubarak regime, and, a bastion of maligned intelligence officers.
Former information minister and head of the now defunct Consultative Council Safwat Al Sherif was a notorious intelligence service official and was jailed on charges of corruption and abuse of power.
This week Al Sherif was also indicted for masterminding anti-revolutionary demonstrations, as well as incitement to violence and murder during the famous "camel battle" when pro-government thugs thundered through peaceful protests on camels and horses, leading to countless deaths and injuries.
Yet Prime Minister Essam Sharaf's media adviser justified the information ministry's reinstatement as a desire to rectify past wrongs and to institute an organizational structure that oversees media affairs and ethics in the wake of the void created by the revolution.
But Haikal's choice was met with derision by critics who said he once wrote that "an information ministry was a 'heretical fad invented by the Nazi regime's propaganda minister Josef Goebbels.'"
Others took to slamming him on Facebook and Twitter by dredging up an article he wrote entitled "The Last Revision" in which he considered calls for the January 25 demonstrations a coup d'état against values, and that no loyal Egyptian would wish a repeat of the Tunisian scenario in Egypt.
The National Coalition for Media Freedom meanwhile totally rejected appointing an information minister, saying it was a step backwards and that information ministries existed only in totalitarian regimes.
"Reinstating the Ministry of Information is an unambiguous setback for media freedom in Egypt," said Mohamed Abdel Dayem, Middle East and North Africa coordinator for the New York-based Committee to Protect Journalists.
He added that a government body whose primary function was to enforce media orthodoxy and punish dissent during decades of authoritarian rule is not a suitable entity to reform the media sector.
"In recent months, the SCAF and other organs of the state, particularly military prosecutors and courts, have censored media, harassed journalists in an effort to intimidate and dissuade them from further critical reporting, and imprisoned at least one blogger for his critical writing," he said.
Mubarak opponent and journalist Sakina Fouad, who backed the revolution, this week criticized the government for its slow handling of trials for the former regime's key figures.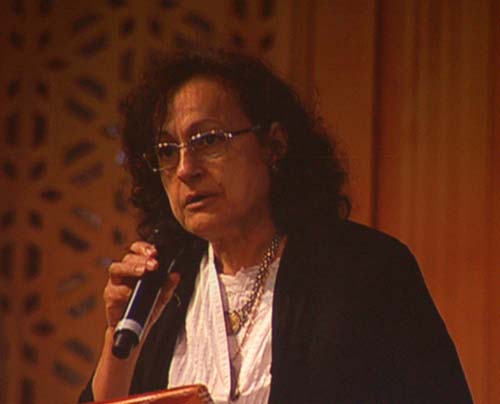 Sakina Fouad (Abu-Fadil)
In earlier remarks she rejected the inclusion of members of the discredited former ruling National Democratic Party in the government.
"Whoever participated in creating a regime of pain cannot be part of creating reform," she insisted.