Innovative storytelling, audience engagement, and financial flexibility are key ingredients for newspapers to cope with pressures from competitors, budget constraints, and the speed at which technology is changing.
"It came as no surprise when The New York Times took home a Pulitzer for 'Snow Fall' - the immersive multimedia package impressed journalists and web designers alike with its seamless integration of text, audio, videos, photos and interactive graphics."
The comments in "Trends in Newsrooms 2013," the World Editors Forum's report on the state of the news industry, about the attention-grabbing content, underlined the importance of stories that jump out at readers.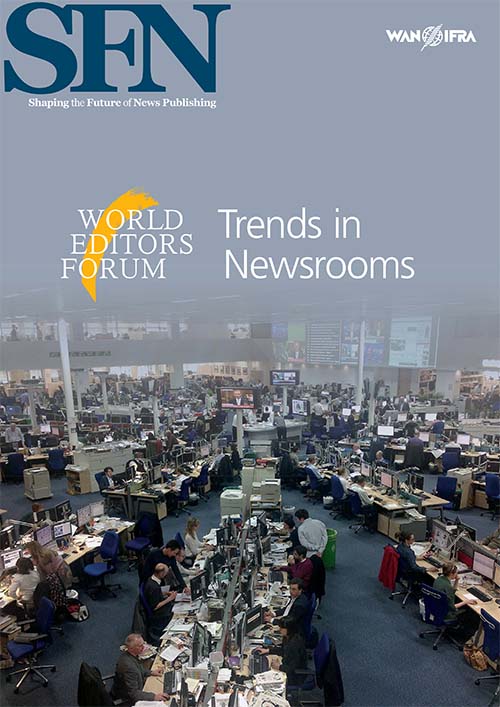 Cover of Trends in Newsrooms 2013 (courtesy WAN-IFRA)
It's no longer just reading, as the immersive package to which the report referred demonstrated with its design that put audiences in the picture of a rolling avalanche in Washington State's Cascades Mountains.
Print and online media are tripping over themselves to offer original ways of disseminating information.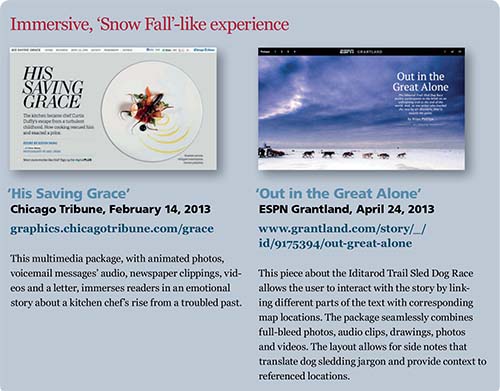 Innovative storytelling (courtesy WAN-IFRA)
Digital news publishers increasingly realize the importance of interacting with and engaging their audiences.
Online commenting, social media and analytics have become an integral part of the equation but should be handled judiciously, said the report produced by the Forum, an arm of the World Association of Newspapers and News Publishers (WAN-IFRA).
It cited Reddit as a great training tool for writers - unlike Facebook and Twitter - where users cannot lean on their followers and friends to make their posts successful.
"Instead, each post's quality of writing and message is individually evaluated," it said, adding that the social media site is a gold mine for story ideas, albeit some useful and others useless or inaccurate as with the Boston Marathon bombing when users misidentified suspects.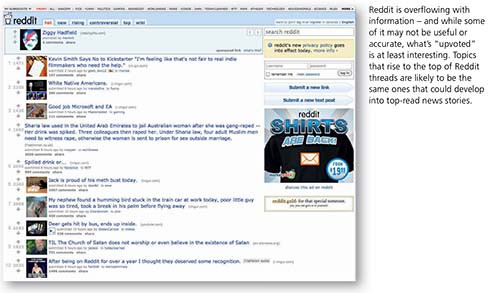 Reddit overflows with information (courtesy WAN-IFRA)
On another front, analytics and metrics like Chartbeat and Visual Revenue allow news outlets to understand their audiences' digital reading habits, the report said.
The main change in the last two years has involved bringing analytics into the newsroom for editors and journalists to see how articles are performing in real time and to make informed decisions about where to place them on pages, or which articles to heavily promote on social media.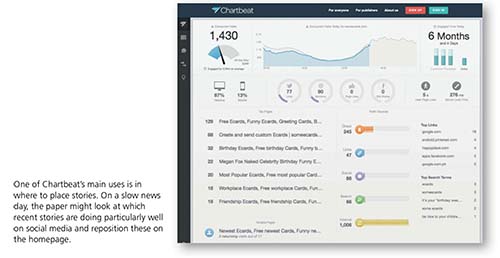 The growing role of analytics (courtesy of WAN-IFRA)
A key challenge newspapers face with audience engagement is how best to moderate online reader comments, allow freedom of information, and maintain constructive conversation.
Deputy CEO Larry Kilman presented results of a study of online commenting during WAN-IFRA's 65th World Newspaper Congress in June that found interactive news platforms had seen a rise in the volume of reader comments - and hate speech.
He said media acknowledged the value of online comments, legal issues were still more potential than reality, the number of comments deleted varied widely, offensive comments exceeded hate speech (with a question as to what constituted hate speech), there was irrelevant content and spam, and insults directed at articles were generally seen as OK.
Kilman recommended posting guidelines for contributors on site, using those criteria in moderation practices, ensuring that guidelines encourage constructive conversation, encouraging others to get involved (as many don't), educating readers and users, highlighting good comments, and appointing community managers/social media editors.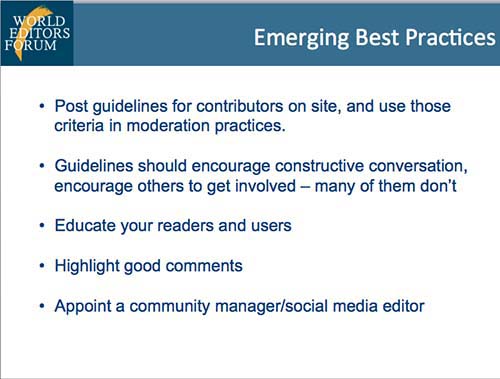 Kilman's "The need for moderation: Encouraging civil discourse online"
(courtesy WAN-IFRA)
Another thorny issue is the definition and application of ethics and whether sponsored content in social sharing sites like BuzzFeed is ethical.
"There is a clear risk that editorial and advertising could become too close," the report said.
It published a picture of BuzzFeed's 'The 20 Coolest Hybrid Animals' sponsored by Toyota that promoted its Prius hybrid model.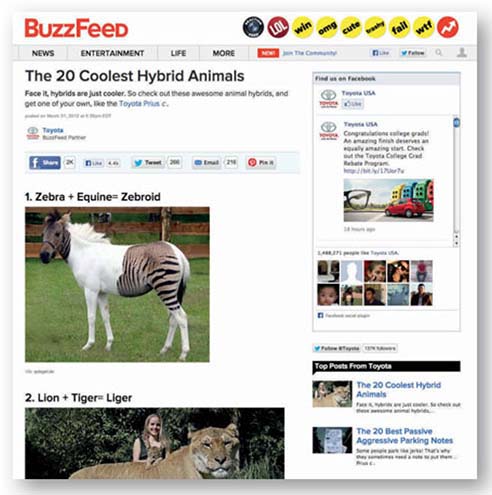 BuzzFeed's content on hybrid animals sponsored by Toyota
(courtesy WAN-IFRA)
Paid online content, the existential question plaguing media, was another area the report's authors examined and how newspapers around the world developed this revenue stream.

"We focused on the impact that paid online content brings with it from an editorial perspective, looking at issues such as: How does a paywall change the way journalists work for the web? Does the type of paywall make a difference? How does it change an editor's job? Do paywalls lead to better, higher-quality journalism as it means that journalists aren't just looking to publish as many pieces as possible? How do you select which content is behind the wall?"
The case studies from Germany, Denmark, Norway and Canada showed there was no fixed rule to the successful replacement of declining print advertising revenue but that several models worked at varying levels, depending on the context.
How to make money from news content means the editorial staff must play a role in initiatives that can help define the future of their organization, according to WAN-IFRA.
"Charging for content online often has an impact on the way that editorial staff work, and on their attitudes to their digital products," the report said.
This ties in with WAN-IFRA's recently released "World Press Trends 2013: The definitive guide to the global newspaper industry, in numbers," that highlights newspaper circulation and advertising statistics.
In markets where print circulation is declining, the drop is strongly compensated by digital evolution, it said.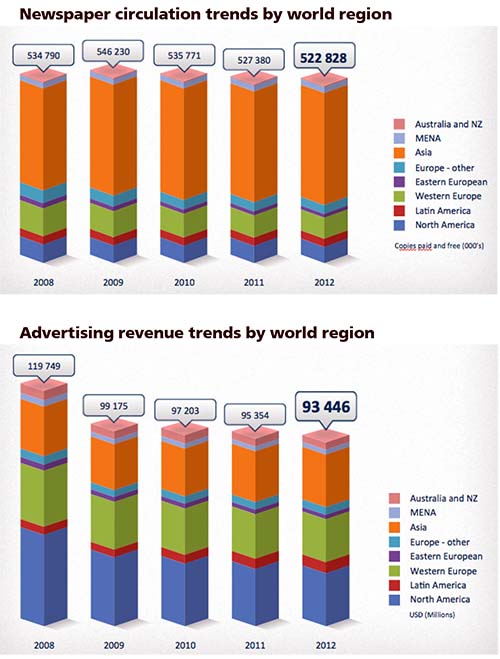 World circulation & advertising revenue trends (courtesy WAN-IFRA)
Looking into the future, "Trends in Newsrooms 2013" drew on advice from experts who recommended paying attention to hacking hardware, cross-border collaboration, developing better utility apps, multi-platform video apps, and wearable computing devices.