"Americans Chose Change" was the striking blue headline in Wednesday's An-Nahar daily of Lebanon, whose noted columnist Zayan wrote of a new dawn for the U.S., with ramifications that will be felt by the Third World and oppressed people worldwide.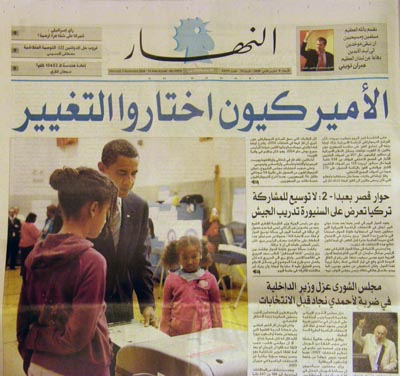 An-Nahar: Americans Chose Change (Abu-Fadil)
Cartoonist Armand Homsi of the same paper illustrated international expectations as an orchestra without a conductor and a caption that read: "the world awaits the new American president."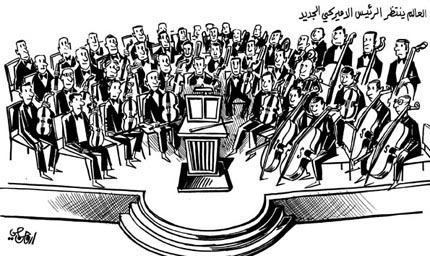 Armand Homsi cartoon (An-Nahar)
Lebanon's popular Al Akhbar headlined with: "Black Kennedy to the White House."
Reactions in Lebanon to the election of Sen. Barack Obama have been mostly favorable given President George W. Bush's track record of failures in the region, and what will become his legacy of war and wanton destruction of a country like Iraq and his broken promise to seek an equitable solution to the Palestinian-Israeli conflict before leaving office.
Lebanese Taline Prescott-Decie, Middle East and Africa marketing manager for U.S. publisher McGraw-Hill's business and humanities titles, suggested Obama's acceptance speech should be included in all public speaking books.
"I feel nothing but respect for the American people who proved to the world that democracy still exists. I expect Obama will be up to the challenge ahead," she said.
LBCI TV hosted military analyst Elias Hanna who said the Reagan era was over because the international context had changed.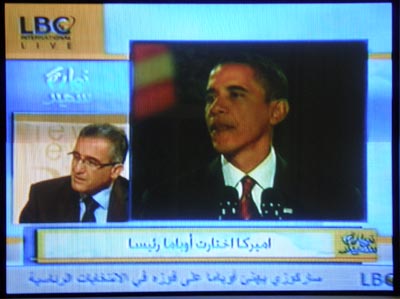 Analyst Elias Hanna on LBCI TV (Abu-Fadil)
"The Evil Empire no longer exists. There have been other unsavory actors but they've been mishandled by successive administrations," he opined, so people should temper their expectations of President-elect Obama's ability to solve the world's problems, particularly in the near future.
In neighboring Syria, the state-run daily Tishreen was low key in its coverage: "Barack Obama, first U.S. president of African origin, and McCain concedes defeat."
Arab media covered the wave of optimism that swept through the region with Al Arabiya satellite TV channel noting its impact on the Gulf financial markets' gains resulting from Obama's election as the U.S.' 44th president.
Qatar-based Al Jazeera TV's footage of the victory celebration in Chicago zeroed in on black former Democratic presidential contender Rev. Jesse Jackson overtaken by emotion with tears streaming down his face.
Sister network Al Jazeera International, that broadcasts in English but is unavailable to viewers in the U.S., aired a report from Anchorage, Alaska, on how Gov. Sarah Palin had been an albatross to the Republican campaign and would go back to her job where she at least still had some cheerleaders.
In war-torn Iraq, Azzaman newspaper ran a front-page story saying Republicans had tried to halt Obama's record advance with a lawsuit to extend voting another 10 days for the military.
The Sudan Tribune's headline was: "U.S. election gives historic victory to Obama." It said the president-elect was a staunch proponent of sanctions against the current Sudanese government and had co-sponsored six measures to support Sudan divestment, international peacekeeping and a no-fly zone in Darfur.
Saudi-owned pan-Arab daily Asharq Al-Awsat published the picture of an African-American wearing a Martin Luther King, Jr. T-shirt emblazoned with his famous line "I have a dream" under a headline: "The dream has come true: A black president in the White House."
The Yemen Times said: "Historic election electrifies Americans." Its New Mexico-based reporter said minority groups' representatives he'd met in Albuquerque supported Obama because they had suffered from the economic downturn and from racism.
Some of the region's papers, including Egypt's Al Ahram, had gone to press before tangible or final results were broadcast so their stories reflected a wait-and-see attitude.
Elaph, the first online Arab newspaper, led with: "Victory celebrations light up Chicago." It deployed 25 correspondents who filed stories around the clock from numerous American and international locations.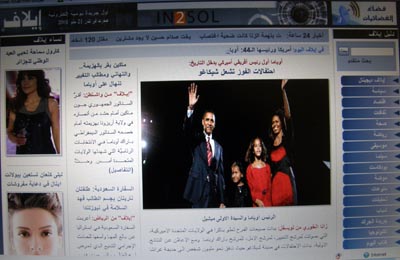 Elaph's upbeat headline (Abu-Fadil)