An online clarion call last week halted -- if briefly -- a Lebanese Internal Security Force (ISF) request to poke into mobile phone data sessions, SMS traffic, citizens' browsing logfiles, IP addresses and passwords, chats, emails and apps used in a bid to decipher unsolved crimes.
Ironically, it coincided with an International Telecommunications Union (ITU) conference in Dubai where delegates from the U.S., U.K., Australia and Canada adamantly refused to sign a new treaty allowing member states to control the Internet.
"People's privacy is guaranteed by the Lebanese constitution," said Abir Ghattas, a blogger and co-founder of OntorNet.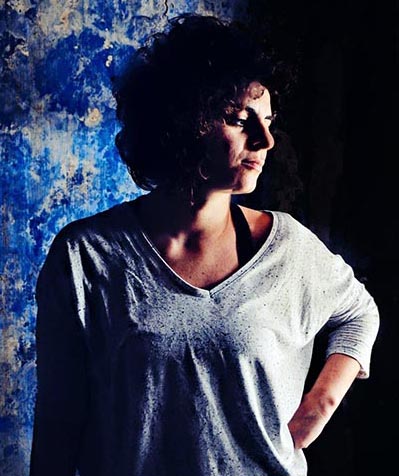 Blogger Abir Ghattas (courtesy Patrick Abi Salloum)
The ISF request followed earlier appeals via the Interior Ministry to the country's cell phone companies to hand over information it said would help authorities nail suspected criminals involved in a series of political assassinations.
The most recent murder was of a high-ranking ISF official, Brig. General Wissam Al Hassan, tagged as a pro-March 14 operative.
The March 14 alliance grouping several parties -- named for a mass rally in 2005 a month after former prime minister Rafic Hariri was assassinated -- has accused Syria and its Lebanese allies of murdering key figures in the country.
The opposing March 8 coalition includes the current Lebanese cabinet whose members belong to Hezbollah, the Free Patriotic Movement (FPM), a close ally, and other parties considered pro-Syria and pro-Iran.
"Rather than request user data only for persons suspected to be linked to the attack, the ISF apparently attempted to collect the information of every single mobile subscriber and Internet user in Lebanon. This constitutes an outrageous violation of privacy, and the hundreds of tweets reflecting the #ProtectPrivacy hashtag demonstrate that Lebanese citizens and supporters around the world are taking a stand against it," said the Electronic Frontier Foundation.
Specifically, the request signed by the ISF's director general and dated July 17, 2012, has a handwritten notation seeking information on users of social media sites, the ability to hack them, the ability to re-configure a site, access to passwords, user names and IP addresses.
The ISF request was leaked and posted by the website Al Nashra in Lebanon.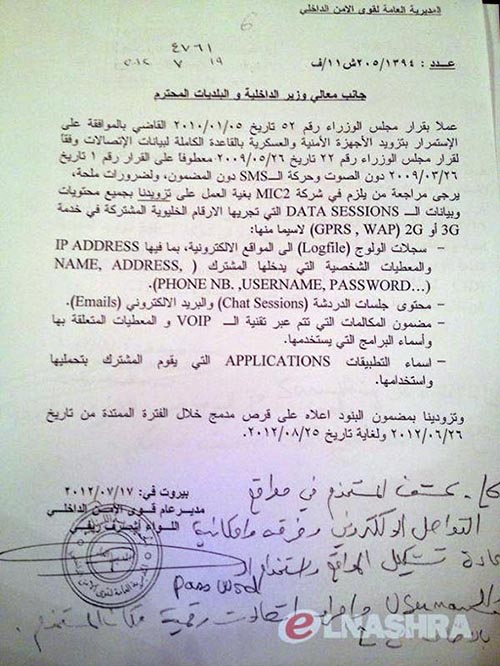 Screen shot of Lebanese ISF request to probe data
FPM's Telecommunications Minister Nicholas Sehnaoui, journalists, free speech advocates, activists and various international organizations launched a Twitter campaign to halt what they saw as intrusion into citizens' personal affairs.
Sehnaoui plunged in with a tweet announcing the issue was up for discussion at the cabinet's December 12 meeting.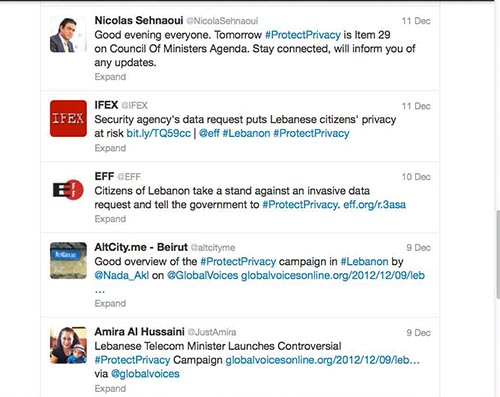 Screen shot of Lebanese Telecomm Minister Nicolas Sehnaoui's cabinet announcement
When ministers decided in a cabinet meeting the following day not to hand over the data to the ISF, except for SMS messages of "suspicious" mobile telephone numbers, Sehnaoui tweeted gleefully: "Mabrouk (Arabic for congratulations)! We did it together."


Screen shot of Sehnaoui's victory tweets
In a separate tweet, he repeated Prime Minister Najib Mikati's quote of Benjamin Franklin that he who sacrifices freedom for security deserves neither.
Irate journalist Maytham Kassir tweeted "#MyFavoritePassword F--- the Lebanese system #ProtectPrivacy (and asked in Arabic 'isn't that it Ms. Rasha?')"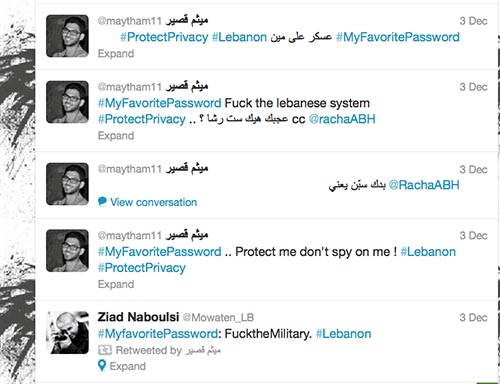 Screen shot of Maytham Kassir's irate tweets
In an earlier tweet that day, Kassir said: "Protect me don't spy on me."
Asked whether privacy trumps national security, activist Mohamad Najem, co-founder of SMEX, said online privacy should be protected by Lebanese legislation and rule of law.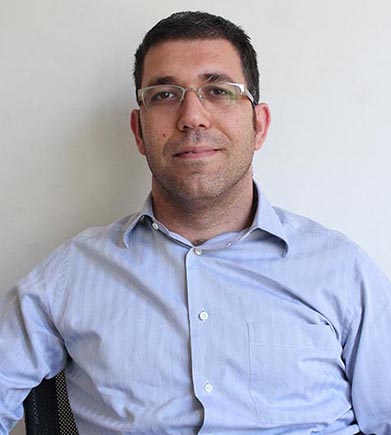 Mohamad Najem (courtesy Malak Zungi)
Requests to probe telephone and online data for crimes involving national security should be limited to those suspected and accused of committing them, he added.
Were the blanket request to have been approved by the cabinet, countless Lebanese would have had to run for cyber cover.
Blogger Ghattas is leery of government institutions and officials that have see-sawed between claims of protecting citizens' rights and violating them, fearing Lebanon would become less democratic and less of an adherent to human rights standards if and when privacy is compromised.
This is a particularly thorny issue for Lebanese activists and bloggers who launched a spirited campaign earlier this year to bar a draft law regulating online media.
The anti-Lebanese Internet Regulation Act (LIRA) movement, dubbed #stopLIRA on Twitter and elsewhere snowballed online in record time to halt the retrograde legislation that would have required journalists and bloggers to register their sites with the Ministry of Information.
Ghattas said she is reminded of the saying "freedom is rarely lost in a single stroke. The danger lies is losing it bit by bit," so every effort to preserve that liberty makes a difference.