How much media accountability is there in Lebanon? Are media accountable and do they hold officials accountable?
It's a double-edged sword that cuts both ways because political figures or their relatives own various media.
Lebanese media are, in essence, accountable but the country's laws and codes of ethics are not implemented, loosely implemented, or totally ignored, depending on the issue at stake, the politics involved, and the persons influencing them.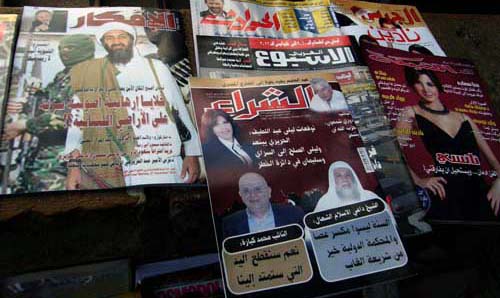 Lebanese magazines (Abu-Fadil)
What's worse, business interests take precedence over public service duties, media researcher Nahawand Al-Kaderi found in her study "Investing in the Media and the Challenges of Social Responsibility: The Lebanese Model."
Her aim was to give social responsibility its due, but the difficulty of researching investment in the media stemmed from the fictitious names of investors in public records, she said.
Media ownership has been a contentious issue in Lebanon because full disclosure of who really has how many shares in any given organization, and what foreign interests are involved, are hard to trace under the current legal regime.
Critics suspect Lebanese figures are fronting for foreigners who are, technically, allowed only so much in any given medium.
Al-Kaderi concluded that the one-time leading role Lebanese media played in the region has been supplanted by a bloated, unsettling Arab media scene, leaving Lebanon's print and broadcast outlets with the short end of the stick and hundreds of staffers at TV stations and newspapers jobless as a result of arbitrary mass layoffs.
Lebanon's print media law dates back to 1962 and requires anyone publishing political news to obtain an expensive license to do so. It also bars publications from threatening national security, national unity, state frontiers, or insulting senior Lebanese officials or foreign heads of state.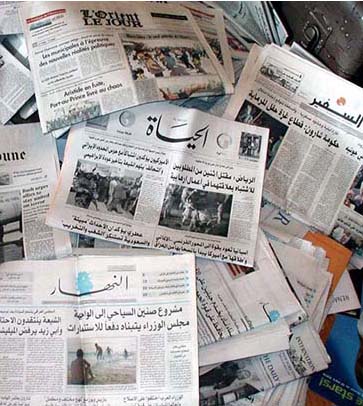 Newspapers in Lebanon (Abu-Fadil)
But Member of Parliament Ghassan Moukheiber submitted draft legislation, fine-tuned with the help of the Maharat Foundation, to reform the existing law and shrink its 109 provisions to 75.
The new law would eliminate press licensing, promote transparency and disclosure, and incorporate commitments to media freedom, as guaranteed by Article 13 of the Lebanese Constitution.
All new publishers need do is simply tell the Information Ministry of their intent, to guarantee protection under Lebanese law. But the declaration is non-binding and it would not be considered illegal if one were to publish without such a notification.
A second important step in Moukheiber's bill would be the decriminalization of "opinion crimes" which legislators approved in committee, meaning "offenders" would just pay fines in lieu of facing jail terms for critical editorials and opinion pieces.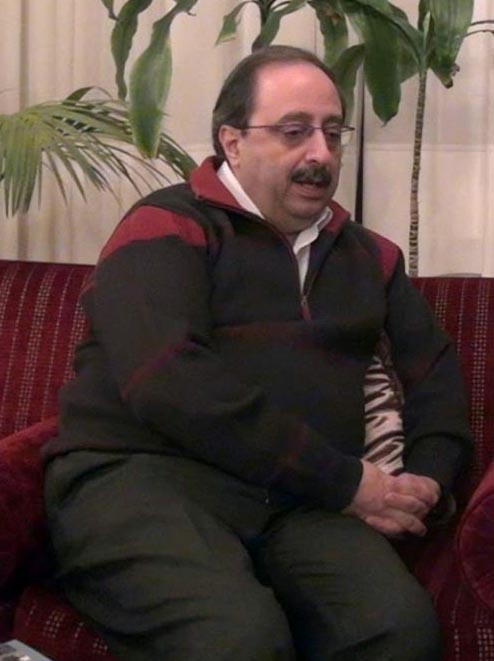 Lebanese legislator Ghassan Moukheiber (Abu-Fadil)
A draft bill on broadcast media also put forward by Moukheiber would see the strengthening of the National Audio-Visual Media Council (NAVMC) as a regulatory body, and a diminishing role for the information minister who holds sway over broadcast issues.
The NAVMC is a toothless tiger of elected and appointed members along sectarian lines.
An important draft bill on access to information has also passed the initial committee test. But all three bills have yet to be voted into law -- a long and arduous process.
The year 2012 stirred up the journalists' syndicate world that had been dormant for several years. It saw the birth (and eclipse) of the audio-visual workers' union and the expanded membership of the Journalists Union that had been an exclusive club for decades.
The audio-visual union hit a few bumps on the road after its creation with members fighting over by-laws, rules and other political and sectarian issues.
On the print side, the Journalists Union is headed by a Christian and the Press Federation by a Muslim, in a bow to sectarian quotas. Moukheiber believes both syndicates must be restructured if they are to become effective.
Financial setbacks, political divides and regional developments cast a shadow on the Lebanese landscape with mass layoffs at various media taking center stage.
Redundancies at LBCI TV were the most prominent -- almost 400 staffers were laid off. AWI, which groups Al Balad and Al Waseet newspapers, and Layaleena magazine, dumped 50 staffers.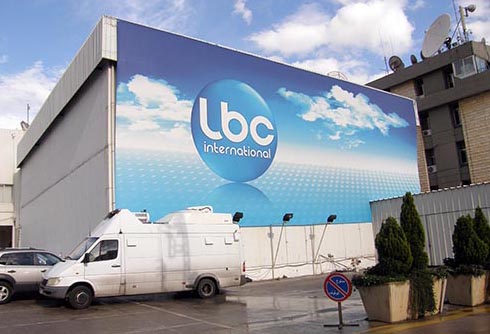 LBCI TV (Abu-Fadil)
Future Television merged its blue all-programming station with the red all-news channel and disposed of many employees.
Future TV is owned mainly by the Hariri family. Its patriarch, former prime minister Rafic Hariri, was assassinated in 2005.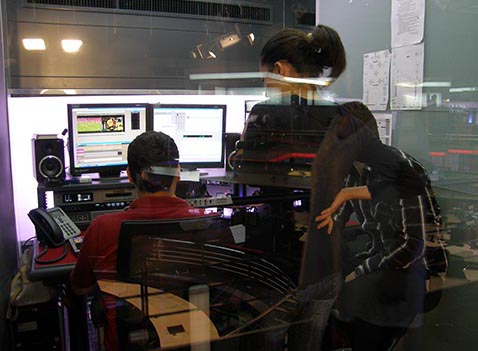 Editing suite at Future TV (Abu-Fadil)
Other media were also hard hit by cutbacks in the last few years leading countless journalists to seek greener pastures in Arab Gulf countries or beyond.
A regular complaint they shared was that media laws and regulations on the books failed to protect them from employers whose sole concern was the bottom line.