Two people walk into a bar... and find an exquisite Sir Henry Moore marble sculpture mounted on a pedestal in a fountain adorning a five-star hotel lobby's atrium.
Not your typical joke punchline, but then Miami has long transcended the Miami Vice TV police series reputation that made it the butt of jokes and derision and has become quite a magnet for artists and art lovers.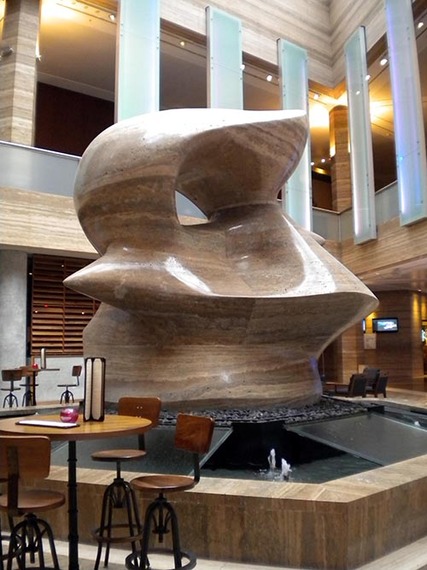 Sir Henry Moore's "Spindle" in Miami (Abu-Fadil)
The sculpture I saw at Miami's Intercontinental Hotel is based on Moore's Spindle series and was carved in Italy in 1981. It stands majestically at 4.5 meters (14.7 feet) in height and weighs about 70 tons.
But that's not all.
I enjoyed that aspect of the city on a recent visit and did the traditional thing of discovering the Pérez Art Museum Miami (PAMM) that I hadn't seen during a brief hop years earlier.
In "Miami Attracts the World's Ultra Wealthy," a feature in the April issue of Cityscape Abu Dhabimagazine, developers are drawn to the city's growing real estate market in upmarket Miami Beach as well as districts like Wynwood, a former industrial zone, a magnet for galleries, trendy cafés, restaurants and boutiques.


Shepard Fairey's wheat-pasted mural (Abu-Fadil)
It's noted for, among other things, the Wynwood Walls, an open-air display of street art and graffiti that combines amazing imagination, technique, nuance, peculiarities and beauty.
Visitors can walk freely along pathways into open courtyards and alleys, sit at picnic benches, or enjoy a meal or coffee at the café while taking in the mix of colors, genres and designs on display all over the area.
Visitors entering Wynwood Walls can't miss Shepard Fairey's wheat-pasted mural with images of the Dalai Lama, Martin Luther King, Jr., and, particularly, as a tribute to Tony Goldman.
Goldman, the late patron who conceived of the walls project in 2009, said: "Wynwood's large stock of warehouse buildings, all with no windows, would be my giant canvases to bring to them the greatest street art ever seen in one place."
Artist Ryan McGinness' 33 Women mural of Day-Glo paint set against a black wall brings out in stark assertion his rendition of female nudes.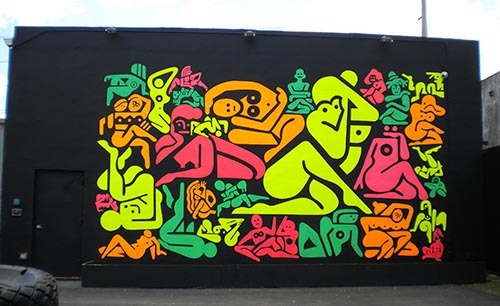 Ryan McGinness' 33 Women (Abu-Fadil)
He is quoted as saying: "These drawings are my version of what is sexy."

"Women on the Walls" is another perspective on female sensuality by Miss Van, a.k.a. Vanessa Alice Bensimon, and occupies an imposing space in the Wynwood art park.
Miss Van, who hails from the French city of Toulouse but has lived in Barcelona and exhibited in various cities, is a noted graffiti and street artist who often renders her female characters' faces into animal and bird visages.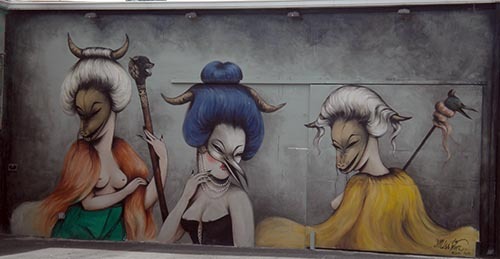 Miss Van's "Women on the Walls" (Abu-Fadil)
The New York-born, Baltimore-based artist who goes by the single name of Gaia produced an impressive portrait of American oil and railroad tycoon Henry Flagler on one of the walls.
Gaia, in Greek mythology a deity personifying the Earth, said of Flagler:
If you're from Miami, you've definitely heard of him. He's the reason why Florida is essentially Florida or why Miami is even called Miami... He established Overtown on the west side of the freight tracks for his black workers. This historic neighborhood that sits 15 blocks south of the Wynwood Walls would eventually be decimated by the construction of (interstate highway) I-95 and urban renewal.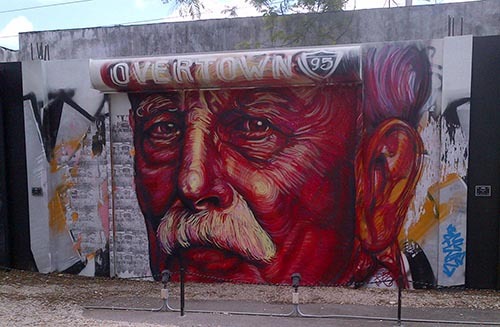 Gaia's portrait of American industrialist Henry Flagler (courtesy Kadragic)
The area is overflowing with art. I walked outside the main enclosure to find murals on side streets and alleys and well into adjacent neighborhoods.
A very realistic portrait of what seems to be a woman -- one can't always tell -- with a fixed look that adorns a segment of a street corner's wall next to a shuttered shop. The vertical stylized script alongside it could almost pass for Arabic. There was no description of it.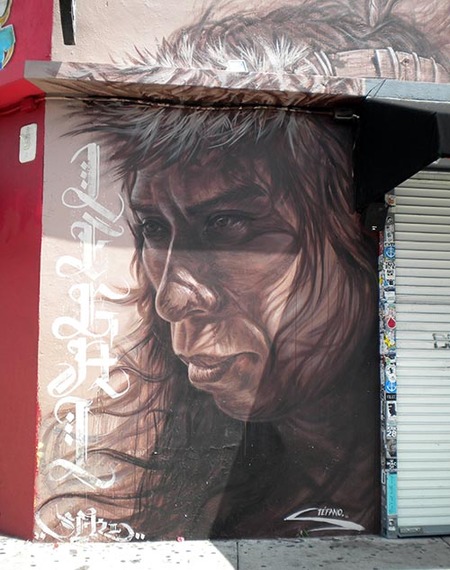 Outside the Wynwood Walls (Abu-Fadil)
A very colorful mural of four characters from what could be a comic book shows three males (one carrying a bouquet of flowers) and a female with horns holding an ice cream cone.
Again, nobody in sight to explain.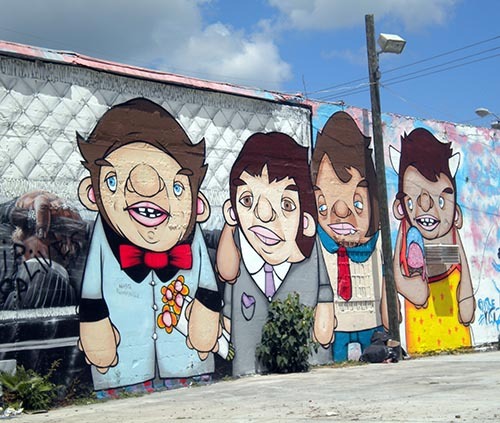 Comic book characters street art? (Abu-Fadil)
My meanderings took me to Miami's Design District, another neighborhood that is home to artists and galleries.
I visited the Locust Projects, a not-for-profit gallery "dedicated to providing contemporary visual artists the freedom to experiment with new ideas without the pressures of gallery sales or limitations of conventional exhibition spaces."
The installation "Sun Breaker" by New York-based artist Ruby Sky Stiler fills the space with her suspended laser-cut screens and wall-mounted plaster reliefs.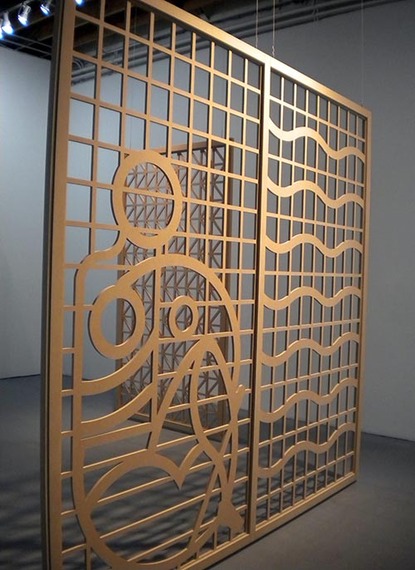 Part of Ruby Sky Stiler's "Sun Breaker" installation (Abu-Fadil)
According to Cityscape Abu Dhabi magazine:
Art has become identified with serious money as well as creativity in Miami since the beginning of Art Basel Miami in 2002. Following the parent exhibition that started in Basel, Switzerland, in 1970, the Miami version has expanded and created a local year-round market for art. It is another attraction for the ultra-wealthy as well as many of the people who live in the area.