Why would a Massachusetts Institute of Technology (MIT) graduate in chemistry with a GPA of 5.0, Phi Beta Kapa, Sigma Xi turn to making funny and informative science films and videos?
"Because consulting is boring," said George Zaidan who fits the geek stereotype (by his own admission) but who couldn't envisage a traditional route after graduating from that institution.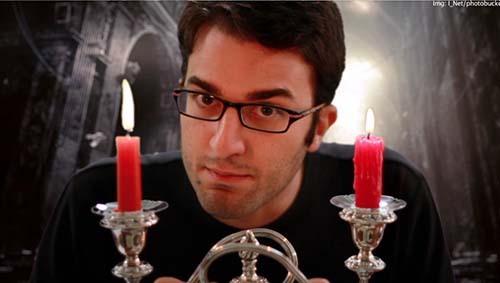 Screen shot of Zaidan episode on scientific research
The 28-year-old whiz who once dreamed of becoming a big time Hollywood director instead parlayed his command and love of science into showing and telling audiences on TV and on YouTube (first producing a 24-episode series called Pocket Science) what the process of science is all about.
That came in different jobs such as an initial two-year stint with "Good Eats," a Food Network show, the summer after graduating when Zaidan sent a cold letter and landed a position as a production assistant.
"It's basically a cooking show but it's really the chemistry of cooking that it teaches," he said, adding that he commuted between the Washington, D.C. area where he grew up and Atlanta where the show was produced.
Zaidan also put in time on the Disney movie "Step Up 3-D" and enjoyed both jobs where he honed his skills, learned on-set etiquette, and how to manage a shoot, beyond just how a TV show is made.
"There's a hierarchy," he explained. "You never speak out of turn. If something's wrong in another department, you don't skip three steps and tell the director. You tell the lowest person in that department and if they deem it necessary, it goes up the chain."
But the passion for imparting useful knowledge about chemistry dominated and led Zaidan, who tutored in high school and was a teaching assistant at MIT, to more science-oriented ventures.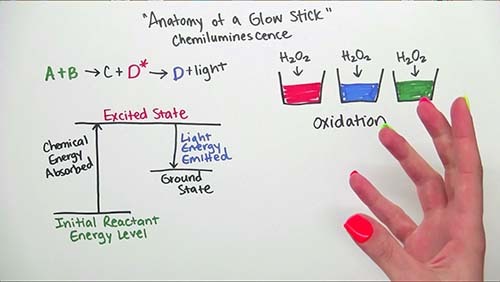 Screen shot of Anatomy of a Glow Stick
He launched his own company, Free Energy Productions in Maryland to do non-traditional educational media, namely anything that does not involve someone standing at a blackboard.
Unconventional methods have included a reality show currently being put together for a major cable network about nerdy Boston area students that he hopes will become a series.
"Foodologist" Zaidan did a funny series of clips for The Weather Channel as co-writer and host.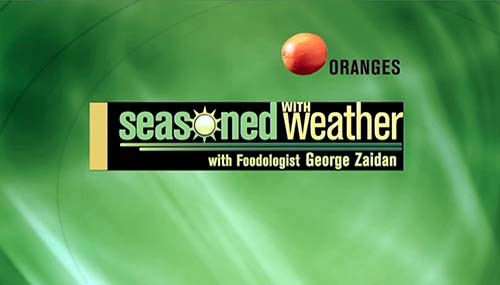 Screen shot of Weather Channel series introduction
"There were eight short pieces about how weather affects your food," he said. "That was the first time I thought maybe I could actually be on camera."
But auditions for the show were remote - he was in Maryland and the producer was in Atlanta.

George Zaidan at The Weather Channel shoot (courtesy Chelsey Farnum)
In the last round a blizzard knocked out electricity with only 80 minutes left on the camera battery and no laptop available.
He walked two miles in knee-deep snow to a friend's house with power lugging a 40-lb editing machine to wrap up his film clip about ice wine and upload it on deadline.
From turf to surf where Zaidan worked on a series called Nautilus Live, a collaboration between six different partners (including National Geographic), and for which he was the anchor, one of the writers and an associate producer.
"We got video back from these robotic submarines that went and explored the ocean, the Black Sea and the Mediterranean," he said of the short news pieces they produced on what they had discovered as well as "behind the science" segments to explain the process.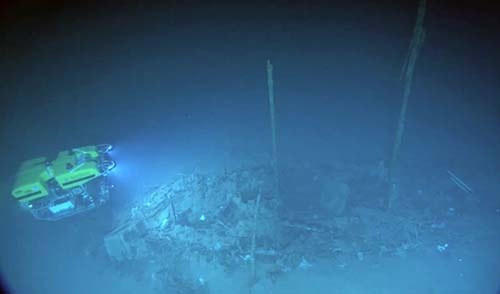 Behind the science Nautilus mission to Black Sea (courtesy Zaidan)
Since his first forays into film, Zaidan has worked extensively with his alma mater on projects for different departments.
It goes back to his three summers of biochemistry research at the National Institutes of Health, two semesters of teaching organic chemistry at MIT, and his fascination with the university's open courseware initiative, in an effort to put up all class materials online for free.
But he wanted to stand out from the rigid teaching methods that made students' eyes glaze over.
"The traditional chemistry lab classes tend to suck because what you do is you follow a recipe and if the product you end up with is 90% pure or better, you get an A, or you some grade, and you don't really understand what you're doing," he said.
Undergraduate students don't design experiments, graduate students begin to get a feel for science, and by the time they're working on Ph.D.s they become practicing scientists which is a waste of time, he added.
So he started a project with Professor John Essigmann where they tried to design an online "lab experience."
Instead of a physical lab, it was a case study of a real research project where they deconstructed an academic paper and put it online to demonstrate research was non-linear, not a clear, concise story that has a beginning, middle and an end, that it weaves all over the place, that it's unpredictable, and that it's frustrating.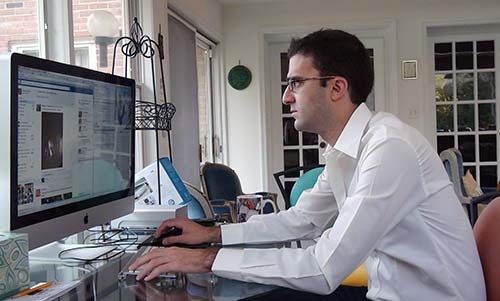 Zaidan edits his work (Abu-Fadil)
"We wanted to show that the people who worked on this are people, they aren't robots, that they have hopes, dreams, desires, fears," he said.
The project, which is still online, was called the " Open LabWare." Zaidan is the founder and chair of its advisory committee.
His recent research profiles include videos on detecting explosives in war zones, Oxygen and DNA damage, and, profiles of scientists.
He spends a fair amount of time in New York and has produced clips for TEDEd on exploring other dimensions, atoms, cancer cells, how pain relievers work, fat, electrons and molecules.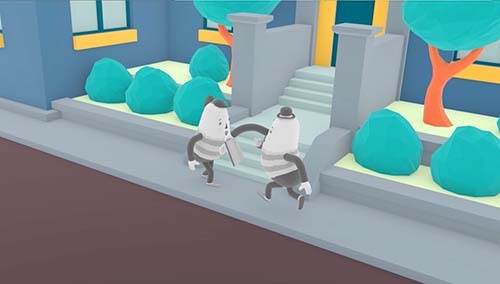 If molecules were people video for TEDEd (courtesy Zaidan)
Multitasker Zaidan is an occasional blogger for the Huffington Post.