Peace on earth, goodwill towards men (women and children), except if they're migrants, refugees, or asylum seekers, who the media worldwide have, for the most part, failed to cover accurately, fairly, in a balanced way, and ethically.
"May God repay all those, both individuals and states, who generously work to provide assistance and welcome to the numerous migrants and refugees, helping them to build a dignified future for themselves and for their dear ones, and to be integrated in the societies which receive them," said Pope Francis in his Christmas message, Urbi e Orbi, this year.
If only media attention would be sustained to cover the ongoing human tragedy of migrants and refugees, as did the iconic photo that focused the world's attention on the fate of three-year-old Aylan Kurdi, peacefully lying, face down, on a Turkish beach.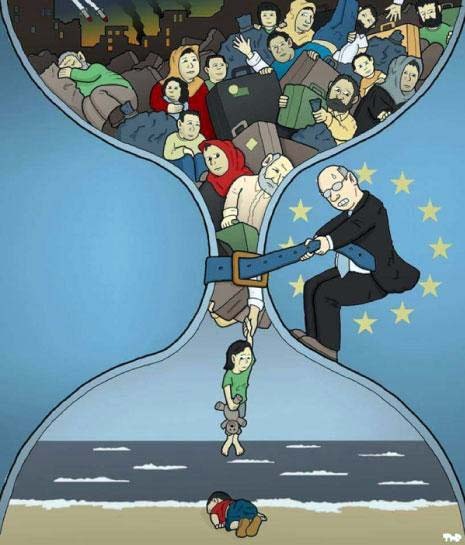 Screen shot of caricature of drowned Aylan Kurdi as Europe restricts
flow of refugees
While others have continued to drown, making that perilous sea journey to escape warn-torn Syria, Iraq, and countless conflict zones, the world's media attention ebbs with calls for stricter border controls or gives voice to political demagogues and xenophobes fearful of "the other."
This may reflect governments' donor or migrant/refugee fatigue, but media have, for the most part, failed the test of professional quality coverage of the migrant story, according to the Ethical Journalism Network (EJN).
In a scathing indictment of how journalists are following the story internationally, EJN documented the practices of media's shortfall in the European Union, Bulgaria, Italy, Turkey, the United Kingdom, Australia, Brazil, China, The Gambia, India, Lebanon, Mexico, Nepal, South Africa and the United States.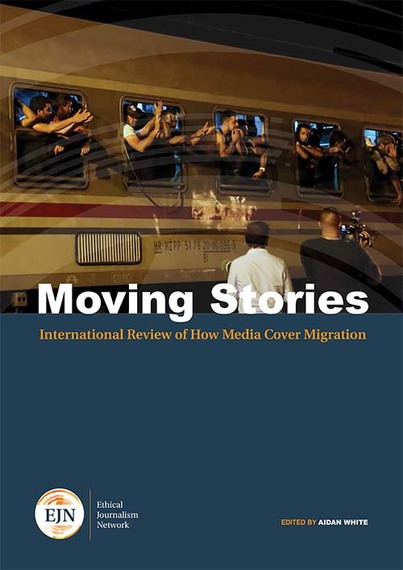 "Moving Stories" cover (courtesy EJN)
EJN's 112-page report, Moving Stories: International Review of How Media Cover Migration, is a wake-up call for local and international media to examine their errors, refrain from promoting vitriol and hate speech, and to do a better job of explaining the problems associated with migrants and refugees.
"The conclusions from many different parts of the world are remarkably similar: journalism under pressure from a weakening media economy; political bias and opportunism that drives the news agenda; the dangers of hate-speech, stereotyping and social exclusion of refugees and migrants," wrote EJN director Aidan White and journalist Kieran Cooke in the introduction. "But at the same time there have been inspiring examples of careful, sensitive and ethical journalism that have shown empathy for the victims."
The report blamed many European Union countries and media of ignoring or downplaying the extent of the snowballing refugee crisis that was already obvious a year before the Aylan Kurdi story was seared into everyone's conscience.
"The European story was there to be told, but media failed to alert their audience or to challenge the readiness of the European Union and its member states to deal with the crisis that was about to break upon their shores," wrote Statewatch director and journalist Tony Bunyan.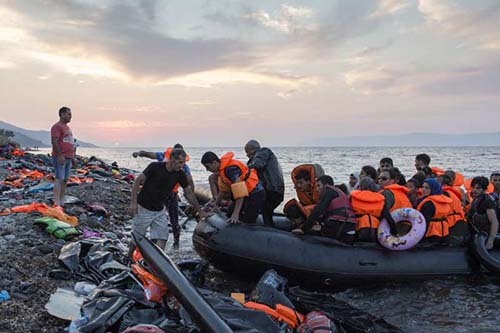 Arriving in Europe, refugees find chaos and kindness (courtesy UNHCR)
A puzzling issue remains what to call people going from their homelands to other countries, and under what conditions.
Media have often confused the terms migrant, immigrant, refugee, asylum seeker, or have used them in a derogatory fashion.
So the EJN reproduced a glossary of terms from the Guidelines for the Application of the Rome Charter: A Working Tool for Accurate Media Coverage on Migration and Asylum to ensure accurate definitions and reporting.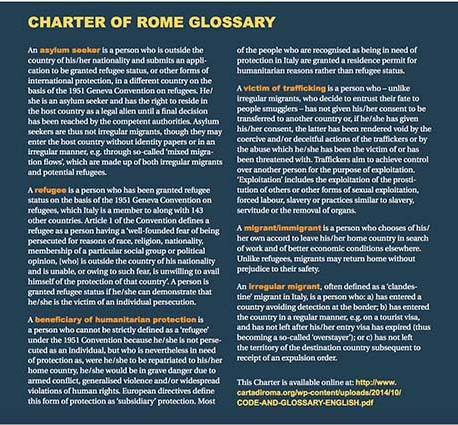 Screen shot of Rome Charter glossary
But it's been an uphill climb.
A section on Bulgaria - where 40 percent of the population lives under the poverty line, or are at risk of poverty, according to the World Bank - highlights the media's irresponsible reporting on Syrian refugees in the country that led to Bulgarians' negative and hostile reactions to the presence of the foreigners.
Italy, for its part, has received thousands of refugees and migrants from the Middle East and Africa searching for better and safer lives.
According to the report, Italian media coverage has ranged from the human side of the story to an "alarmist discourse about immigration, with the number of arrivals described as an 'invasion.'"

Turkey, meanwhile, has had to cope with a ballooning number of refugees from Syria and Iraq against a backdrop of the government's crackdown on media freedom, media downsizing, budget issues, as well as a rising tide of racism and violence against the asylum seekers.
My previous blogpost was a summary of the Lebanese case study in the report. It shed light on a mixed bag of problems in a country that has been hosting up to a quarter to a third of its population, depending on whose figures are accurate, in mostly Syrian refugees.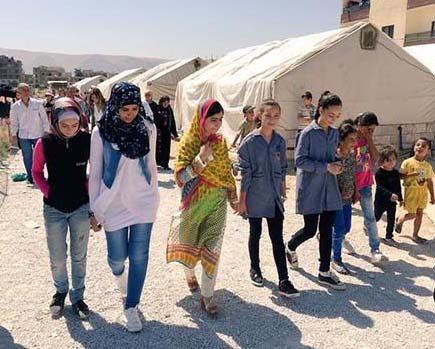 Nobel Peace Prize laureate Malala Yousefzai visits Syrian
refugees in Lebanon (courtesy Eason Jordan)
The full Lebanon chapter is available here.
British media got a thrashing for prejudiced coverage of the refugee crisis, notably after Sun tabloid columnist Katie Hopkins wrote:
"I don't care. Show me pictures of coffins, show me bodies floating in water, play violins and show me skinny people looking sad. I still don't care... these migrants are like cockroaches. They might look a bit 'Bob Geldof 's Ethiopia circa 1984', but they are built to survive a nuclear bomb. They are survivors."
The Moving Stories accounts call on media to stop and think critically about the impact of their coverage, on whether such reporting truly serves their audiences, and how best to frame a very complex issue.
From Australia, a country of multi-cultural migrants, still plagued by racism, to far-off Brazil, with similar baggage, to China, with its own particular internal migration problems, there's no shortage of media culpability.
From poverty-stricken, earthquake-prone Nepal - thousands of whose people are on the move in search of a better life in East Asian and Arab Gulf countries - to Mexico's "shallow journalism in a land where political bias rules the newsroom," there's a need for ethical media coverage.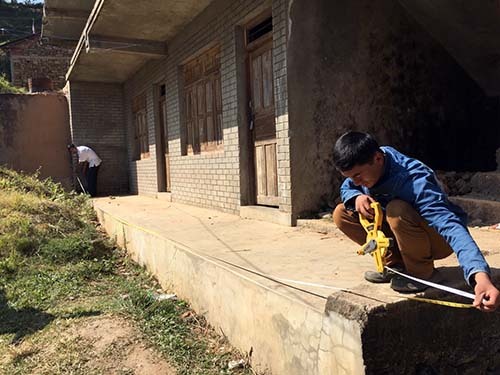 Workers rebuilding a destroyed school in Nuwakot, Nepal (courtesy
Joanne Boustany)
"This EJN report Moving Stories is a welcome step to allow journalists (to) get an overview of the problem areas as well as promoting best practices when it comes to reporting on the wider migration story," wrote Jan Egeland, secretary general of the Norwegian Refugee Council.
Without media attention, humanitarian crises, with their horrifying impacts, will continue to be learned by the outside world way too late, he added.
It comes at a critical juncture.
Hate-mongering bigots like Donald Trump and like-minded venomous media are further inflaming an already toxic environment against migrants and refugees in the United States - a nation of immigrants.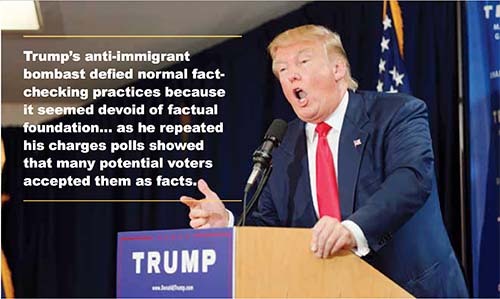 Screen shot of Donald Trump's anti-refugee, migrant bigotry
The report provides recommendations and useful links.
It includes ensuring stories have an ethical context, that newsrooms prepare brief guides to best practices for reporting on refugees and migrants, that refugee groups, activists and NGOs be briefed on how to engage with media, that media challenge hate speech, and, that media demand proper access to information on, and contact with, migrants and refugees.