"How to hoax the international sports media with nothing more than a red circle."
A catchy headline with even catchier pictures that led sports journalists astray.
A tweet by Pascal Taillandier, editorial production manager at Agence France-Presse (AFP) (Twitter handle @ptaillandier), pointed to a blogpost about a prank on Reddit, the social news and entertainment website, that caused an unnecessary cyberspace flurry.


Screenshot of sports hoax tweet
Mix a comment about two rival players' "long" history by a sports announcer at a heated soccer match between Arsenal and Bayern Munich with an anonymous Reddit user's creativity and the outcome is disingenuous.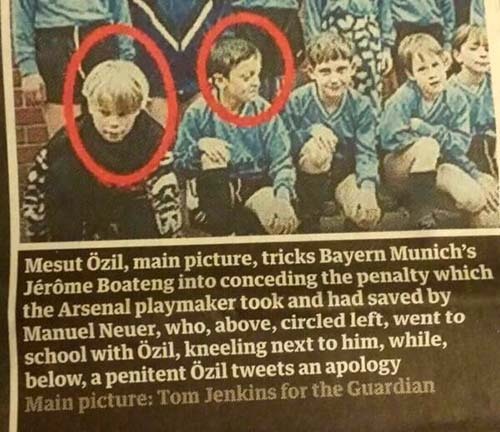 Screenshot of phony sports picture
The joke seemed harmless but in other instances it may have been lethal.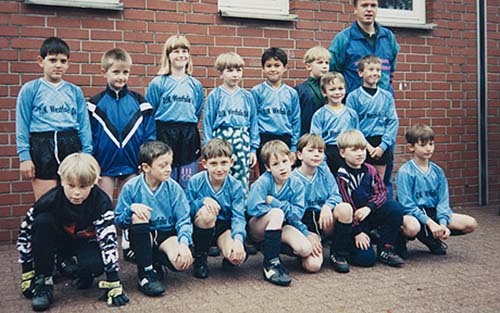 Screen shot of original sports picture
Is it much ado about Photoshop and a storm about media ethics?
Yes, and rightly so.
"A five-second skepticism check (is it too good to be true? Yes), and a 10-second check on Google Images' search by image option, would have brought up the following results to start a fact-checking process," wrote the blogger.
Last week the Lebanese government released an official picture of a newly formed cabinet (after more than 10 months of political stalemate) that reporters and bloggers spotted as photoshopped.
Two ministers were late when a first picture, which included the country's president and parliamentary speaker, was shot. By the time the ministers arrived, the speaker had left to catch a flight to Kuwait and another picture was shot.
The official photographers saw nothing wrong with filling in the blanks by mixing and matching, like a Chinese restaurant menu.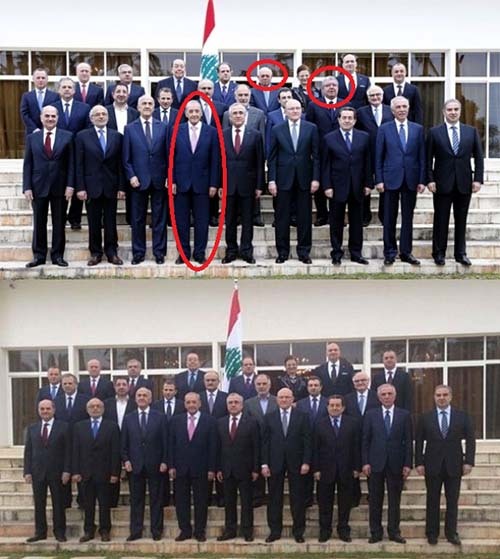 Screen shot of photoshopped Lebanese cabinet's official picture
"I have to say I didn't expect a new government to see the light, and I am quite saddened that we couldn't break Belgium's word record of 589 days without a government. That would have been quite the achievement!" said Lebanese blogger Najib Mitri poking fun at both governments.
News agencies AFP, The Associated Press and Reuters later "killed" the official photo by removing it from their wire services and archives.
While the event galled countless professional journalists and photographers, the Lebanese presidential media adviser's comment on the brouhaha was: "So what? It is your choice to use them or not."
This is as unethical as when Egyptian daily Al Ahram's former editors photoshopped a picture of then president Hosni Mubarak to show him walking ahead of President Barack Obama at the White House.
Mubarak was toppled and the paper's CEO Abdel Moneim Said was canned following the Egyptian revolution three years ago.
Photo offenses don't seem to deter legacy media editors.
A tweet by Liam Dutton on pictures of floods that caused extensive human and material damage in the UK exposed British media's unscrupulous practices.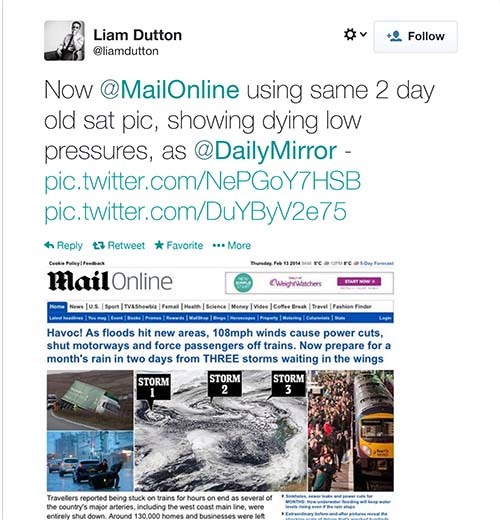 Screen shot of Liam Dutton tweet on British paper's
photo irregularity
"Now @MailOnline using same 2 day old sat pic, showing dying low pressures, as @DailyMirror - pic.twitter.com/NePGoY7HSB pic.twitter.com/DuYByV2e75," he tweeted.
There's no shortage of pictures of refugees, orphans and other victims of the conflict in and around Syria that have generated a flood of unethical and misleading captions.
Britain's The Independent uncovered another hoax with the headline "'Heartbreaking' Syria orphan photo wasn't taken in Syria and not of orphan."
It said an image of a child purportedly lying between his parents' graves in Syria that exploded on Facebook and Twitter was actually a staged photo taken as part of an art project in Saudi Arabia.
Tugging even more at audiences' heartstrings, social media were ablaze with a zoomed-in picture of a four-year-old Syrian boy reportedly crossing the desert into Jordan on his own.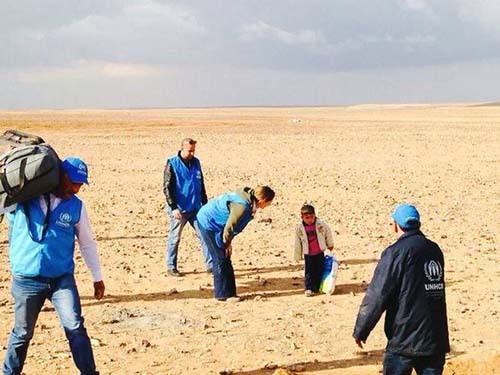 Screen shot of zoom on four-year-old Syrian refugee Marwan
Little Marwan, seen carrying a plastic bag and being questioned by a relief worker, was apparently separated from his family but later reunited with it.
What was revealed in a long shot at the scene after the first image went viral, were scores of other refugees walking at a faster pace ahead of the boy.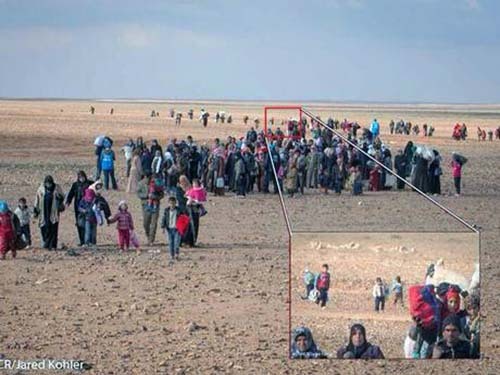 Screen shot of Marwan in full view picture
Which leads us to the burning questions: What's true, what's false, and how can one uncover hoaxes?
"How to spot a Photoshop fail: If an arm is missing, you're probably on to something" is a good place to start.
Tips on detecting fishy looking pictures abound online and in various guides. There is software that pinpoints flaws and telltale marks.
One such program used by AFP is Tungstene but it's limited to digital photos.
In pre-Photoshop days, it was literally a matter of cropping, cutting and pasting pictures of people and places to create illusions or to discredit political party members by eliminating them from official lineups at annual parades.
We've come a long way since then.
But it bears repeating: One has to make an effort to verify the sources of pictures, as with any information that is (or will be) published.
It takes more time and effort, but media ethics is no laughing matter.