Can a robot-journalist win a Pulitzer Prize? Will humans be sidelined in the media?
"With DocumentCloud, journalists at newspapers such as The Guardian and The Washington Post have been easily able to plot dates from disparate documents on timelines, highlight and compare key passages, and give their audience deeper information by publishing primary source documents on their website," wrote Thodoris Georgakopoulos.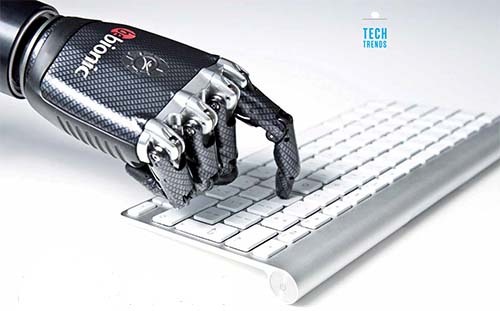 Robo-journo = Pulitzer? (courtesy Innovation International)
He said soon enough journalists at these papers might not even need to put data in context since a startup called Narrative Science has taken the automatic analysis of data to the next level: its technology writes articles.
Georgakopoulos provided his insights in Innovations in Newspapers World Report 2014.
The Guardian announced in April it was testing a newspaper produced entirely by robots and Narrative Science co-founder Kris Hammond told The New York Times that in five years a computer program would win a Pulitzer Prize, Georgakopoulos added.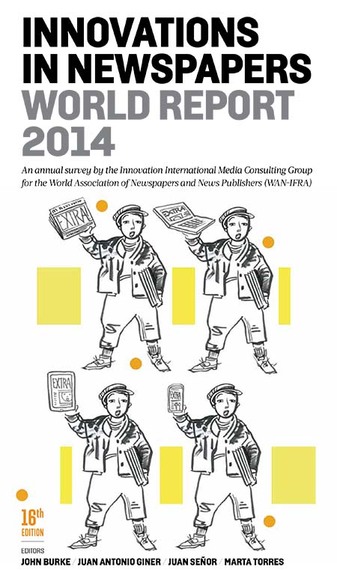 Innovations in Newspapers World Report 2014
(courtesy Innovation International)
Cloud computing, aggregators, digital scraping and Glasshole Journalism (in reference to Google Glass) are not new. They just add to newspaper publishers' modus operandi and the need to ride the techno wave.
But that wave is also taking to the skies with drones creating their own buzz in the reporting of news as detractors claim the devices pose security, safety and privacy threats.


Journalists high on drones (courtesy Innovation International)
The report, a publication by Innovation International Media Consulting Group for the World Association of Newspapers and News Publishers (WAN-IFRA), is a useful guide on how print media cope with the need to reinvent themselves.
A key element is digital content that is undergoing its own fast-paced transformation.
As newspapers shift much of their focus from print to online and digital first, they must keep ahead of the curve that requires them to provide content in smaller and more fragmented bits to fit pocket-sized and other mobile or wearable devices.
Decades ago, a comic book detective called Dick Tracy used his watch as a transmission device. Today, journalists are looking into how a highly-anticipated iWatch can serve as a reporting device.
According to Innovation's report, access to digital content via smartphones is set to increase in the next five years with consumption going from 38 percent to 54 percent and tablets coming in second at a rate of 23 percent to 28 percent.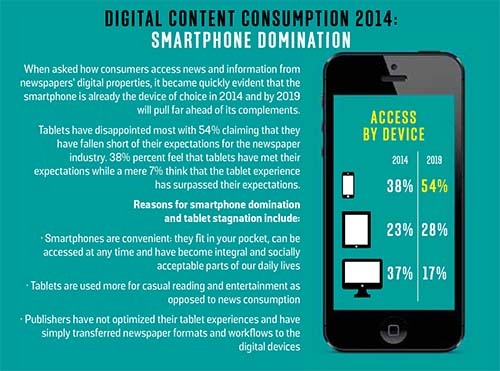 Digital content consumption (courtesy Innovation International)
A study it featured also showed digital content consumption through desktops dropping from 37 percent to 17 percent during the period 2014-2019.
The Advanced Strategy Center at Pinnacle Peak conducted the qualitative survey in partnership with Innovation Media Consulting Group and WAN-IFRA this spring. It yielded the equivalent of 50+ in-depth interviews from a broad set of WAN-IFRA members.
To help secure the smooth transition to all things mobile, newsrooms have had to retool, and fast.
One of several case studies in the report is Costa Rica's Grupo Nación that transformed seven separate print, radio, web and TV newsrooms - home to 331 journalists - into one, unique open space producing content for all platforms.
A superdesk is surrounded by six content desks: public life (world, country and politics, education, science, tech); leisure: (events, culture, art and literature, television and trends); business; sports; magazines and supplements (magazines, journalistic and commercial supplements and editorial products for distribution with all of the group's and stand-alone titles); and, popular journalism (content for a daily tabloid not covered by other desks).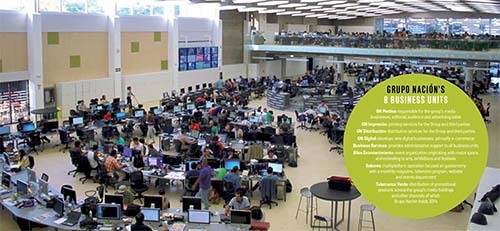 Grupo Nación (courtesy Innovation International)
Innovation's take on this change:
More than anything, integrating a newsroom is a change of culture that forces us to stop looking inwards and to focus on how the audience consumes content.
A participative process, not a democratic one, facilitates and accelerates the buy-in and implementation of new rules and work methods. Top editorial management must be fully on board: strong leadership is obligatory for the success of such substantial transformation.

Part of newsrooms' strategy is (or should be, where it's not yet implemented) the creation of pop-up video newsrooms - makeshift work areas with mobile technologies and wi-fi connections from anywhere in the field - and the realization that newspaper video is not TV.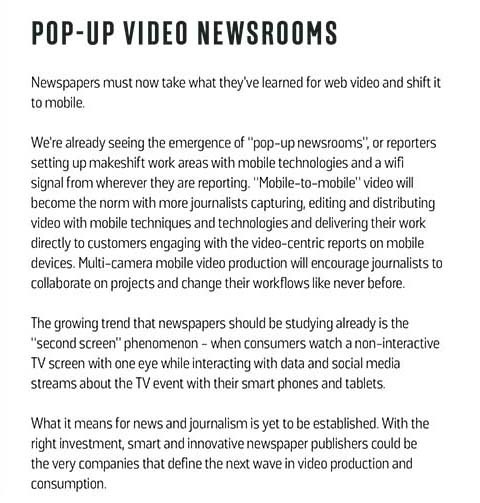 Pop-up video newsrooms (courtesy Innovation International)

Transformations are well and good provided the media in question sustain themselves financially.
But that hasn't always been the case.
Given slumping print sales, there's been a serious move to view and accept sponsored content as a legitimate part of the news dissemination process.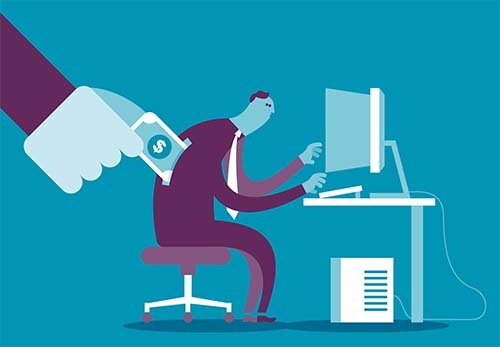 Brand content (courtesy Innovation International)
A rose by any other name, or in the media vernacular, brand content, native advertising, and content marketing.
While purists see it as a deal with the devil, newspaper publishers and editors increasingly justify their reliance on such income-generating schemes by pointing to the separation of editorial and advertising desks that produce content slipped into "legitimate" stories.
In some cases, the branded content is produced by the advertisers and integrated into copy generated by the media.
Perhaps all is not lost. Newspapers are devising creative ways to generate income from multiple sources.
In newspapers' golden days, advertising was the primary source, now seen as shifting to online and mobile platforms.
To supplement digital's financial intake, newspapers have turned to paywalls, with varying degrees of success, and reader memberships.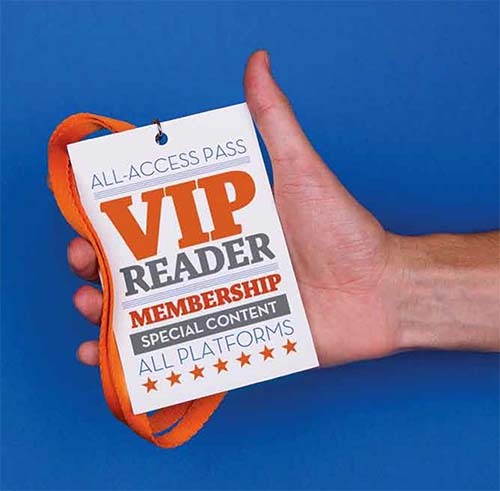 Memberships, not paywalls (courtesy Innovation International)

Memberships seem like a softer side of the paywall equation, requiring readers to pay for some or all of the content they wish to access online.
Innovation's take on memberships that connect readers emotionally:
With all of the free content out there, attracting readers willing to pay is a monumental task. Paywalls may be successful at some papers, but they are few and far between.
What remains true is that newspapers inspire a certain loyalty with a certain percentage of their audience. Even if that audience isn't willing to pay directly for content, membership packages allow newspapers to offer something different, an emotional connection with their core readers complemented by special deals and opportunities. Expect memberships to become a more common feature of publisher offerings in coming years.