I met her once, but I already knew her.
Roula Ayoubi was that distinctive voice I heard countless times on the BBC's Arabic Service newscasts reporting from Afghanistan, Iraq, and the U.S., during my daily commutes to work.
She struck me as a very professional journalist who kept to the "Beeb's" strict rules of accuracy, balance and ethics, while managing to shed a very human face on the people whose stories she so eloquently told.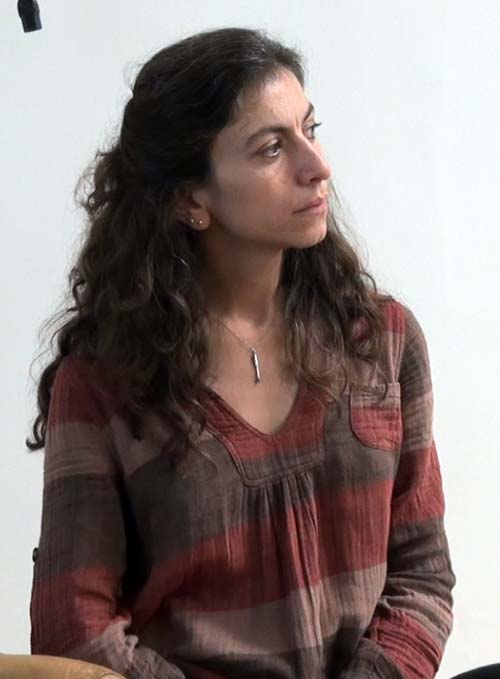 Pensive moment for Roula Ayoubi (Abu-Fadil)
In 2010 Ayoubi graced a broadcast class in a continuing education journalism program I ran to tell students about her work and constraints imposed by the danger zones she covered.
She deconstructed reports that had marked her in Iraq.
She was petite, unassuming, sweet, intense and determined.
"We had a hard time shooting a weeping woman at a memorial service for victims of the attack," she said of the bombing of a church in Baghdad. "It was hard to film without asking her questions, and I didn't want to add to her pain, so I refrained from talking to her."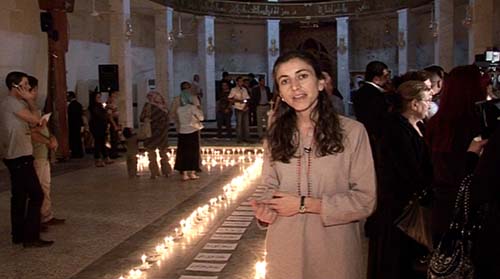 Ayoubi's Baghdad church report (courtesy Ayoubi)
She let the camera speak.
Ethical and other pressures reporters face with unrest and human tragedies can be heavy.
"A picture doesn't serve a cause, it serves a goal," she said. "Your aim is to tell what happened in the best non-involved way: you provide viewers with elements of reality and they decide what it means, what's the reason, and what really happened."
The BBC is very clear in its guidelines on how to cover tragedy. One shouldn't offend viewers.
When there are graphic pictures, it's important to know what happened, but reporters can narrate events, rather than show very graphic scenes, was the argument.
What attracted Ayoubi's attention, she who hailed from Lebanon where sectarian differences are ever-present, was the large number of Muslims in the congregation of a memorial service for the blast's victims.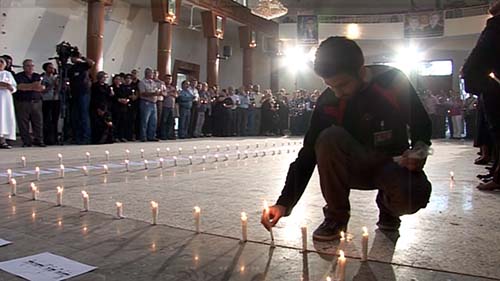 Baghdad church memorial mass (courtesy Ayoubi)
"I included that element in my report, especially the radio piece because on TV one can't distinguish between them," she noted of her broadcast package for both outlets. "I felt there was a mood that people wanted to say 'we can't allow Christians to be targeted without being held accountable. The Muslims insisted on saying that.'"
I asked her how she dealt with competition from other Arab and foreign satellite channels in covering Iraqi news years after the U.S. invasion.
"There are fewer scoops and there is more cooperation, given the dicey security situation," she said. "Correspondents watch what the competition is doing on the respective channels and try to find different and more original stories to stand out from the crowd."
Ayoubi also played a radio report about Iraqi elections and how citizens faced insurmountable obstacles and dangers to cast their ballots.
The interviews with voters, street sounds and her inimitable descriptions substituted for the video narrative.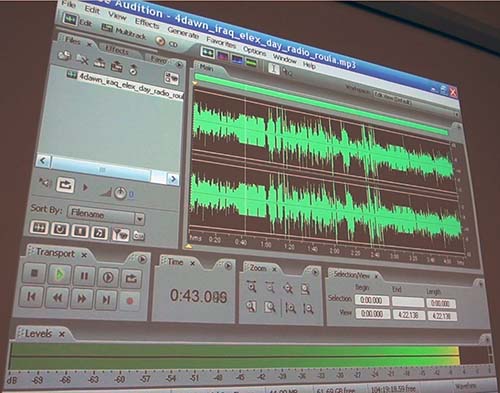 Ayoubi's Iraqi elections radio report (Abu-Fadil)
Was she ever threatened as a journalist?
No, she replied. Threats the media receive come via security staffers they work with.
"The BBC's security detail would get a tip from an embassy, colleagues from another news organization, or a direct statement. The tip would be that there's the possibility of kidnapping," she explained.
The kidnapping came from another source. Roula Ayoubi died of cancer last week in London.
Her colleague Nada Abdelsamad recounted how Ayoubi was eager to take on the unknown of Iraq and how she'd risen from an administration staffer at a local Lebanese radio station where they'd both worked to a broadcaster through sheer determination by pulling night shifts and doing news briefs.
She later moved to the daily Assafir in search of a different experience but in 2004 called Abdelsamad who was already the BBC's Lebanon-based correspondent to say she'd applied for a job as a journalist at its Arabic Service.
"Roula amazed me in her struggle and love of life, as she amazed me in her journalistic coverage, professionalism, and news sense," Abdelsamad recalled.
Abdelsamad accompanied a sick Ayoubi from Beirut to London when she discovered she had cancer on an R&R trip from Iraq to be with family and friends over the Christmas and New Year holidays. She was also treated in Japan before returning to London.
It was the beginning of a new life. Ayoubi decided to fight the disease and succeeded for two years.
"She didn't hide her smile or laugh that still echoes in my ear," Abdelsamad told me.
Iraqi journalist Ammar Al Shaikhly paid tribute to Ayoubi by recounting how she'd formulated an image of Iraq before being assigned to cover it, but that reality on the ground had exceeded her expectations.
"I saw small neighborhoods of no more than five buildings surrounded by walls that became cages with no prospects (for their inhabitants)," she was quoted as saying of the unsettled situation and terror-stricken people.
The irony was Ayoubi's blog "Khalaya Mundassa" (Arabic for infiltrated cells), which highly politicized Arabs would understandably assume to mean terrorists.
Its sub-text read "cancer as a revolution against the suicidal self - The Unpopular Front for the Liberation of Cancer."
The blogposts in Arabic, English and French reflected her struggle to combat cells that had ravaged her insides, and her ability to see snippets of beauty through the pain.
She also recounted her cancerous journey on Facebook and managed to engage with friends and loved ones on Twitter. Her last tweet was on April 27.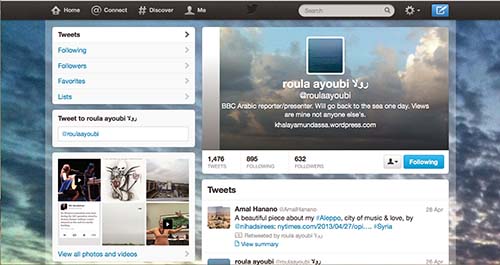 Screen shot of Ayoubi's Twitter page
"I still haven't cried for Roula Ayoubi," wrote former colleague Rasha Al Atrash from Assafir who is now at the online paper Al Modon. "Holding back the tears means Roula is still here."

In a very personal and moving piece, Al Atrash said that in hard times she had drawn her strength and inspiration from Ayoubi who clung to life with ferocity before dying at age 40.