I've always enjoyed traveling to Morocco. It's a beautiful country with lots to offer, except when things go wrong and it becomes surreal.
On a two-day trip to train journalists in Rabat, I flew from Beirut to Casablanca, Morocco's main international airport, on September 4 with a small suitcase, my carry-on with work-related equipment, and a backpack.
Since one can't carry liquids, makeup and business attire in the cabin, I packed the bare necessities like spare underwear, spare hose, a small toothbrush and sample size tube of paste, along with emergency medication in my backpack.
Little did I realize they'd be my saviors for four days.
Beirut airport was crammed with passengers and the Royal Air Maroc (RAM) counter was totally chaotic.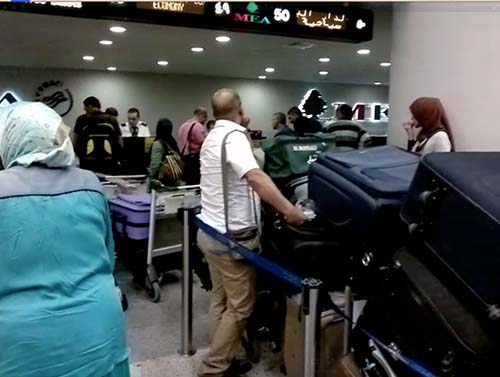 Royal Air Maroc's chaotic check-in at Beirut airport (Abu-Fadil)
Entire families of Lebanese expats who had vacationed in Lebanon were heading back to their West African destinations via Casablanca.
They and their domestic helpers spilled out beyond the designated passenger lines.
Their luggage carts were piled high with everything short of the kitchen sink. How anyone would allow so many bags on board defies logic. The overload and insufferable passengers delayed us a whole hour.
On arrival at night in Casablanca I was dismayed to discover my suitcase was left behind. Airline officials decided the plane was too heavy and safety was at risk so they arbitrarily took luggage, including my bag, out of the hold.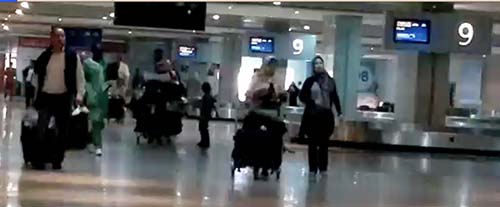 Casablanca arrivals and lost luggage claims area (Abu-Fadil)
I dutifully filed a lost luggage form and took the car whose driver was waiting outside to my Rabat hotel - an absolute dive booked by my hosts.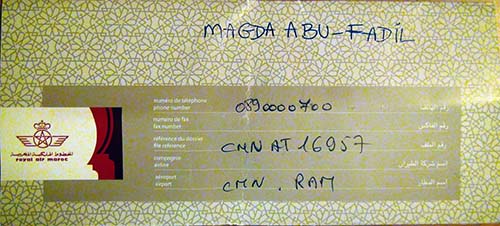 Royal Air Maroc lost luggage claim form (Abu-Fadil)
The airline promised to have the bag placed on the next day's flight, also arriving at night, so I'd only be able to retrieve it on the eve of my departure and return trip to Lebanon. They did not deliver to hotels.
That meant no clothes, shoes, slippers, PJs or toilet items until my reunion with my suitcase given the tight schedule and work involved in the training program.
The hotel didn't provide a box of tissues in the room, there was no mini bar, there was barely any soap or shampoo and one had to ask for extra toilet paper.
There was no elevator - I was on the first floor - and the food left much to be desired. The only saving grace was free but very slow Internet service.
Our local fixer told me the RAM flight from Beirut had arrived the following night but wasn't sure if the suitcase was on it. He suggested I go with his assigned driver to Casablanca with another participant in our group who'd also been bag-less since her arrival, which I did.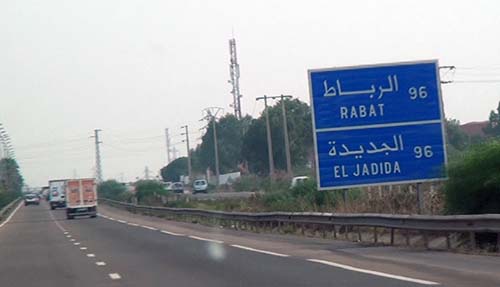 Casablanca to Rabat 96 kilometers (Abu-Fadil)
We're not talking about a trip around the corner.
The distance between Casablanca airport and the capital Rabat is 100 kilometers (62.1 miles) and takes almost 90 minutes, depending on traffic, speed limits and toll stations along the way - i.e. at least three hours round trip.
To my dismay, the suitcase wasn't there. Or so I was told.
A Royal Air Maroc staffer showed me on his computer terminal it was still in Beirut. I asked him to send a message asking it be kept there until my return the next day.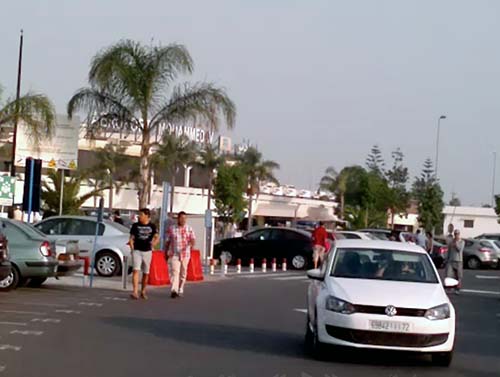 Casablanca's Mohammed V Airport (Abu-Fadil)
Day four (still in the same clothes) meant waking up at 4:00 a.m. in Rabat, going to Casablanca, and boarding my five-hour September 7 flight to Beirut.
On arrival I went straight to the lost luggage claims area after passport control to find my suitcase. A staffer on duty waved me in to the depot of endless rows of bags to look for mine.
I had to file a new lost luggage claim and request my bag be placed, urgently, on the next flight from Casablanca to Beirut.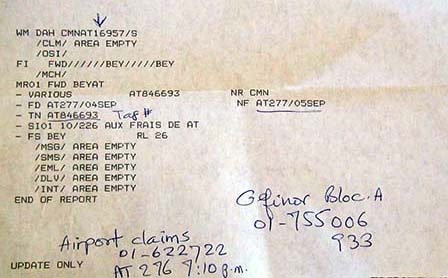 Beirut airport lost luggage claim (Abu-Fadil)
The form showed the suitcase was sent to Casablanca on September 5, so in essence, my three-hour trip on September 6 to find it should have yielded results.
More time wasted then the long drive home only to receive a call from Beirut airport's lost luggage department informing me my suitcase was on the flight with me coming back.
I thanked the staffer and said I'd go back on Sunday morning (September 8) to pick it up.
It was there, but marked "Transit" for some strange reason when my final destination going out was Casablanca.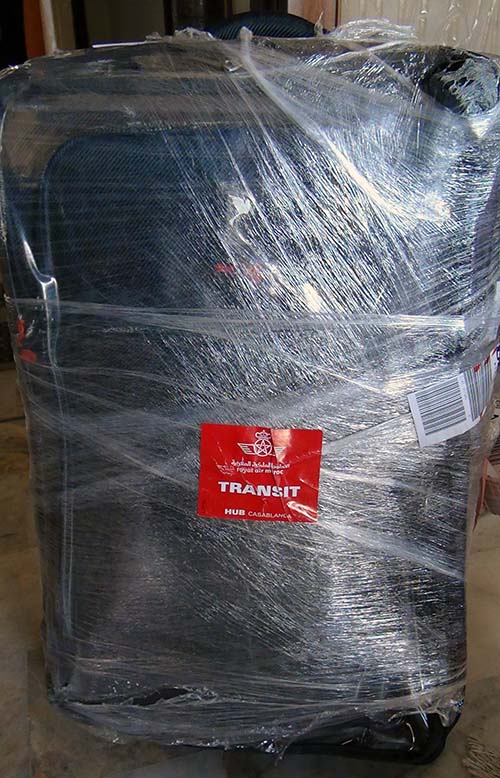 My suitcase wrongly marked as "Transit" (Abu-Fadil)
I was under the mistaken impression the RAM employees were literate and could tell a transit passenger from one who was staying in the country.
RAM had shuttled my bag four times in four days between Beirut and Casablanca and almost destroyed it.
The airline's representatives never apologized, didn't offer to have it delivered, and seemed totally oblivious to the inconvenience they'd caused.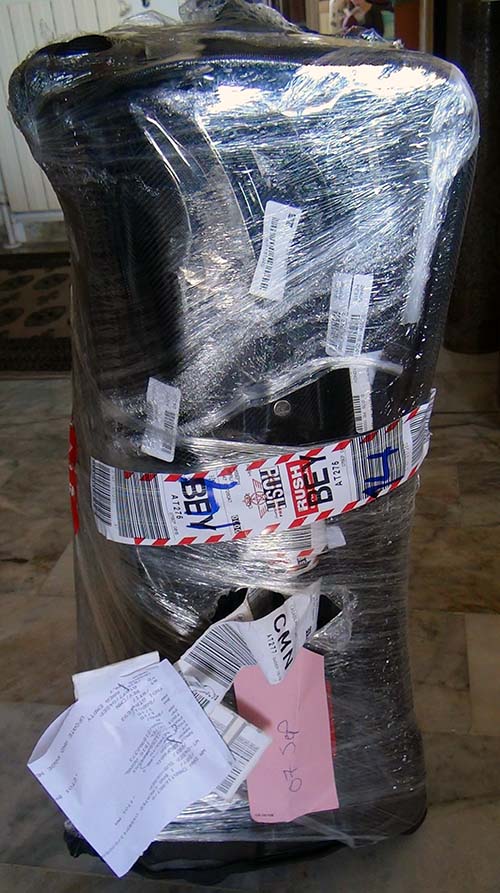 RAM shuttled my bag four times in four days (Abu-Fadil)
I highly recommend they be given intensive courses in customer service.