He's back at Al Jazeera in an exalted position, albeit older, perhaps wiser, and a changed person, with memories of his six years and seven months of detention in Guantanamo on charges of being a member of al Qaida, which were later overturned.
"It was a good time for me to be a journalist inside Guantanamo, to see from that angle how they (Americans) deal with them (detainees)," Sami Alhaj told me on the sidelines of a press freedom conference in Amman, Jordan.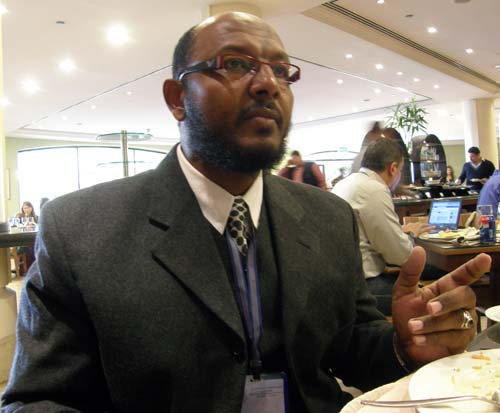 Sami Alhaj (Abu-Fadil)
For someone who had been subjected to physical and psychological hardships, he seemed rather calm, at peace with the world, and philosophical about his new role.
Alhaj is head of liberties and human rights affairs at Al Jazeera.
"Our mission is to monitor human rights-related news and abuses and present them to TV channels," he explained. "When I was incarcerated I believed in the media's mission, but when I saw what happened there and the needs of others for human rights organizations to support them, I pledged to work through my profession (the media) to serve such needs."
His department works closely with the International Committee of the Red Cross, the Arab Human Rights Committee and the International Federation of Journalists, to name a few.
It conducts workshops for Al Jazeera journalists, cameramen and anchors to train them on the subtleties of terminology they use in their reports, like differentiating between a forced expatriate and a refugee, he said.
It also organizes annual conferences and offers prizes for the best TV reports on human rights, and is producing spots entitled "Know Your Rights" tackling such topics as the right to learn, to work, to medical care, to movement, and to transportation.
But it primarily helps out in conflict zones, briefs journalists on first aid and the recognition of weapons, and pursues those who have caused harm to journalists through the International Criminal Court at The Hague.
Alhaj also works with a Geneva-based justice center to help rehabilitate ex-Gitmo inmates, and demand the release of those removed from Guantanamo and "renditioned" to other countries, he said.
On January 11, 2012 Alhaj's organization is marking the 10th anniversary of the first plane landing at Guantanamo carrying prisoners captured by U.S. forces with a series of events to remind people of what that detention center has meant for those who were jailed there.
In September 2008, Robert Fisk wrote in Britain's The Independent that Alhaj, who he had met walking with a steel crutch after his release, was a figure of both dignity and shame.
"The Americans told him they were sorry when they eventually freed him this year -- after the beatings he says he suffered, and the force-feeding, the humiliations and interrogations by British, American and Canadian intelligence officers -- and now he hopes one day he'll be able to walk without his stick," Fisk reported.
Senator Diane Feinstein of California revealed that a Senate probe of a CIA torture program concluded it was "far more widespread and systematic than we thought."
But it wasn't just the physical suffering that the Sudanese-born Alhaj endured.
"The worst aspect was the psychological effect," he told me of his solitary confinement and the pressures, which he, and other inmates, faced.
He said the prison was run by psychiatrists specialized in how to handle certain types of detainees, with a behavior team tasked with closely examining every prisoner.
In a December 2001 report by the New York-based Committee to Protect Journalists (CPJ), then cameraman Alhaj was stopped at the Pakistani border with Al Jazeera reporter Abdelhaq Sadah as both tried to cross into Afghanistan on assignment.
Sadah was told he could cross but officers blocked Alhaj, said there was a problem with his passport, and the following day whisked him off to Afghanistan, and on to Guantanamo Bay, where he was designated an "enemy combatant."
According to a Wikileaks report released by the British daily The Guardian , Alhaj was identified by a U.S. Defense Department memorandum as
a member of al-Qaida and logistics expert with direct ties to al-Qaida, al-Haramayn non-governmental organization (NGO), and Taliban leadership. Detainee is reportedly a leader in the Muslim Brotherhood's Shura Council and was involved in plans and operations to distribute weapons, to include Stinger missiles, and financial support to extremists in Chechnya. Detainee provided logistical support to Islamic militants in Chechnya through al-Haramayn in Baku, Azerbaijan (AZ), and acted as a money courier and propagandist for the al-Qaida network under the cover of his employment with the Union Beverage Company (UBC) and al-Jazeera Media. Detainee is on a DIA list of potential terrorist recidivists.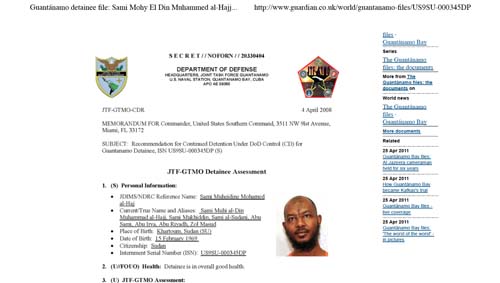 Screen shot of Sami Alhaj Guardian-Wikileaks memo
The CPJ quoted attorney Clive Stafford-Smith who defended Alhaj as saying "there is absolutely zero evidence that he has any history in terrorism at all," adding that the motive was purely political, with interrogators seeking intelligence from him on Aljazeera and its staff.
I met Stafford-Smith at Al Jazeera in Doha when he was campaigning for Alhaj's release and insisting the man was detained on trumped-up charges.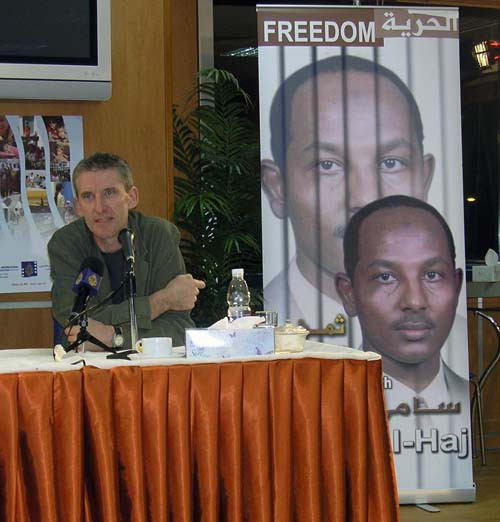 Sami Alhaj's attorney Clive Stafford-Smith (Abu-Fadil)
Today Alhaj just wants to get on with his life, enjoy time with his wife and children, and fight for others' human rights.