It hasn't been a good past month for Egyptian Information Minister Salah Abdel Maqsoud who's still being ridiculed for what Arab TV viewers consider an on-the-air pass at an attractive but serious talk show host.
A 19-second video clip on YouTube of Dubai TV's Syrian interviewer Zeina Yazigi, host of "The Arab Street," went turbo viral when she told Abdel Maqsoud they'd be airing journalists' views, to which he replied: "I hope they're not as "sokhna" (hot) as you."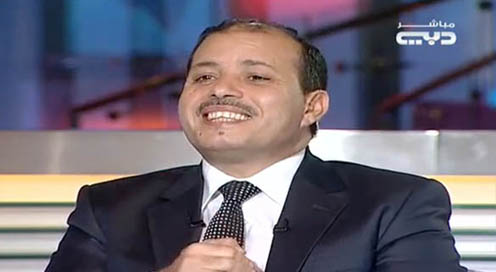 Screen shot of Abdel Maqsoud on Dubai TV
The beautiful, dignified and very professional Yazigi retorted: "No, my questions are hot. I'm cold. In fact they're the Arab Street's questions, Your Excellency."
His counter-reply was: "I welcome it. My bosom is open."
Screen shot of Zeina Yazigi: "My questions are hot."
That set alarm bells ringing, notably since the minister is tagged a member of the conservative Muslim Brotherhood, with which the Egyptian president and his prime minister are also affiliated.
Quite a contrast to the serious tune Abdel Maqsoud and supporters played regarding the first appearance of Fatima Nabil, a veiled news anchorwoman, on state-run TV, and, bad timing given the government's reversion to Mubarak-era type by tightening the noose on media freedom, according to detractors.
It also left a bad impression after the minister called for an investigation and legal action against an Egyptian TV show's team for having hosted a guest who openly attacked the Muslim Brotherhood on the air.
Abdel Maqsoud quickly became the laughingstock of Arab cyberspace, with bloggers and social media denizens having a field day poking fun at his perceived on-air flirtation, while others saw it as verbal sexual harassment.
For years Egypt has chalked up a negative reputation as a country with a very high rate of sexual and physical harassment of women on the streets and elsewhere, religious conservatism notwithstanding.
Egyptian activist Amira Farouq, who saw the incident as a breach of decorum, wrote: "Even if the information minister didn't intend it to be sexual harassment, the first thing a media person learns is how to pick his words carefully, not least of which the information minister himself."
Understandably, the minister's supporters defended him, saying critics were pouncing on Muslim Brotherhood members' every word in a bid to discredit the once outlawed organization, which now holds the reins of power in Egypt.
An engineering professor explained that in the Egyptian dialect the word "sokhna" doesn't mean the same as "hot" in English, but rather "enthusiastic" or "very active," whereas "barda" (cold) means "unfeeling."
He went on to say that given the decades of power monopoly by ousted president Hosni Mubarak and his entourage, the opposition (including the Muslim Brotherhood) had little or no experience in how to deal with the media and was simply learning on the job.
But Egyptian women activists insisted what happened on the air was sexual harassment by a man who only saw a beautiful woman, not a professional journalist, in front of him.
Lebanon's Annahar daily reported Yazigi's husband, Syrian actor Abed Fahed, was upset and angry about the over-reaction to the whole episode, and that comments on social media sites had gone overboard and should stop.
Yazigi had exonerated the minister, the paper said, by explaining he'd misspoken.
Faisal J. Abbas, editor in chief of the pan-Arab, Saudi-owned, satellite channel Al Arabiya's English news site meanwhile had his own bit of fun with the incident in a Twitter exchange with the programs director of Lebanon's Future TV channel Diana Moukalled.
In a twist on the "hot" topic, Abbas tweeted in Arabic that Saudi Arabia's highest religious authority, the grand mufti, had said Twitter was based on insults, fraud and lies.
To which Moukalled jokingly replied: "May we all become tweeps, to dispense sedition, my friend."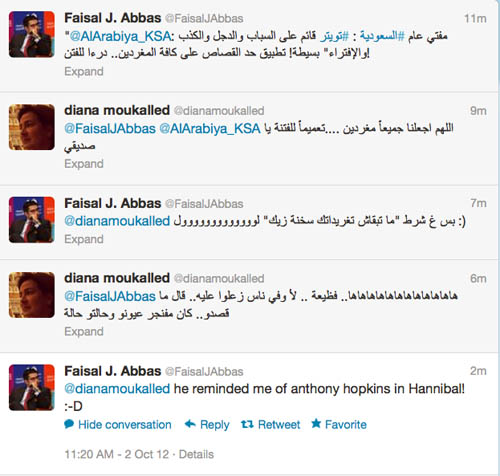 Screen shot of Faisal Abbas-Diana Moukalled tweets re "hot topics"
Quick on the uptake, Abbas tweeted back: "On condition your tweets aren't as hot as you. LOL!"
Moukalled then replied: "Ha, ha. Good one. Some people were sorry for him...he didn't mean it...but his eyes were popping out of their sockets and he was in quite a state."
Finally Abbas tweeted back in English: "He reminded me of Anthony Hopkins in (the movie) Hannibal."
Al Arabiya featured the "Brotherhood's Bloopers" and clumsy international behavior in a piece on its website, including an incident by President Mohammad Morsi being caught on-camera adjusting his private parts during a meeting with Australian Prime Minister Julia Gillard.