One tasteless tweet and you're nailed -- virtually and otherwise.
In a tweet, self-styled Lebanese journalist Ghadi Francis -- no stranger to controversy -- described the Syrian city of Douma as "meshwiyyeh" (Arabic for "grilled" or "barbequed") by barrel bombs that killed untold numbers of civilians.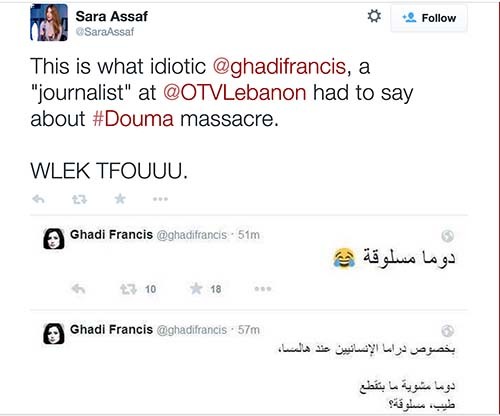 Screen shot of Twitter shouting match over Douma
When her label struck a raw nerve with opponents of the Syrian regime, which is accused of using these weapons, Francis then tweeted, "If grilled doesn't cut it, then it's 'maslouqa' (boiled)," and repeated, "Douma is boiled," followed by a smiley face.
That prompted activist Sara Assaf to lunge back: "This is what idiotic @ghadifrancis, a 'journalist' at @OTVLebanon had to say about #Douma massacre. WLEK TFOUUU (I spit on you)."
The reflexive answers, comments and reactions snowballed into a cyber-slugfest with tweets from hither and yon unleashing their bile, often in obscene language, on Francis.
Enter Paula Yacoubian, host of the political talk show "Inter-Views" on Lebanon's Future TV, who, also in a tweet, invited both women to further expound on the matter on her program.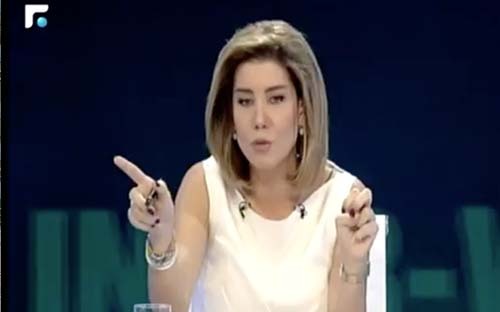 Screen shot of Paula Yacoubian interviewing Francis and Assaf
They did, leaving little room for compromise on either side, and I was asked to weigh in on the ethics dimension.
But missing from the lineup was Lebanese broadcast journalist and TV presenter Liliane Daoud, who was scheduled to appear and discuss how she'd rubbed quite a few Egyptians the wrong way by tweeting her support for activists jailed for their politicking.
"Guys, don't let anything depress you. The (Egyptian) people have seen a lot and sallied forth nonetheless. You have a weapon in your hands called the will to live and your executioner's only weapon is his attempt to swipe it from you. Hang on to it," she wrote.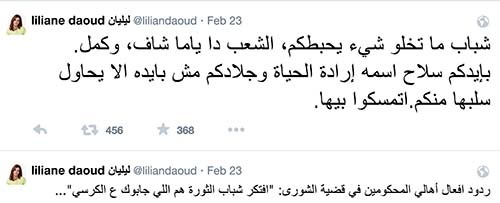 Screen shot of Liliane Daoud's controversial tweet
Daoud, who worked for the BBC in London and moved to Egypt to host a program on OnTV (owned by billionaire Naguib Sawiris), sent ultra-nationalist Egyptians into a Twitter frenzy.
"#LilianeMustGo" was the hashtag of the anti-Daoud campaign amid cries calling for her deportation for "interfering in Egypt's domestic affairs."
Sawiris tweeted back that even if he disagreed with Daoud, he defended her right to express herself, adding that he backed opposite opinions.
Supporter Ghada Shahbender, meanwhile, went so far as to equate Daoud with Levantine contributors from the performing arts, cinema, and media to Egypt's thriving political and cultural life in the 19th and 20th centuries.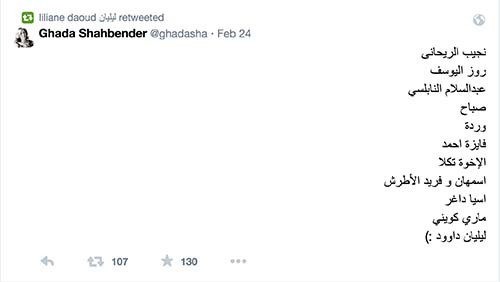 Screen shot of tweet praising Liliane Daoud
But the sideshow ruckus shouldn't detract from the need to focus on media ethics.
Ethical Journalism Network (EJN) director Aidan White reminds us in a video clip that the five core values of journalism are accuracy, independence, impartiality, humanity and accountability.
They apply equally to bloggers, activists and non-journalists using social media, I argued on the TV show.
White also edited "The Trust Factor: An EJN Review of Journalism and Self-Regulation" with case studies from different countries.
"The conclusions reveal that in the midst of revolutionary change inside journalism and media and at a time when the culture of public communications has seen a dramatic shift in the way people receive and disseminate information, the need for responsible and accountable journalism is greater than ever," he wrote in the introduction.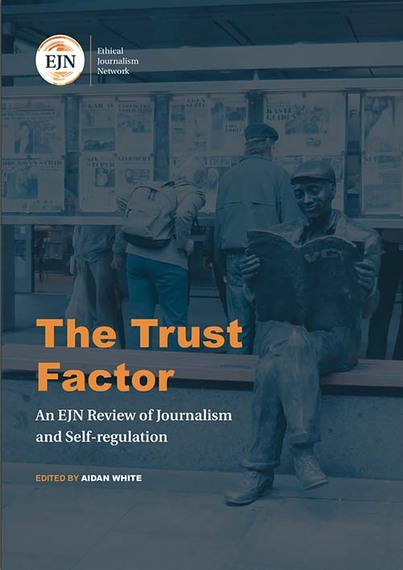 Screen shot of "The Trust Factor"
I was gratified to read about the Ancil Payne Awards for Ethics in Journalism named after a leader in American Northwest broadcasting and established at the University of Oregon's School of Journalism and Communication.
It honors "journalists of integrity and character who report with insight and clarity in the face of political or economic pressures."
We need more such incentives to prompt journalists, bloggers and others to couple journalistic prowess with self-regulated ethics in a bid to avoid the force-feeding of often outdated or unfair laws.

Screen shot of "A Checklist of Self-Regulation"
"Above all is the need to restore confidence in ethical journalism and the ability of media to play a more effective role in creating credible and durable forms of self-regulation."
--"The Trust Factor"