"S**t!"
The BBC allowed freelance journalist/author Rose George to use the word on the air to ring alarm bells that 2.6 billion people -- four in ten -- worldwide don't have toilets, and have to resort to the outdoors for their basic human needs.
"Meanwhile, the western world luxuriates in flush toilets; in toilets that play music or can check blood pressure, where the flush is a thoughtless thing, and anything that can go down a sewer -- nappies, motorbikes, goldfish -- does," her website claims.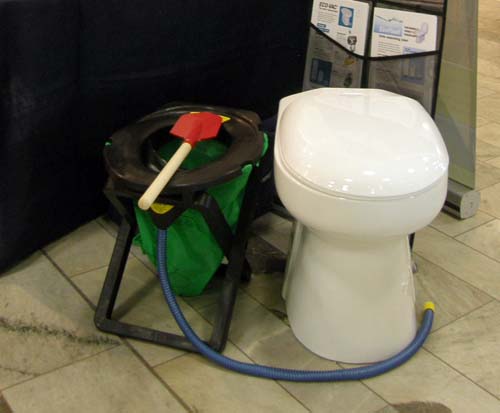 2.6 billion people worldwide don't have toilets (Abu-Fadil)
George has been campaigning for better sanitation and has penned several books, notably her tour de force, The Big Necessity: The Unmentionable World of Human Waste and Why it Matters.
Her mantra is that more people should become aware of the dangers of bad sanitation, as human excrement in water supplies is a contributor to communicable diseases.
According to her research, a child dies from diarrhea -- usually brought on by fecal-contaminated food or water -- every 15 seconds. But human waste, she argues, is also full of nutrients, is rich and can be used to good purpose.
George's sanitation goals and other water-related topics attracted 2,500 participants to World Water Week in Stockholm where experts, decision makers, academics and journalists debated issues of vital importance to the planet.
This week's event, organized by the Stockholm International Water Institute (SIWI) www.siwi.org, was a dizzying conference packed with plenary sessions, workshops, seminars, side events and awards ceremonies meant to create awareness about problems, as well as share solutions and plans of action.
In a workshop on water quality for human health, University of Maryland Prof. Rita Colwell, this year's water prize laureate, spoke of her findings in the mapping of microbial and chemical risks in a bid to reduce health threats.
"Diarrheal diseases transmitted by water are key to the loss of working hours and security for countries," she noted.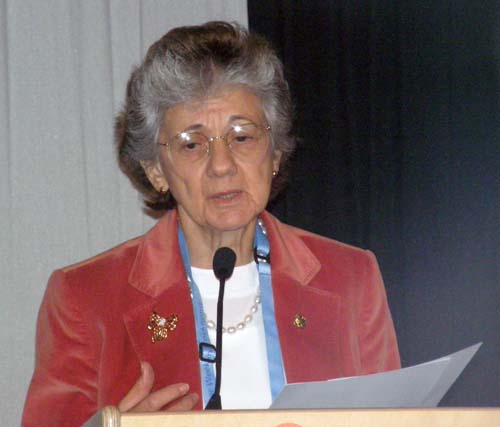 Award winner Dr. Rita Colwell (Abu-Fadil)
Water, water every where
And all the boards did shrink;
Water, water every where,
Ne any drop to drink
British poet Samuel Taylor Coleridge's 1798 "The Rhyme of the Ancient Mariner" came to mind as experts in Sweden discussed shortages and how less than 1 percent of the Earth's water was fresh and available for human consumption.
The contrast between developing countries suffering from a lack of potable water and Sweden, that boasts clean tap water, couldn't be starker.
Stockholm, a/k/a "the Venice of the North," maintains high standards of wastewater treatment, allowing people to fish and swim in the heart of the city, which was impossible a few decades ago.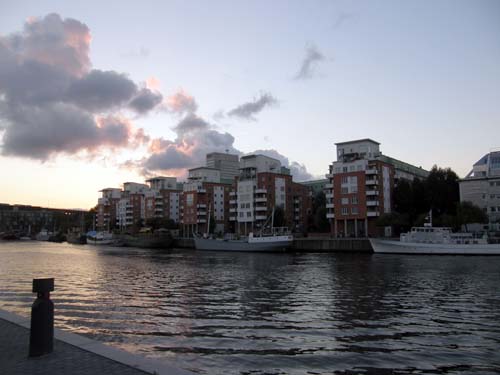 Stockholm tap water is drinkable (Abu-Fadil)
Participants were each handed a conference bag and a water bottle like those used by athletes to fill from fountains at the venue that dispensed cold still and fizzy water.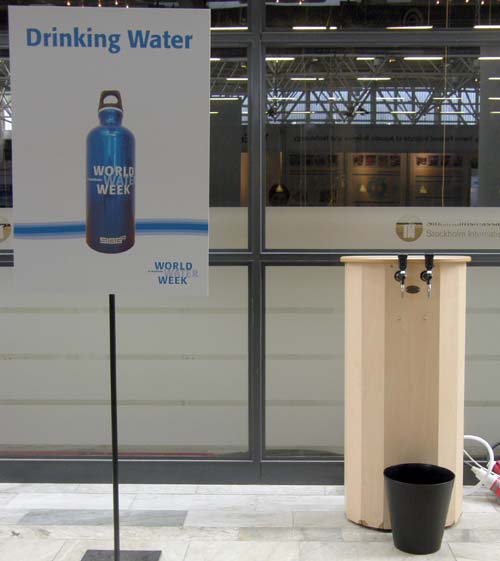 Promoting clean drinking water (Abu-Fadil)

Conference topics included biodiversity, wastewater management, combating desertification, maintaining ecosystems, climate change, pollutants in water resources, and the economics of sanitation, to name a few.
"Don't be a drip," was a catchy bookmark handed out by the National Geographic - one of countless materials displayed in the exhibition hall - featuring a duck in a shower urging people to reduce their water use.

Complex conference presentations were coupled with awards, with Swedish Crown Princess Victoria handing out the 2010 Stockholm Junior Water Prize to innovative young scientists.
This year Canadians Alexander Allard and Danny Luong nabbed the prize, sponsored by the ITT Corporation www.itt.com, for their work to develop a new biotechnical method to biodegrade polystyrene in water.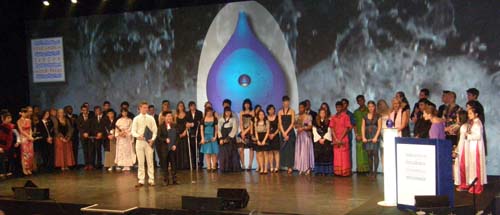 Crown Princess Victoria (at podium) with Junior Water
Prize laureates (Abu-Fadil)
The Striking WASH Communication Media Awards were another incentive for journalists to become more engaged in water-related issues.
Participants were told the perception of a water story was news of water wars, contamination incidents, and floods or droughts, whereas bad climate, water-related deaths and negotiated water agreements barely made a dent in any news cycle.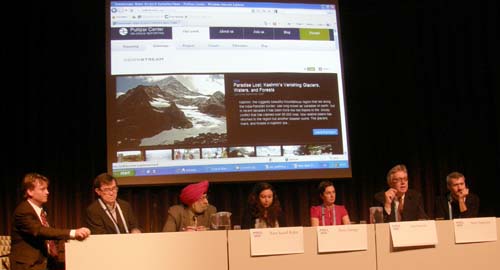 Experts urge better water-media ties (Abu-Fadil)
Dr. Peter Gleik of the Pacific Institute advised water experts to cultivate reporters, help them understand the story and issues, send them news, and become reliable sources.
He also suggested water specialists should become reporters, should blog and tweet, should comment and should use Facebook to convey their messages.