It all seemed so promising.
Tunisia rid itself of the shackles that had choked it for 23 years under the oppressive rule of Zine El Abidine Ben Ali and the media started breathing easier when journalists, bloggers and activists of all stripes made up for lost time with a vengeance.
But since that unforgettable December 2010 when Mohamed Bouazizi set himself ablaze to protest being roughed up by a policewoman and died of his burns, it's been a bumpy ride for Tunisian media.
It was encouraging to see first-time, post-revolution satirical newspapers like Al Qatoos (The Cat) emerge on the scene, since publisher Salim Boukhazir had made a career of being anti-acien regime.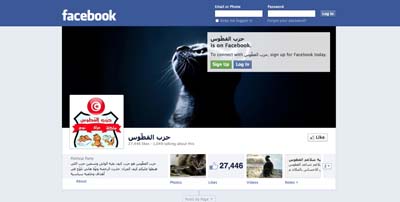 Screen shot of Al Qatoos Facebook page
Boukhazir likened himself to "the cat" who may not have been able to topple the old regime with his companions, but who had managed to make enough of a racket by publishing satirical articles in more than one vehicle to prevent Ben Ali from sleeping.
He was arrested in 2007 and jailed for eight months on charges of attacking a security officer, refusing to identify himself, and assaulting high morals, which various sources considered a cover for retribution against the journalist who dared to uncover corruption and abuse of power by the regime and its cronies, the pan-Arab daily Al Hayat reported.
Many seemed heartened when in March 2011 The Economist magazine published a piece entitled "It could be normal, Tunisia is getting back on track."
It said Bouazizi's picture adorned the main street of his hometown Sidi Bouzid, banners promised to keep his memory alive, and graffiti across its walls exhorted the population to stand up for their rights and fight for their freedom.
It referred to the Islamist Ennahda party that has since won legislative and presidential elections as promising all manner of reforms.
"Its leaders say it wants to be part of a modern democracy with a separation of powers, independent courts and a free press," the article said.
Female journalist/blogger Wajd Bouebdellah identified by the Twitter handle @tounsiahourra (a free Tunisian) tweeted a message to her country's cabinet minister for religious affairs with a variation on Kahlil Gibran's famous line, "You have your Lebanon, and I have mine."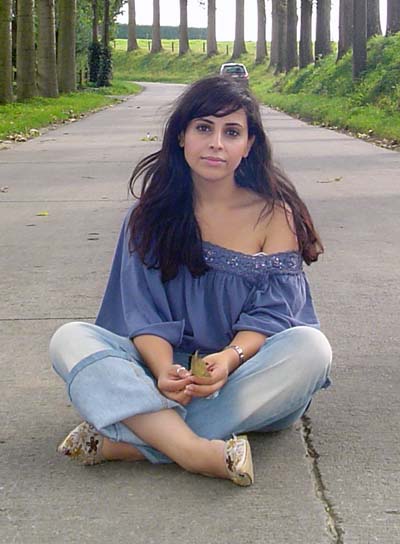 Wajd Bouebdellah (Courtesy of Bouebdellah)
Her version in a tweet to the minister was "You have your religion, and I have mine. You've turned (the Prophet) Mohammad's religion into one of killing and making it acceptable to shed people's blood and covering up instigation to murder. Shame!"
The debate over pro- and anti-secular values has been raging on Tunisian TV talk shows, with supporters of the former warning against the spread of intellectual fanaticism, while the latter charge their opponents with provoking people's feelings and values.
"Where did all these Salafists come from?" was the headline of a feature in Al Hayat's youth supplement on June 4, 2012.
Also in June, the Cairo-based Arabic Network for Human Rights Information (ANHRI) blasted authorities for resorting to a Ben-Ali era anti-terrorism law to prosecute a Tunisian activist who had criticized police brutality on his Facebook page and charged him with burning down a police station.
Journalist/activist Kamel Labidi lived in self-exile for several years after being dismissed from media jobs and was harassed for his activism.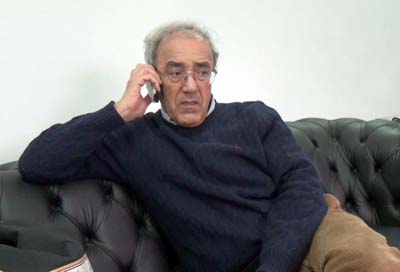 Kamel Labidi
He returned to head a national commission set up by the first post-revolution cabinet to reform and update the country's media laws ahead of legislative and presidential elections.
This summer, however, he and his commission resigned en masse out of frustration saying the members' work was being censored by the government.
In January, Emna El Hammi expressed concern about the army -- following an order by the military tribunal -- becoming a censor after it had helped topple Ben Ali.
Her blog post "Freedom of expression in post-revolution Tunisia: 'moral' and 'legal' new basis for censorship" on the Nawat portal referred to the censorship of five Facebook pages that sharply criticized the army.
While censorship was more political in nature pre-revolution, there's been a drift towards religious and moral censorship, she reported, with Islamists acting as social pressure groups and Salafists calling for an Islamic state as well as the right of female university students to wear the niqab (full-facial veil).
"'J'accuse,' you Islamists who are trying to unravel the state," wrote Rajaa Ben Slama in a take on French author Emile Zola's famous line from an open letter he wrote to then president Félix Faure in 1898 in the newspaper L'Aurore accusing the government of anti-Semitism for jailing a Jewish army general, Alfred Dreyfus, on charges of espionage.
Ben Slama accused Islamists and Salafists, claiming they had hijacked the revolution, used violence to snuff out liberal dissent, and tightened the noose around the media's neck, all in the name of religion.
"And I condemn Mr. Rashid al-Ghannushi (head of the ruling Ennahda Party) because on the night of June 13, while a curfew was in place across the country, and our hearts were quivering, we saw him on state-run TV calling for demonstrations on Friday in support of what he deemed protecting what is holy," she said.
The article was illustrated by a caricature in French of a bearded Salafist holding a club telling his fully veiled wife he was going to see an exhibition, under the headline "Tunisian cultural life" and the suggestion he planned to destroy the exhibits on display.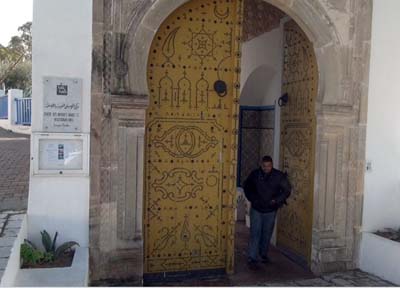 Arab & Mediterranean Music Center in Sidi Bou Said
Tunisian reformers, activists, bloggers, journalists and others who suffered under Ben Ali are eager to see radical changes in record time, which may not be realistic, as the dust has yet to settle on their country's revolution.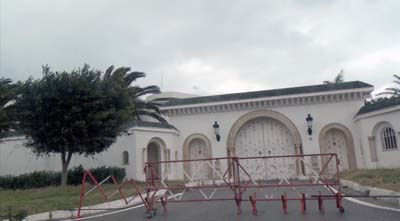 One of Zine El Abidine Ben Ali's deserted palaces
However, the systems needed to ensure the freedoms for which they clamor are not fully in place, and many Tunisians working in the media have to learn how to become journalists.
Photos are author's own, unless noted
This is a revised, summarized version of an article that appeared in the latest issue of Middle East Media Educator.