Security and press freedom can coexist, with the free flow of information recognized as the best weapon against terrorism, international media experts argued in a final declaration published this week.
"Everyone has the right to access diverse, uncensored sources of information. States should create an environment that encourages the development of a diverse, pluralistic media sector," said the Vienna Declaration culminating from a two-day conference on media and terrorism in October.
It said editorial independence should be respected by states and inter-governmental organizations and that specific obligations should not be imposed on media outlets in the pursuit of counter-terrorism.
"The Vienna Declaration recognizes that a free and unfettered flow of information and ideas is an important antidote to terrorist ideologies and that a free media is indispensable in achieving this," said David Dadge, director of the Vienna-based International Press Institute (IPI) that organized the event with the Salzburg-based Center for International Legal Studies (CILS).



Journalists, legal, security and anti-terrorism experts from around the world hammered out the declaration after heated discussions at the Diplomatic Academy in Vienna during a two-day conference entitled "The War on Words - Terrorism, Media and the Law."
Participants reiterated that freedom of expression and of the media were fundamental human rights, enshrined in Article 19 of the United Nations Universal Declaration of Human Rights.

According to Manfred Nowak, the United Nations Special Rapporteur on Torture and a professor of constitutional law and human rights at the University of Vienna, every act of terrorism is a very serious crime.
But treaties on human rights stipulate that torture is unacceptable, he said, adding that fighting terrorism must be through the rule of law.
"Certain laws restrict civil liberties," he said.
Participants noted that by establishing secret places of detention post-9/11, the United States had violated all human rights conventions, despite former president George W. Bush's contention he was conducting a war on terror and that human rights were no longer applicable.
"If you didn't like what happened to civil liberties, watch what would happen if it happens again," warned Philip Zelikow, former Executive Director of the National Commission on Terrorist Attacks Upon the United States who teaches history at the University of Virginia.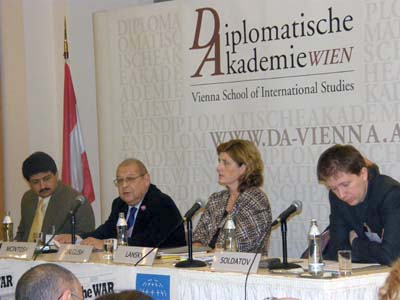 "War on Words" panel (Abu-Fadil)
Lucy Dalglish, Executive Director of the Virginia-based Reporters Committee for Freedom of the Press, said except in most extreme circumstances, there was no restraint on journalists thanks to the First Amendment, but that there was also no special protection for reporters.
Media in the U.S. were timid post-9/11 "but have staged something of a comeback," she said.
Riem Higazi, a talk radio host on Austria's ORF FM4, had an interesting take on the conference (http://fm4.orf.at/stories/1629100).
She was flabbergasted by stereotypical and racist remarks from some members of the audience. Her show's podcast is available for download.
N. S. Mueen, author of downloadable "Working with the Media: A Guide for Local Muslim Groups," demonstrated in a video clip the pitfalls of blaming entire ethnic communities in the U.K. for the sins of the few.
Mueen, who works with The Muslim Council of Britain, showed a segment from the British comedy TV show Exposé where a reporter insists on tarring an Asian Muslim teenager, who is unveiled in the clip, as a captive of traditional parents "who treat her like a piece of property."
The dialogue between the reporter and parents brings out the journalist's biases, ignorance and arrogance by insisting the girl is deprived of her basic human rights, only to be told by her parents -- the mother is also unveiled -- that their daughter goes to the movies and leads a "normal" life.
Gudrun Harrer, senior editor at Austrian daily Der Standard, in a session on how the media reported on terrorism and torture, said consensus post-9/11 broke following the Iraq war, with the jury still out on how news organizations had handled the matter.
"We used to talk about pressure on media from governments, she said," adding that pressure also came from consumers. "It's easier to take sides."
Raphael Perl, who heads the Organization for Security and Cooperation in Europe's Action against Terrorism Unit, said media had immense potential as a counter-terrorism resource.
"Accurate and rapid dissemination of information to the public during terrorist incidents can prevent panic, reduce confusion, streamline response efforts and save lives," he argued.

But he admitted communication between the media and counter-terrorism officials was often hampered by lack of cooperation and trust, stemming from various legitimate concerns as well as from mutual lack of understanding of the respective goals and responsibilities of each group.
"It's important for the media to report stories, not create them," said Al Jazeera International's (English) chief Ibrahim Helal.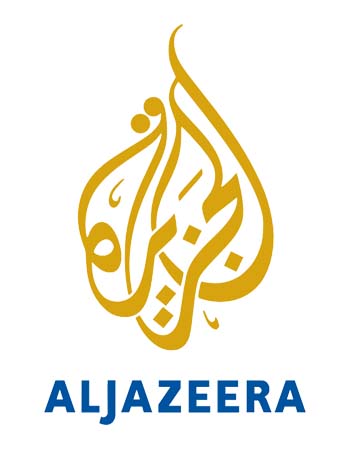 He defended his network against claims it fanned the fires by inciting violence with its coverage of the Afghanistan and Iraq wars and its focus on Israel's wars on the Gaza Strip and Lebanon.
IPI (www.freemedia.at) plans to promote the Vienna Declaration as a worldwide tool to rally support for freedom of expression.
It will also use it to highlight press freedom, and help legislators, policy and decision makers, and the public at large balance the right to freedom of expression with the need to address the serious threat of terrorism.
Signatories to the Vienna Declaration:
The following organizations, all members of the International Freedom of Expression Exchange (IFEX) network, have endorsed the Vienna Declaration on Terrorism, Media and the Law:
Adil Soz - International Foundation for Protection of Freedom of Speech, Kazakhstan
Association of Caribbean Media Workers (ACM)
Association of Independent Electronic Media (ANEM), Serbia
ARTICLE 19
Bahrain Center for Human Rights
Canadian Journalists for Free Expression (CJFE)
Center for Media Freedom and Responsibility, Philippines
Center for Media Studies and Peace Building, Liberia
Centre for Independent Journalism, Malaysia
Committee to Protect Journalists (CPJ)
Exiled Journalists Network, UK
Human Rights Watch
Inter American Press Association (IAPA)
Independent Journalism Center, Moldova
International Federation of Journalists (IFJ)
International Press Institute (IPI)
Instituto Prensa y Sociedad de Venezuela (IPYS Venezuela)
Maharat Foundation, Lebanon
Media Foundation for West Africa
Media Institute of Southern Africa (MISA)
Media Rights Agenda, Nigeria
Media Watch, Bangladesh
Pacific Freedom Forum
Pakistan Press Foundation (PPF)
Palestinian Center for Development and Media Freedoms (MADA)
Privacy International
Public Association "Journalists", Kyrgyzstan
Southeast Asia Press Alliance (SEAPA)
Pacific Islands News Association (PINA)
Reporters Without Borders (RSF)
World Association of Newspapers and News Publishers (WAN-IFRA)
World Press Freedom Committee (WPFC)