The agonizing book chapter title "Stealing Children's Innocence in Egypt: Media Literacy, Human Rights and Roads of Violence" hit the nail on the head.
It rang a familiar bell and could well apply to many developing countries going through uncertain transitions.
According to author Ibrahim Saleh, an Egyptian professor of political communication at South Africa's University of Cape Town:
On a daily basis, Egyptian children endure all sorts of violence in the media and in other respects inside and outside their homes, especially within the current fluid political situation in Egypt. Children are witnessing the trauma of such clashes, especially that many young children have been seen at demonstrations and there have been disturbing reports of some groups deliberately bringing in vulnerable children. Some reports suggest that certain political organizations are offered money in exchange for sending street children into a demonstration area.
He said violence against children was tied to poverty, unemployment, drugs, inadequate or abusive parenting practices and real-life adult models of violent problem-solving behavior.
Saleh's views in "Young People, Media and Health: Risks and Rights," are unnerving.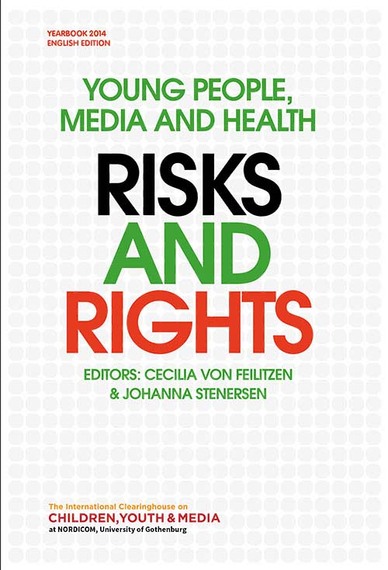 Young People Media & Health (Abu-Fadil)
His observations dovetail with a video clip seemingly shot with a mobile phone of a private tutor in English slapping a boy around for not getting his lesson right.
The teacher called the boy "hiyawan" (Arabic for animal), in this context a moron, while another boy in the room looked on and laughed.
The recipient of the blows also laughed at first before telling his instructor he'd had enough and asking him to stop.
The comments by Egyptian viewers on the video clip's YouTube page were rather telling.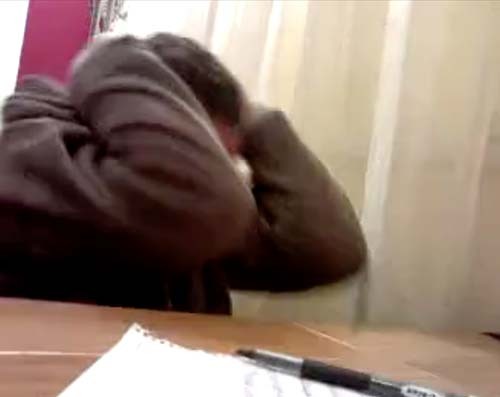 Screen shot of Egyptian boy ducking from abusive private tutor's blows
Most found the boy's attitude "asal" (meaning honey, or adorable) and the incident comical, albeit the boy "ghabi" (dumb) for not learning his lesson properly.
One viewer wrote: "Funny videos, I'm Egyptian and I'm proud to be Egyptian."
Saleh saw links between different kinds of violence in society and the media. He shed light on whether (or not) children's rights were protected in Egypt and the role media literacy could play in addressing this societal crisis.
The adverse effects of media reporting are still impeded by many social and cultural issues, are seldom recorded statistically, and, even if reported, are usually only recorded in terms of broader family incidences. Moreover, with the lack of more child rights protection, media texts and visuals will continue to recreate and disseminate violent themes and radicalism in a positively packaged culturally mediated context.
He said Egypt was caught in a vicious cycle of violence against children where a paradox lies in the pseudo-culture that continues to brag about its religious and conservative structure, while keeping silent and even being disinterested in child maltreatment, peer victimization and children's exposure to violence in the family, school, community and media.
Book co-editor Cecilia von Feilitzen's chapter "Mediated Violence and Related Risk Factors" focused on research, film and television, children's personalities and relationships, video and computer games, and violence on the Internet.
"The 'UN Convention on the Rights of the Child' stresses the important function performed by the media, that the child shall have access to information and material aimed at the promotion of his or her well-being and health and that s/he shall be protected from information and material injurious to his or her well being (from Article 17)," she wrote.
The International Clearinghouse on Children, Youth and Media published the 202-page book. The clearinghouse falls under the umbrella of Nordicom, Gothenburg University's Nordic Information Centre for Media and Communication Research in Sweden
Another chapter is a policy statement by the American Academy of Pediatrics' Council on Communications and Media that zeroed in on children, adolescents, obesity and the media.
"It is increasingly clear that the media, particularly TV, play an important role in the etiology of obesity," it said, adding that there were no data relating other media to obesity.
The statement said children and teenagers who watch more TV tend to consume more calories or eat higher-fat diets.
Young people are enticed by advertising, marketing and commercialization of just about everything, explained Susan Linn in her chapter "Too Many Screens, Too Much Stuff."
"While billions are spent around the globe to eradicate and treat pediatric diseases, as much money or more is also spent inculcating and/or exacerbating health problems for children," she said.
The book includes valuable insights into sexualization and children's relationship with the media, and the impact of excessive media exposure on sleep and memory.
A major section is dedicated to the right to participation, with Rafael Obregon and Angela Rojas Martinez providing a view on a child- and adolescent-centered approach in Latin America.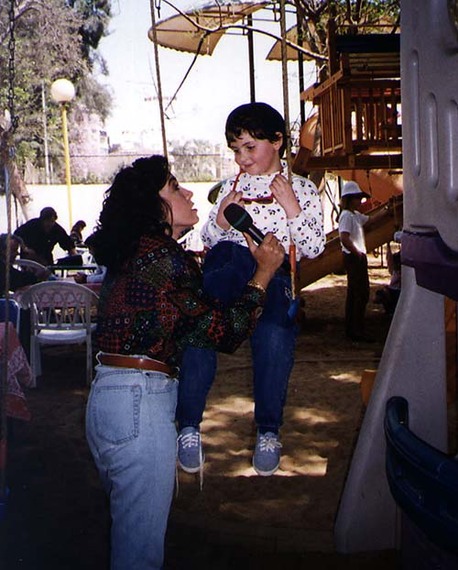 Young TV interviewee (Abu-Fadil)
Arvind Singhal examined a radio show in Nepal called "Chatting With My Best Friend" during which young listeners can engage "in open, honest and authentic conversations about their body, sexuality, health and interpersonal relationships."
The book is thoughtful and well researched. Parents, educators, health experts and people in the media would do well to read it.