It's April. If you're a lover of all things music, all things fashion AND happen to live in L.A. (but definitely not only L.A.), April means one thing... IT'S COACHELLA TIME. That's right, it is the second week of April when Angelenos and fellow nomads from lands far away congregate in the desert to celebrate perhaps the most highly anticipated festival of music, art and fashion. Everybody who's anybody, and everybody who is nobody, grabs their best rags and transforms into a hippie for a weekend.
I think by this point I can safely call myself a Coachella veteran -- 6 years on and still going strong. Of course I love Coachella primarily because of the music, a wonderful sampling of both the known and the unknown. However, it's really hard not to also love Coachella because it truly is a festival of style. People and thus style watching at Coachella is so much fun, with the best part being that there really isn't one conclusive type of style dominating the scene. The festival spawns a maceration of styles from all walks of life.
I myself haven't really decided exactly what I will wear yet, but I do have some simple rules that I follow every time I pack. For any newbies out there, I think you will come up with your own set of rules after the first time, but feel free to borrow these for time being. Here we go... take notes.
1) Be comfortable! Style is one thing, but style shouldn't mean that you are required to be miserable while standing in front of stages for 5-8 hours a day in the heat. Make sure that whatever you wear is comfortable enough for either walking or sitting, while enabling you to combat both the daytime heat and temperature drop at night. Comfort at Coachella is key.
2) No Heels! Yes, I am talking to you ladies. There is no need whatsoever to wear heels on a polo field. Festivals are all about having fun, being casual and feeling comfortable. Unless you plan on sporting a wedge sneaker, leave the heels at home and grab a pair of chucks or comfortable flat boots instead. I promise you will not be sorry. Save your heels for more appropriate places.
3) Makeup? What? Personally, I do not wear any makeup to the desert. I put some sunscreen on my face and allow the sun to paint, not burn, it bronze. If you simply cannot leave your home without even an ounce of make-up, go light as there is no need for your face to melt off in the heat. Allow your natural beauty to dominate your look.
4) WEAR SUNSCREEN! All I'm going to say is that Baz Luhrmann was right. Sunscreen has been my best friend since becoming an Angeleno. You will be able to show your bare face without makeup for eternity if you take care of it and wear sunscreen. It's a must. Don't forget it.

And now on to the fashion... My Coachella must-haves alternate every year depending on my general worldview, my musical obsession at the time, my mood and my mantra. It also depends largely on who is currently my favorite designer and what budget I have allocated for any new purchases. Here is my must list for this year. Replicate, imitate or personalize... and see you in T-8 days in the desert.
Peace, Love & COACHELLA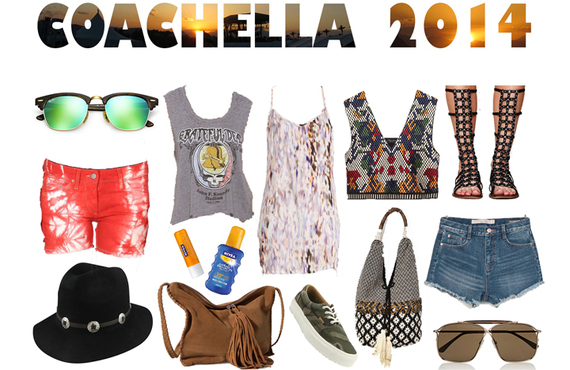 Ray Bans - Rock Tee - Helena Quinn Dress - Zara Top - Jeffrey Campbell Sandals - Tie Dye Shorts - Nivea Sun Screen - Karina Hobo - Zara Denim Shorts - Lovely Bird Hat - Zara Suede Bag - Vans - Tom Ford Aviators