Let's face it. We all have two personalities. We are professionals when we are at work. And while at home, we are just us -- a fashionista, an artist, a city slicker, a tomboy or a bohemian goddess. It's really when we're at home, for the majority of us, that our true style comes out. We shed our work 'uniform' for something far more familiar and comfortable.
What if I told you that dividing your personal styles between work and home is a thing of the past? What if your weekend fashion and your work fashion became one? For everyone who struggles to find a personalized way to express themselves in their workplace, here are a few examples that can help you introduce your inner self into your work 'uniform', all while staying perfectly professional.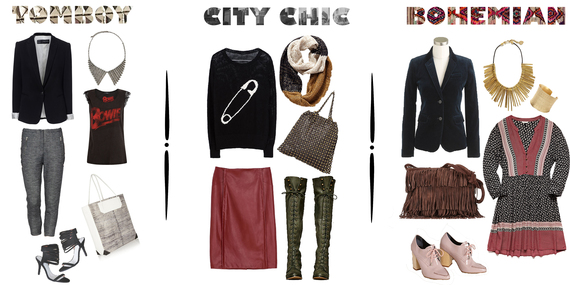 Outfit 1: *SALE* pants - Blazer - *SALE* Rock Tee - *SALE* Necklace - *SALE* Heels - *SALE* Bag
Outfit 2: Faux Leather Skirt & Sweater - Boots - Bag - Wrap
Outfit 3: Dress - Blazer - *SALE* Bag - *SALE* Boots - Necklace - Bracelet
Even if a 3-piece suit is a de facto must at your work place, there are a variety of ways to spice up your look by adding bold jewelry, funky shoes or even a statement purse (which doesn't mean it must be a designer bag). Now go dig into your closet and see how some of your favorite everyday home fashion staples can be incorporated into your everyday professional outfit.