Two more days 'til Halloween, what are you wearing? If your ideas are not striking gold, or if your budget isn't flexible enough to spend between $60-$100 dollars on a pre-made Halloween costume that will serve no use after the 31st, don't fret. There are ways around that.
One of the most amazing, fashion related costume ideas for both men and women is becoming the one and only fashion guru, Karl Lagerfeld. For one, this costume may actually require that you need only purchase a wig. Or, perhaps you can simply purchase most of the required items that you may not already own at discount stores or thrift shops. Once owned, you can re-purpose these staples in your everyday wardrobe.
But! Before buying anything, raid your closet to see if you can find any of the necessary pieces on a hanger or stuffed in a drawer. If all fails, check other options/stores where you can get each needed piece for under $50. That sounds expensive? I promise that even if you spend the money, you will wear those basics again.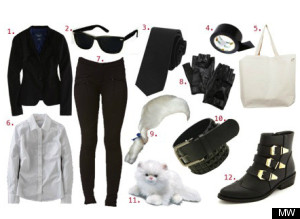 Items needed, that you may already own or you can purchase for under $50:
Black shoes -- Black pants -- White shirt -- Black suit jacket -- Belt -- Gloves ( OR buy $1.99 ones at your local drug store and cut off the fingers) -- Black sunglasses -- Black tie -- Reusable canvas shopping bag -- Black duck-tape -- White cat
Specialty Halloween Items Needed: Wig
Proof that this costume really is much easier than it even sounded initially? Check out the photo below. The only things that were purchased to make it a reality were the wig and gloves. The reaction from those around? Priceless!