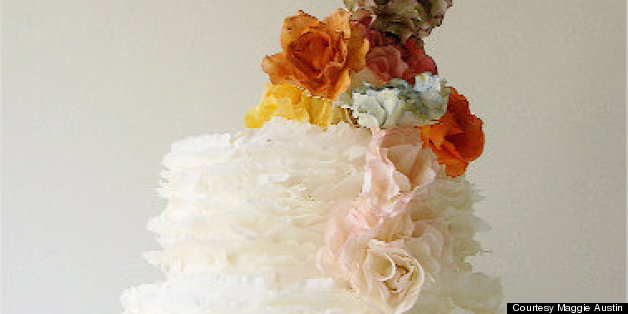 Ah, wedding trends. It's a daunting thing to think of how any choice will look 20 years down the road. When the puffy sleeves were almost as big as the hair, even the term "trend" can be scary! But fear not. Today's wedding cake designs are taking a classic and refined turn. Like Kate Middleton in Sarah Burton's modern rendition of a perfectly timeless gown design, the right cake will be at home in today's reception looks and tomorrow's treasured photo albums. Here are some of the hottest concepts for that very important confection...
OUT - Plain ol' white cake
IN - Complex compositions
Wedding cake has gotten a bad rap over the years. Our parents may have memories of stale slices abandoned at the tables as their guests danced the night away. But with this generation's emphasis on premium ingredients and sophisticated flavor profiles, today's cake has a very different personality. The greatest complement any cake designer receives is when they hear that guests were roaming from table to table in search of an extra (unguarded) slice. Moist cake with decadent fillings and feather-light buttercream is the new standard. One of my most popular offerings: Vietnamese Cinnamon and Chocolate Cake with Hazelnut Praline and Cappuccino Buttercream.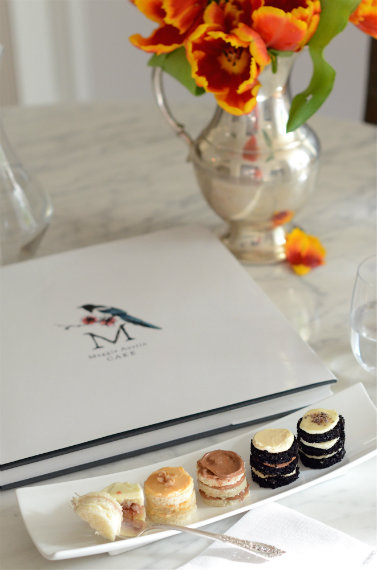 OUT - Fresh flowers
IN - Everything's coming up sugar!
I'm in love with sugar flowers. I admit it. I love to design them. I love to teach other designers how to make them in my studio and on Craftsy. I love to paint them. I love to play with unique arrangements and whimsical touches. But most of all, I love that at the end of the night, the couple can take their sugar flowers home and display them for years and years to come. These beautiful blooms will not fade or wilt, they're not sprayed with poisonous pesticides, and they can be completely customized. Whether it's a pop-art magnolia or a feathery peony edged in silver, couples are looking to cake designers to give them the flowers that Mother Nature can't. One of my favorite requests was a Queen of the Night. The real plant blooms for just one day a year, but creating the flower in sugar captured that fleeting moment forever.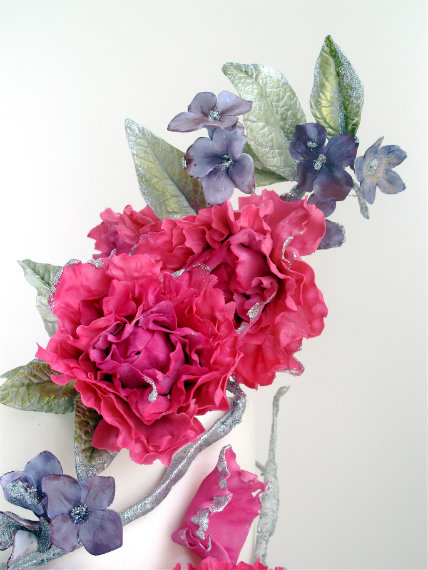 OUT - Frozen anniversary tier
IN- Fresh cake for the anniversary
The first year goes by so fast. Before you know it, you're digging behind the bags of frozen peas and pork chops for that sacred lump in the back of the freezer. The anticipation of peeling back layer after layer of wrapping to get to that year-old piece of wedding cake is almost as fun as trying to eat it! Except when you find that freezer burn is no joke (or someone had a snack attack 4 months ago). Instead, explore another alternative: a fresh anniversary tier. More and more designers are including this option for couples who would prefer to enjoy the same taste of the cake they had on their special day rather than live in fear of a power outage or an extra-large Thanksgiving turkey.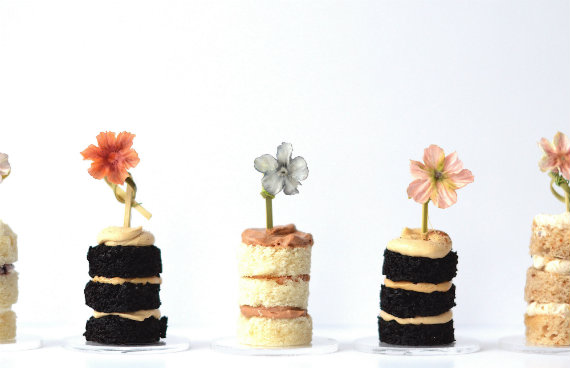 OUT - Heavy swags
IN - Delicate textile details
The wedding dress has long been a source of inspiration for cake design, so it makes sense that the trends follow each other closely. Frills that are so thin they're translucent, intricate lace overlays across a smooth canvas, and layered appliques with subtle texture all reflect the hottest haute couture gowns. Not all textiles are overtly feminine. In fact, some are downright edgy! The fashion-inspired designs are certainly a far cry from the chunky draping of yore. In my Fondant Frills class on Craftsy, students post images of their creations and I'm always impressed at the versatility of this technique.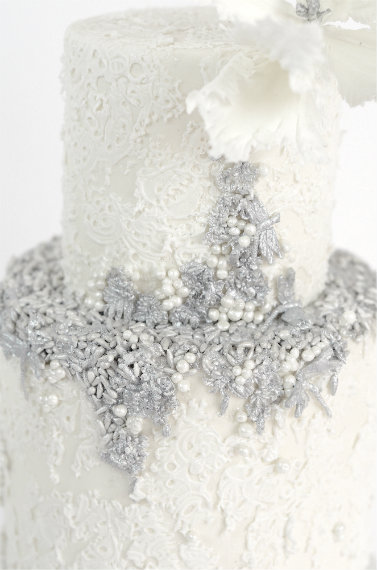 OUT - "Rustic" buttercream
IN - Simply beautiful fondant
While an over-the-top black tie affair is a match for some couples, others are looking instead to lavender fields and white silk tents. A cake design that complements a casually elegant outdoor reception does not mean slicing into something that looks like the picture on the cake mix box! The right cake will be perfectly at home atop a linen-draped wine barrel without sacrificing the fundamental principles of clean lines and perfectly executed flower work. Whether you're in love with the austere lines of an English country manor awash in climbing blossoms or the humble and minimalist charm of wildflowers, fondant (with the buttercream tucked safely inside) is the perfect canvas for a design that's uniquely yours. But whatever you choose, keep that cake out of the sun!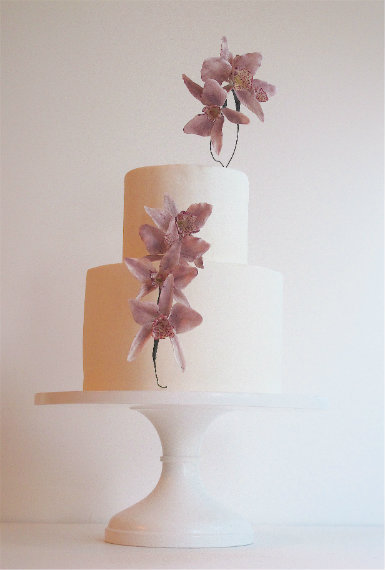 OUT- Wacky
IN- Not
With all the cake shows out there, it's no wonder limit-pushing, gravity-defying designs made their way to weddings. A "looks-like-it's-falling-over" cake may still be a good fit for some couples, but the wedding cake really (really) doesn't need to be funny to grab your guests attention. Today's skilled cake designers are flexing their artistic muscles in a much more restrained way, focusing their energy on beautifully-executed details rather than structural engineering. When you look back at photos fifty years from now, a balanced and visually pleasing cake perched on a lovely pedestal will certainly withstand the test of time.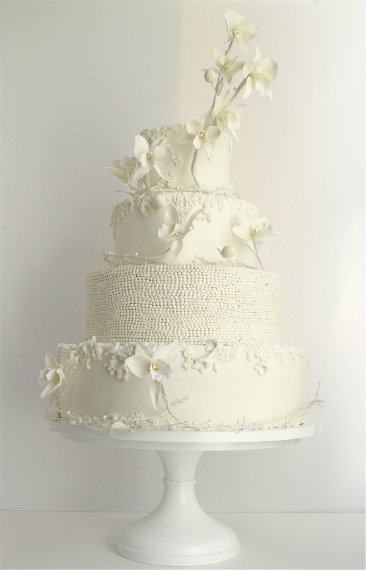 OUT- Rigid floral arrangements
IN- Loosen up
Tight, uniform sugar flower accents have had their moment. These days, things are getting a bit more... natural. Cake designers are opting for an organic feel for the arrangements and creating sugar flowers that pile or tumble or cascade in a way that is both realistic and fanciful. In my Southern Sugar Flowers class on Craftsy, I discuss how to make branches that can wind and ascend so that the flowers can visually defy gravity. In short, have fun!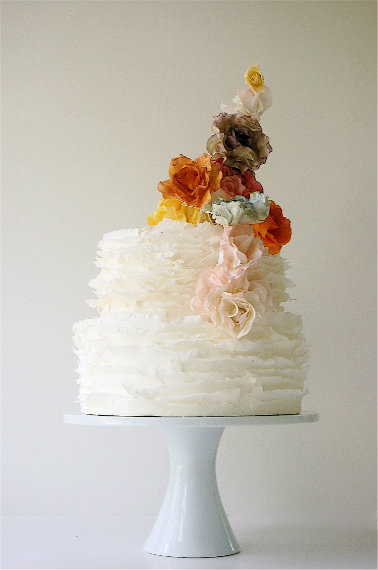 OUT- Ornate Cake Displays
IN- Sleek Pedestal Cake Stands
The cake drum. You've seen it. A big, squat, sturdy thing covered in fake gold filigree and designed to hold up towering cakes festooned with swans and Grecian columns. For today's gracefully-proportioned cakes, these old-fashioned displays just don't cut it. The answer? A pedestal cake stand. A slender pedestal elevates the cake off the table and gives the design height and presence. My favorite is Sarah's Stands. Not only are they beautiful, but they're also created to support the considerable weight of multi-tiered cakes. A rare feat, to be sure!