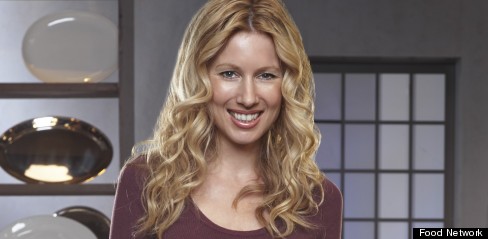 "Food Network Star" has only aired two episodes of this current ninth season, but it already feels like I've seen it all before. Watching this season's crop of contestants, one thing is abundantly clear: The Food Network has run out of quality competitors.
Here's the problem: "Food Network Star" has been running for nine seasons, and Season 2 winner Guy Fieri is still its biggest success story. Seasons 5, 6, 7 and 8 winners Melissa d'Arabian, Aarti Sequeira, Jeff Mauro and Justin Warner, respectively, all have shows currently on the air to varying degrees of success, but none of them have broken out with multiple hit series quite like Guy.
So here's Food Network's solution: In what seems like an effort to finally strike TV host gold again, the network's casting gurus have scraped the bottom of the reality TV barrel this season, recycling people that can only be described as professional reality TV contestants. And it ain't pretty.
The biggest problem with their recycled casting is Danushka Lysek, a fashion model-turned-private chef with a sour expression, a monotone voice and a truly bad attitude who has barely coasted through the first two challenges. Judges Bobby Flay, Giada De Laurentiis and Alton Brown keep saying her food is flavorful, which is an excuse to save her, but it's become blatantly obvious that she's being kept on for drama's sake.
And they would know a thing or two about what kind of drama Danushka can bring ... because she's brought it on not one, not two, not three, but four other reality TV shows in recent years, including two shows on the Food Network. Danushka appeared on a special models edition of "Fear Factor," Charlie O'Connell's season of "The Bachelor" (she was ousted on the first night), and Food Network's other cooking competition shows "Chopped," and "24-Hour Restaurant Battle".
But Danushka isn't the only professional contestant making this season feel like deja vu -- there are at least five more reality TV repeat offenders in the bunch. Yes, that's six out of 12 total contestants. Insane.
The next biggest offender this season is Chris Hodgson. It appears that Chris can cook, and he does make his living as a chef and owner of a food truck and restaurant, but it's also obvious that he loves a good play on words and self-branding, using his last name repeatedly to describe his style of cooking as "hodge podge." Sound familiar? That's because that's the name of his food truck ... the same food truck that drove him into the runner-up spot on Season 2 of Food Network's "The Great Food Truck Race."
He didn't win then and now, the network wants to give him his own show? It appears they've forgotten the words of wisdom that they remind contestants of constantly: You have to be able to cook and be good on camera to be a Food Network star. Hodgson wasn't even in the Top 5 most camera-friendly from his season of "Food Truck Race." Why they brought him back is beyond me.
Then there's Rodney Henry, who has branded himself "a pie man," and so far, has shown little creativity in trying to work the weekly challenges to fit his vision. Not surprising since he had the same issues forcing his pie agenda when he appeared on "Chopped." He was eliminated in the first round for making chicken feet taste like rhubarb pie. (Just let that sink in for a minute.)
On the other side of this reality TV recycling coin are the legitimate contenders who just so happened to appear on the network's other high-profile shows.
Stacey Poon-Kinney is an early frontrunner this season, thanks in large part to her charming on-camera presence ... but that might be thanks to the fact that she's been on TV before. On the Food Network, as a matter of fact. Stacey had her family restaurant renovated by Robert Irvine on "Restaurant: Impossible."
Russell Jackson, who's gotten attention for touting his seven culinary sins on "Star," has also proven to be a strong competitor, despite a rocky start. Maybe having competed against (and lost to) Iron Chef Garces on "Iron Chef America" taught him not to give up?
And the one to watch, of course, is Viet Pham, a Food & Wine Best New Chef of 2011 whose claim to fame is that he beat Bobby Flay on Food Network's "Iron Chef America." (He also competed on the network's "Extreme Chef," where he was named runner-up.)
Now those are some serious claims to fame! Viet obviously has the cooking chops, and he was named most improved in presentation skills this past week. I would actually love to see Viet win it all, but his casting on this show raises a few major questions: Is he a ringer? And, if so, is it really worth all the trouble (and yes, drama) of putting him through the "Food Network Star" obstacle course of challenges if they obviously think he deserves his own show anyway?
We haven't seen nearly enough of network GM and Senior Vice President Bob Tuschman and his brutally blunt partner-in-crime, Senior Vice President of Marketing Susie Fogelson, this season, but I'm hoping they'll swoop in with some real critiques soon to ditch the model, the food truck guy and the pie man and let the other, less fame-whoring contestants have a shot in the spotlight.
What do you think about reality TV star recycling? Have you noticed the same faces popping up on different shows too?
"Food Network Star" airs Sundays at 9 p.m. ET on Food Network.
Update: Thanks to commenter MattFNG for pointing out that another one of this season's contestants, Connie "Lovely" Jackson, appeared on Gordon Ramsay's "Hell's Kitchen" on Fox.