Cliff swallows are remarkable birds that migrate thousands of miles every year from South America to California to breed and raise their young at sites they have used for decades. The Swallows of San Juan Capistrano are among the most famous birds in literature, and their return every year to the Mission of San Juan Capistrano is a highly anticipated event, and cause for celebration. Every year, swallows return to the same locations to breed and raise their young. These beneficial birds will not nest where there are no flying insects. In other words, cliff swallows come to California to eat our mosquitos and other flying insects we refer to as "pests," thus they have an important ecological role and one that humans should appreciate.
Despite the fact that their arrival means copious amounts of flying insects will be eaten, not all migrating swallows are celebrated and revered as the Swallows of San Juan Capistrano are.
While a protected species at the state and federal levels, the mud nests constructed by the swallows are often destroyed (which is a violation of the Migratory Bird Treaty Act ) and quite often, bird netting is erected in an attempt to deter the birds from nesting. If not installed and maintained properly, the loose bird netting becomes a death trap for birds. I have witnessed this scenario often during my work as a wildlife rehabber.
This is what is happening right now in Sonoma County, California, on the Hwy 101 overpass of the Petaluma River. I went there this past weekend and was saddened and outraged at what I saw. The video below, shot by wildlife photographer George Eade, shows the devastation and loss of life due to improperly installed and maintained netting, creating a deathtrap for these beneficial birds. At the end of their long migration, their strong site fidelity drives them back to this overpass, and the nets do not deter them from trying desperately to affix their mud nests to the bridge. Instead of building a nest they are trapped and slowly die as they desperately struggle to get free of the netting. The animal suffering and slow death, due to exhaustion, dehydration, heat, and starvation continues daily, as thousands of cars pass overhead.
Click here for wildlife photographer George Eade's documentation of trapped and dying birds.
KTVU"s news coverage showing trapped birds.
This past weekend, I went to a fundraiser for the Native Songbird Care & Conservation (NSCC) hospital located in Sebastopol, California. I've known the founder, Veronica Bowers, for several years and have always admired her dedication and commitment to caring for injured and orphaned songbirds. NSCC is run by an experienced team of volunteers, and exists solely on donations from the public. Since 2004 Native Songbird Care & Conservation fosters and cares for approximately 650 injured birds a year.
Previously Veronica had made contact with Caltrans offering them her expertise on alternatives to netting, such as the use of Teflon sheeting that doesn't harm birds. Caltrans never responded to her offer.
It was Veronica who first noticed the birds trapped and struggling on April 7, 2013.
The following day, April 8, Veronica started contacting the wildlife regulatory agencies chartered with the protection of these migratory birds. When I saw Veronica on Saturday, April 13, all discussion and thoughts were on the current deathtrap that is still in place, and how inadequate and inept the response has been from the federal and state wildlife agencies. Caltrans, the contractor responsible for the improper installation of the netting, has done nothing to correct the situation, nor has the subcontractor hired to install the bird netting, C.C. Meyers, Inc.
Correcting this situation means removing the faulty and improperly installed netting so that the suffering and death of hundreds of birds can finally cease. With an outpouring of calls from the public and extensive news coverage this past week, I don't understand the lack of response (or compassion) from US Fish & Wildlife Service and from the California Dept of Fish & Wildlife. Amazingly, neither agency has sent a single warden or officer to view the site. With their powers of law enforcement they should issue an order to remove the netting immediately while other solutions are investigated. Instead they repeat the same phrase over and over "We're looking into it." Meanwhile the carnage continues.
Equally disturbing, is that the subcontractor, C.C. Meyers, Inc., is removing the dead birds as they accumulate after being trapped in the sloppily installed netting. A Project Manager for C.C. Meyers told Veronica that they have been removing many birds every night. This is means they are destroying criminal evidence, only to leave the faulty and loose netting flying in the wind, allowing other nesting birds to fall victim to the indifference and carelessness of human beings. They invest the time and expense every night to remove bodies, and tighten the nets, only to have same cycle repeat the next day as the nets loosen again!
So, who is responsible for this? Earlier this year, Caltrans, via the subcontractor, C.C. Meyers, installed bird netting in an attempt to keep the swallows from building their little mud nests. Again, the major problem with bird netting is that 99% of the people who install it don't install it properly and birds end up trapped. There are other viable solutions available that don't harm birds, including the application of Teflon sheeting.
The following state and federal agencies have been contacted by Veronica and other concerned wildlife advocates: US Fish & Wildlife Service and California Dept of Fish & Wildlife, Animal Control, Caltrans and C.C. Meyers. Not one has taken action to stop the killing.
Below is a tally of dead birds to-date, as documented by Native Songbird Care and Conservation and other witnesses. It is believed the numbers are actually in the hundreds, but since the nets are being cleared out after dark, an accurate body count will be impossible to obtain.
DEATH TOLL of CLIFF SWALLOWS KILLED by CC Myers Inc. and Cal Trans under the Petaluma Hwy 101 Bridge
NSCC has been visiting the site almost daily to document dead birds trapped in the netting. 10x42 Swarovkski binoculars and an 85mm Zeiss spotting scope are used to spot and identify the birds. A Lumix compact digital camera is used to document the dead birds.
Sunday, April 7 at 5 pm: 19 Birds (17 dead Cliff Swallows, 1 dead Barn Swallow, 1 dead European Starling)
Monday, April 8 at 12 pm: 12 New Birds - 12 dead Cliff Swallows, 1 dead bird from day before: 1 Barn Swallow
Tuesday, April 9: Did not visit the site to document birds
Wednesday, April 10 at 6pm: 15 New Birds - 14 dead Cliff Swallows, 1 live Cliff Swallow
Thursday, April 11 at 6 pm: 26 Birds - 15 new dead Cliff Swallows, 2 new live Cliff Swallows, 9 dead Cliff Swallows leftover from 4/10
Friday, April 12 at 5 pm: 17 Birds - 14 new dead Cliff Swallows, 1 new live Cliff Swallow, 2 dead Cliff Swallows leftover from 4/11
Saturday, April 13 at 6 pm: 22 Birds - 15 new dead Cliff Swallows, 1 new live Cliff Swallow, 7 dead Cliff Swallows leftover from 4/12.
Nest of Orphaned Cliff Swallows at Native Songbird Hospital. Photo by Veronica Bowers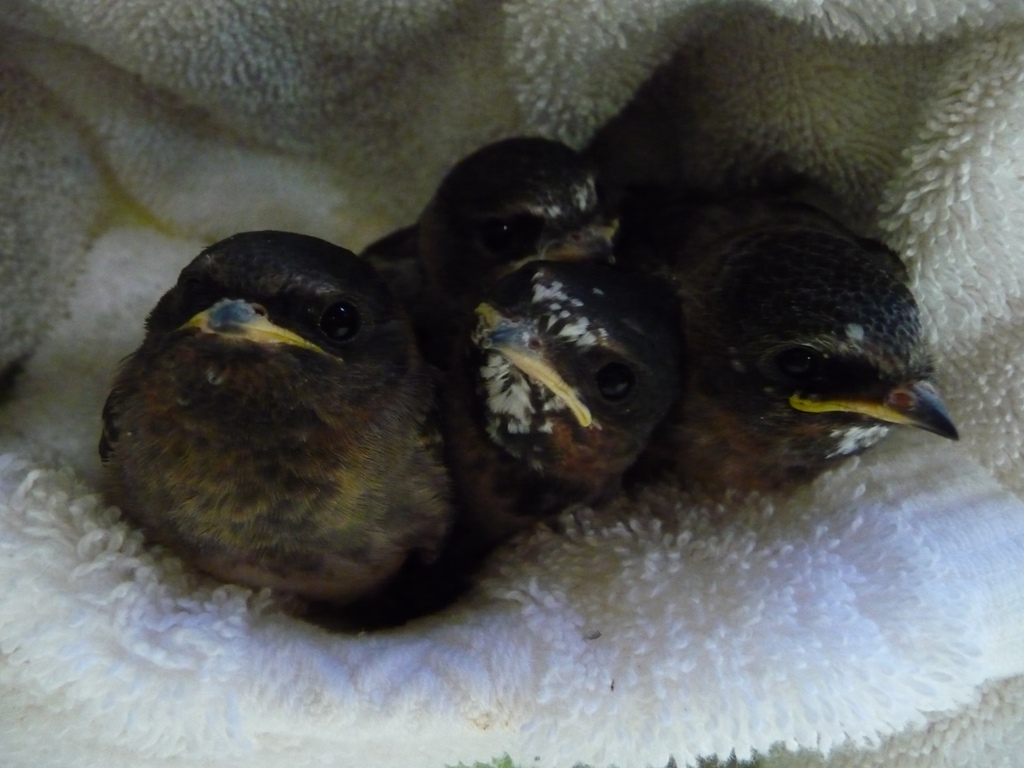 If you want to speak out against the indifference to this suffering please contact one or more of the people listed below, and demand that the netting be pulled down, and that alternatives that do not impact wildlife are considered. Also, demand that criminal penalties be imposed against Caltrans and C.C. Meyers, Inc., for violation of the Federal Migratory Bird Treaty Act.
Bijan Sartipi
Director, District 4
Caltrans
510-286-5900
bijan_sartipi@dot.ca.gov
Bob Haus
Public Information Branch Chief
Branch A
California Department of Transportation
510-286-5576
robert_haus@dot.ca.gov
Linda Clifford, CFO
C.C. Myers
916-635-9370, ext. 236
lclifford@ccmyersinc.com
California Department of Fish and Wildlife
707-944-5500
US Fish and Wildlife Service
650-876-9078