With the stock market at an all time low, will we continue to fork out the cash for organic produce?
Let's take organic meat, for example. According to 2005 data from the Natural Food Merchandiser, the organic fresh meat and seafood sector is the fastest growing segment of organic food products.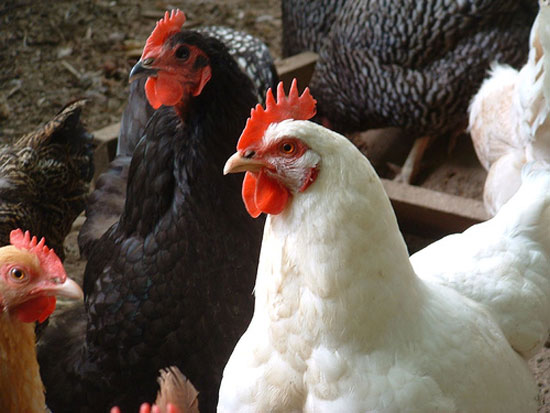 But in 2005, a $250 Billion Banking Deal wasn't even a twinkle in the Treasury Department's eye.
So how much more are we talking? At Fresh Direct , boneless skinless chicken breasts are $3.99 a pound. If you choose to go organic and say no to antibiotics, you will pay $5.99 a pound for the same cut of meat -- or 50 percent more.
A half gallon of Amish Country Farms Organic 1% Milk is $3.89, compared to $2.39 for a half gallon of Farmland 1% Lowfat Milk. That means we now are paying over $7 a gallon for organic milk.
In Europe, the trend suggests yes: New "bio" (the EU term for organic) stores are popping up all over the place, and to keep up, existing stores are scrambling to add more bio products.
In the U.S., if nothing else, more attention is now paid to what exactly is in that chicken sandwich -- and how it got to your plate. Yesterday, the some 10 million Americans who tune into Oprah learned about the not so nice way farmers cage chickens, pigs, and cows: animals often penned in so tightly they are unable to turn around. So clearly, the word is out, and the education is happening. But what about the bottom line?
Will you continue to shop for organic -- while watching your savings go down the drain? Comment below!
More on Organic on TreeHugger
Got Organic?
Organic Food: Healthier for You and the Planet
Organic Food is Healthier: Once More
More From Mairi Beautyman on Huffington Post
Four Ways for a Stylish and Tasty Green Dinner Party
From the Olympics to Sears, Wearing Recycled Bottles Goes Mainstream
Clothing Made from Milk and Bottles Made of Paper? The Eco Design Revolution
Terrorists or Heroes? Sea Shepherd Fights for Marine Life
Does Terrorism Make us Travel Greener?