When it comes to making positive change to the world's habitats, sometimes the waters are murky. To put it bluntly, there's nothing like a few photos of clubbed seals to get the crowd all hot and bothered -- but is this really the best way? Perhaps the organization that best personifies the fine line between activism and extremism is the Sea Shepherd Conservation Society (this video interview recently released by in English by German environmental blog Ivy gives an overview)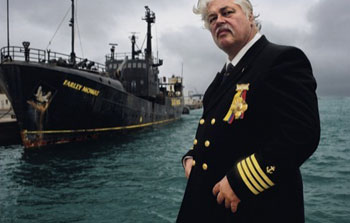 Founded by Captain Paul Watson, one of the three Greenpeace founders, the controversial, non-profit organization claims to have sunk 11 ships in the name of animal rights. With strong-arm tactics he bills as "aggressive non violence," Watson and his team have been patrolling the seas since 1977 and several big name celebrities have joined their cause -- among them, Mick Jagger, Steve Wynn, Pierce Brosnan, Sean Penn, Aidan Quinn, William Shatner, Edward Norton, Orlando Bloom, and Uma Thurman.
Most recently, Watson was in the news after the raid of his ship the M/V Farley Mowat during the 2008 Canadian commercial seal hunt.
But when it comes to Sea Shepherd's position in relation to the law and public opinion, the jury is still out. Yes, in this battle against global warming and protecting our earth we need carrots and we need sticks. But the question is how much stick.
There are a lot of organizations out there. Who does it well and who needs to take another look at their mission? Comment below!
More From Mairi Beautyman on Huffington Post
::Four Organic Ways to Kill Ants
::Two Uncomplicated Reasons to Choose Organic Eggs and Milk
::Do you Really Need a Dryer?
More on Carrots and Sticks From Huffington Post
::Carrots, Sticks and the Importance of Models
More on Sea Shepard From TreeHugger
::Monster Media, RVCA, and Sea Shepherd Sea No Evil
::Sea Shepherd Ship Captured By Canadian Coast Guard
::The New Yorker on the Sea Shepherd Conservation Society
More on Wildlife From TreeHugger
::Man Saves 375 lbs Black Bear from Drowning (with Photos and Video)
::Send An Origami Whale From Greenpeace
Photo: The New Yorker.