I hate disposable salt and pepper grinders. These things should really be banned. Plastic, packaging, carbon foot print...and then after a few months, they go right in the trash. Why? Because the manufacturers want you to buy new ones -- and therefore make them impossible to refill.
Yes, salt and pepper sets are fixtures in most households. But chances are, if you buy one good quality pair once, it should last forever. If you are in the market, here are three design-savvy sets made from recycled materials that are sure to spice up your dinner table.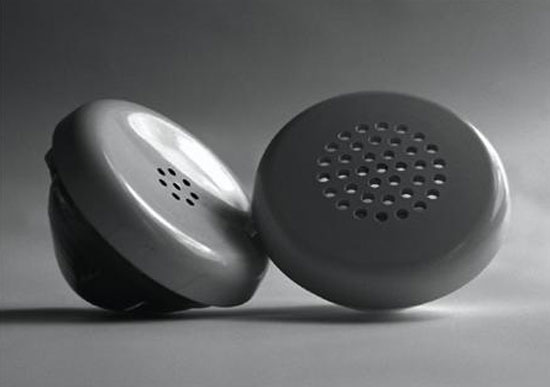 1) The Taste of Talking Salt and Pepper Set
Now this set is sure to get the conversation started: The Taste of Talking Salt and Pepper Set by Henk Stallinga repurposes the receiver and mouthpiece of a phone, and sticks them on the indicator switches of an original Morris Mini. Stallinga's innovation got the design community buzzing too: The design is now part of the exclusive collection at New York's Museum of Modern Art. Available at Greenergrassdesign for $26.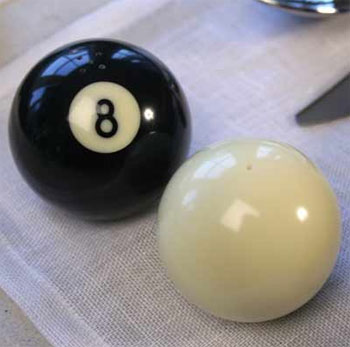 2) Cue n' 8 Salt and Pepper Set
Standard British 8 pool balls make the jump from the pool table to your kitchen with the Cue n' 8 Salt and Pepper Set by Alex Turner, and available through Eco Centric for about $46. Each ball is drilled
Photo: Via Eco Centric
hollow to hold the salt and pepper, and the bases are ground flat (A necessary perk: They won't roll off the table).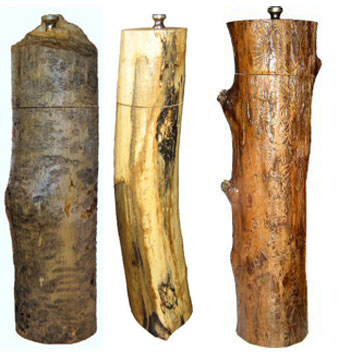 3) Reclaimed Wood Pepper Grinders from Cam Lavers
Or perhaps, you are looking for something more organic-looking.
How about a reclaimed wood pepper grinder from artist Cam Lavers? Each mill is carved out of naturally fallen tree branches -- they even have exclusive lines gnawed by beavers and deers.
More From TreeHugger on Recycled Products
::Sears Sells Bagir's Recycled PET Bottle Suit on Father's Day
::Stackable Aluminum Chair Made From Recycled Materials
::Reviewed: TREAD's Recycled-Tire Laptop Case
More From Mairi Beautyman on Huffington Post
::Clothing Made from Milk and Bottles Made of Paper? The Eco Design Revolution
::Six Tips to Green Your TV
::Five Products to Green Your Cat
::Terrorists or Heroes? Sea Shepherd Fights for Marine Life
::Does Terrorism Make us Travel Greener?
::Four Organic Ways to Kill Ants
::Two Uncomplicated Reasons to Choose Organic Eggs and Milk
::Do you Really Need a Dryer?